October 24, 2011 -
Barry Dorey
Prospect of the day: Wisconsin CB Antonio Fenelus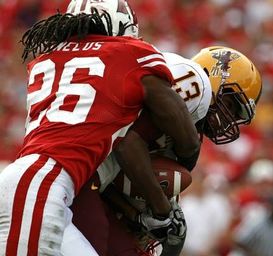 ICONFenelus isn't afraid to mix it up in run support.
CB Antonio Fenelus: No. 26 (5-8, 193)
A tough, instinctive little corner who lacks ideal size for the position. Isn't a guy you can trust to press on the outside and play up near the line of scrimmage. Works hard to stay in plays vs. the run game, but can be rag dolled at times on the edge and sealed from the action easily. Is a willing tackler however on the outside who takes good angles and will chop down ball carries on contact, but at times will struggle to get into the body of his target.
Displays the ability to sit into his drop, keep his feet under him and click and close on the football cleanly. Looks comfortable in off/zone concepts, reads the game well in front of him, doesn't waste much motion when breaking on a throw and gets his hands on a lot of footballs. Possesses good straight-line speed vertically. Allows his pad level to get a bit upright when asked to turn and run, but he's fluid in the hips and can get back to speed quickly. Obviously will struggle with bigger receivers down the field in jump ball situations. When playing up near the line in press bail displays good change of directions skills and footwork from a trail technique. Doesn't get real overextended, will chop his feet at times, but collects himself quickly and has a burst out of his breaks. Displays good ball skills, adjust to the football and can create turnovers.
Impression: A good football player who looks limited to more of a zone/off scheme because of his size. If he were a couple inches bigger I think he'd be a potential starter, but as is, looks like a potential later round pick who could make a roster and fight for time inside.