November 09, 2011 -
National Football Post
Prospect of the day: Wisconsin OT Josh Oglesby
OT Josh Oglesby: Wisconsin (6-7, 330)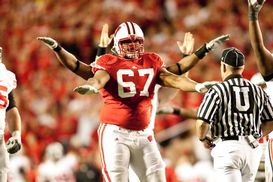 ICONOglesby has the size and length to get a look.
Oglesby certainly passes the eyeball test. The 6-7, 330-pound lineman has a massive set of arms and for a big guy, natural girth through the lower half and some bend sitting into his stance. However, despite some natural body control/coordination on his kick slide in pass protection, he wasn't a real compact/explosive puncher into contact. He lacks ideal range to the corner and wants to get his hands on defenders in order to stick through contact. He displays solid coordination laterally, but will get overextended trying to lunge into contact and get his hands on defenders and fall off blocks. However, he has the size and force to speed past the edge, but is not someone I would trust to shuffle and slide laterally while trying to punch in space.
He gets upright off the ball in the run game and struggles to gain leverage throughout. However, he's such a natural physically gifted lineman that he could get away with it most of the time, as he has the size, length and natural power to work his legs through contact despite him lacking ideal handle placement or pad level and still get a good seal on the edge and a push through contact. However, his inability to fire off the ball low and not waste motion off the snap in the run game are two aspects of his game that could end up being exposed once he sees big time talent at the next level. There is no real explosive snap to his game, as he really rolls his hips into contract and struggles to keep his pad down.
He has had a tough time staying healthy as well throughout his career with over six surgeries on his knees, including a torn ACL in 2010.
Impression: Oglesby possesses the size to warrant a pick, and if he ever learns to block with better leverage the guy could be a "plus" run blocker in the NFL. He looks more like a reserve only at this time who coaches will always expect more from because of his physical skill set.
Follow me on twitter: @WesBunting