December 30, 2011 -
Barry Dorey
Prospect rundown
The Rundown…

BELL HELICOPTER ARMED FORCES BOWL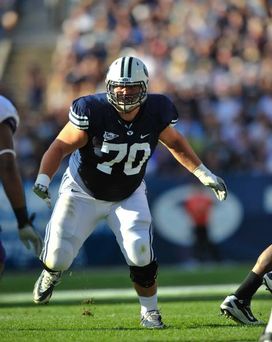 ICONReynolds is a bit top heavy on the move.
OT Matt Reynolds: BYU (6-4, 305)
An overhyped college left tackle who looks better suited to play right tackle in the NFL. He is a bit older than most prospects as well and looks more like a reserve at best to me.

DT Hebron Fangupo: BYU (6-1, 330)
A naturally strong kid with a great attitude and work rate. Needs to improve pad level, but has the kind of natural power and work ethic to make it with some time.

QB G.J. Kinne: Tulsa (6-2, 234)
Kinne has a little Jeff Garcia/Bruce Gradkowski to his game. He will fall on draft day because of his size, but is your typical gritty QB prospect who is the son of a coach and in my view will find a way to make a roster and potentially fight for playing time down the line.

NEW ERA PINSTRIPE BOWL

OL Kelechi Osemele: Iowa State (6-5, 337)
A big, thick kid with natural strength, athleticism and flexibility. Has improved his technique and overall range off the edge, but is better suited to play inside or on the right side. But can mature into one of the leagues best at either spots.

CB Leonard Johnson: Iowa State (5-10, 202)
A well-built kid lacking ideal height, but plays fast and I like his footwork and balance. Isn't a dynamic athlete, but can play some press and off coverage, and looks capable of getting playing time both on the outside and in the slot at the next level.

OG Desmond Wynn: Rutgers (6-6-, 295)
A big, coordinated guard prospect who holds up well in the pass game and can seal inside vs. the run. If he checks out medically has a shot a fighting for a roster spot.

FRANKLIN AMERICAN MORTGAGE MUSIC CITY BOWL

RB Vick Ballard: Mississippi State (5-11, 220)
Possesses some natural running skills and is a strong kid who always falls forward. However, isn't going to break nearly as many tackles in NFL as he did in college and will struggle averaging over 4.0 yards per carry. A reserve only.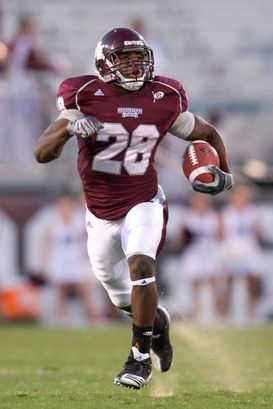 ICONBallard is a no non-sense type runner.
SS Charles Mitchell: Mississippi State (5-11, 220)
Wasn't real impressive vs. the pass game, but he's an instinctive tackler vs. the run and a passionate/leader type who could earn a spot on special teams. But I can't see him holding up in space vs. an NFL pass game.

OT James Carmon: Mississippi State (6-7, 320)
He's a gifted athlete for his size who at worst is worth a developmental/free agent grade. He's the type of lineman I would love to have/develop on my practice squad for a year and see how much he can develop.

OLB Kyle Wilber: Wake Forest (6-5, 240)
An intriguing 34-rush end to me. Has a good first step, can change directions on his pass rush and plays the run with good integrity. Could be posed for a jump up draft boards with a solid year. Reminds me some of Jaguars DE Aaron Morgan.

OG Joe Looney: Wake Forest (6-3, 320)
Exhibits good short area quickness and balance for his size in pass protection. He has the ability to mature into a good run blocker as well and warrants a pick as a potential starting guard down the line.
Follow me on twitter: @WesBunting
Check out the NFP Draft Page here...