April 05, 2011 -
National Football Post
Prospect stock watch
The draft stock of a prospect is never more key than at this time of the year, as NFL teams try to gauge the overall interest level of each particular player. Therefore, here is a look at which prospects are rising and falling.
DE Robert Quinn: North Carolina
After running in the high 4.5 range at his pro day, Quinn's stock -- from what I am hearing -- is at an all-time high. He's healthy, seems to have put his past behind him and possesses the type of athleticism to get looks in both a 34 and 43 front. He exhibits an impressive combination of athleticism, length and flexibility, and at this stage in my mind is the draft's premier pass rusher.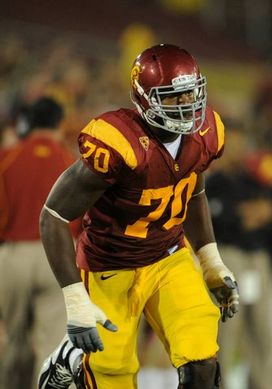 ICONSmith could now end up going in the top-10.
OT Tyron Smith: Southern Cal
Not only did Smith prove he's one of the best offensive tackle athletes to come along in years, but he possesses the ideal frame for the position as well. He's got long arms, has bulked up to 310 pounds and looked very smooth and balanced working from the left side during the USC pro day. There isn't much this guy can't do and now looks like a potential top-10 pick with Pro Bowl-type upside.
DL Muhammad Wilkerson: Temple
What you get in Wilkerson is an athletic 6-4, 315-pound lineman who can run, possesses some natural power at the point of attack and still has a lot of upside to his game. He's the one really hot name in the back end of the first round right now because of that upside and his overall scheme versatility. Me personally, I don't think he's nearly the 1st round-type prospect he's being made out to be because he's still very raw. Nevertheless, there is definitely a first-round buzz surrounding his name.
DB Marcus Gilchrist: Clemson
Gilchrist is one of the hotter names at the defensive back position right now for two reasons. One, he's versatile. He can play corner, safety, in the slot and on special teams. Two, he's one of the few potential safety prospects in the class that can actually run and cover ground in the deep half. I like his potential as a nickel guy inside at the next level, but can also see him playing in space as a centerfield type as well. Doesn't do anything great, but he does everything well enough to come off the board in the third round range.
DE Da'Quan Bowers: Clemson
Honestly on tape I didn't think Bowers possessed the burst needed to flatten out around the corner at the next level and was more of a sudden/power player than speed guy. Therefore, I can't say I was all that shocked hearing he ran in the 4.9 range at his pro day. Now, obviously he plays faster than that on tape, but I don't think he's much more than a high 4.7/low 4.8 guy and pair that with the injury concern, and we could see him slipping out of the top-10 now.
CB Aaron Williams: Texas
It's tough to find a spot for taller, stiffer corners who struggle to turn and run with receivers down the field, but that's exactly the case for Williams. He did run better at his pro day (low 4.4's) than at the Combine (mid 4.5's). However, the Texas track is notoriously fast and on tape it's simply too easy to get behind him vertically. Add in the fact that he really struggles with his footwork and change of direction skills in off coverage, and it's becoming more and more likely he will be asked to move to safety in the NFL.
DT Lawrence Guy: Arizona State
When looking over the defensive line class the one question I keep asking myself is…why isn't Guy getting more love as a potential second-round prospect? He's a 6-5, 300-pound kid, is a good athlete, can bend, shoots gaps inside as a pass rusher and is a three or five-technique candidate as well similar to the aforementioned Muhammad Wilkerson. However, talking with scouts around the league there is a growing concern about his attitude and overall character, which could cause him to fall a lot further than his talent would warrant.
DE Jeremy Beal: Oklahoma
I spoke a lot about Beal and his performance at the Senior Bowl, discussing his inability to win with his get off or with a bull rush throughout (something that showed up on tape frequently). However, after running in the 5.2 range at the NFL Combine, Beal's stock has now hit an all-time low. Some teams are even looking at him as a two-down jack backer only in a 3-4. Pretty much he isn't fluid enough to play in space as a 3-4 rush guy and isn't getting much love as a down DE either. Wouldn't be shocked to see him go undrafted.