February 12, 2011 -
National Football Post
Prospects who should have stayed in school
A look at five junior prospects whose draft stock would have been better served if they stayed in school for their senior year.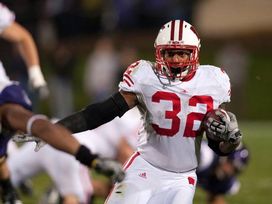 ICONClay isn't a guy who can create for himself at the next level.
RB John Clay: Wisconsin
Clay is a guy who is never going to get much more explosive or dynamic, and maybe him thinking that the less wear and tear on his legs the better in terms of his pro career. However, when you watch the guy on tape he's just a really "blah" athlete who is going to struggle to make anyone miss at the next level and is rarely going to be able to create for himself. Add in the two facts that the Wisconsin offense was actually better when he wasn't in the game and that this is a very deep running back class in 2011, and I have a hard time seeing Clay come off the board much before the later portions of the draft.
WR DeAndre Brown: Southern Miss
There is no question in my mind that this guy is an NFL-caliber talent. When healthy, Brown possesses a real burst for a big man, runs well after the catch and knows how to use his big frame to go up and get the football. However, he's suffered a number of injuries ever since the end of his freshman season and watching him at times this past year, he looked like a shell of the guy we saw in 2008. There are also character and immaturity issues with Brown as well. I thought if he were to come back for his senior year, put his best foot forward, prove he's healthy and have a strong year that he could make a run at the top-100 picks. However, with so many off the field and medical questions surrounding his name, I have a hard time seeing him go much before the final two rounds.
FS Will Hill: Florida
Hill is a former five-star recruit who has only one full year of starting experience while at Florida. And despite being an intriguing size/speed athlete the fact is the guy doesn't make many plays in the deep half on the football. He had only two interceptions in 2010, only one other pass breakup and when watching him on tape he isn't a real instinctive defender. Plus, he's not real polished in his drop, isn't real clean getting out of his breaks and isn't a real impressive tackler. He was a hyped-up recruit who got some pub early in his career because of his overall athletic ability. However, as a football player and safety the guy still has a long ways to go and would have been much better served in my view to stay at Florida for another year and develop at his trade.
OLB Thomas Keiser: Stanford
Keiser was a productive DE/OLB prospect for the Cardinal who recorded 19.5 sacks over the past three seasons, playing both from a two- and three-point stance. However, coming off a junior year where he had only 4.5 sacks standing up as a 34 OLB the thought was in most draft circles that he was definitely coming back. That wasn't the case. Since then Keiser was one of the notable snubs for the NFL Combine and will need to prove he has the kind of athleticism needed to be an effective pass rusher either at DE/OLB at his pro day only. He looks nothing more than a late-round pick at this stage, where as I thought if he were to come back for his senior year and have a productive season, the mid rounds could have been a likely possibility come 2012.
RB Darren Evans: Virginia Tech
Much like John Clay, I get the idea that a physical running back like Evans needs to come out as early as possible in order to limit the wear and tear on the tires. However, with Evans coming off a torn ACL that caused him to miss the 2009 season and showing no real burst to his game this past year, I think he would have been better served to take that second year of recovery where most athletes say you really start to get your initial explosion back. Evans now is a big medical concern who runs high and hard, doesn't have much wiggle to his game and is going to be nothing more than a late round/free agent type back. He's also likely going to have a tough time making an NFL roster. Even if he was the number two guy at Virginia Tech next year, being able to show scouts he's healthier than he was in 2010 and have some kind of burst/explosion to his game — unlike this year — would have been better for his draft prospects than coming out early this year in a deep running back class with clear medical issues.
Follow me on twitter: @WesBunting