December 23, 2010 -
National Football Post
Pryor finds another way to hurt his draft stock
Ohio State quarterback Terrelle Pryor will sit out the first five games of the 2011 season due to receiving discounted services –- a violation of NCAA rules -- which will ultimately further hurt his draft stock going forward for two reasons.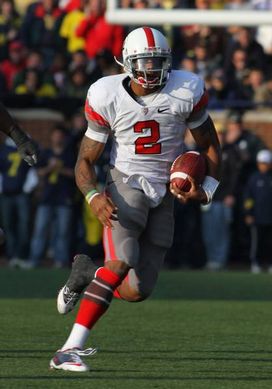 ICONOhio State's Terrelle Pryor.
The first is that the guy simply broke the rules. He thought he was above the law, tried to get away with something he knew was wrong and will now have to answer questions from NFL scouts concerning his overall maturity level. And sure, it's not like he got busted with drugs or killed someone, but the facts are this is a mark against the guy's off the field character and for someone who wants to be the face of the franchise and be an NFL quarterback, this is not the type of trouble you want following around your potential signal caller.
The second concern is that Pryor will miss the first five games of the season and that's valuable reps he will be missing where he could have been in the game getting better at his trade. As athletic as he is, he's still a major work in progress as a quarterback, not only from a mental standpoint, but also from a mechanics standpoint as well. And despite how much work he puts in during the offseason, these are five games he will never get back during a pivotal time where he needs to show some improvement to NFL personnel if he hopes to play quarterback in the league.
Overall, I didn't think he had what it took to be a franchise signal caller before all this went down. And now with another reason to worry about him from a character standpoint, plus the fact he won't be playing, developing and maturing during the early part of the 2011 season, not only would I not draft the guy as a quarterback, I don't know if I would even take a shot on him as an athlete until the late portions of the draft.
He just doesn't seem worth the risk to me.
Follow me on twitter: @WesBunting