August 20, 2011 -
National Football Post
Pryor the QB vs. Pryor the WR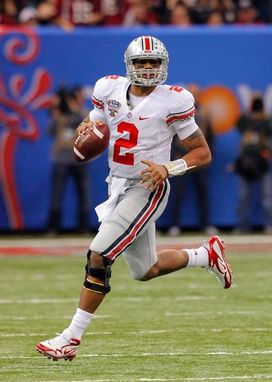 ICONTerrelle Pryor certainly has the talent to make plays at the next level.
Is he or isn't he a potential NFL starting quarterback prospect? Is he better suited to play wide out? The NFP looks at both sides of the story and breaks down Ohio State's Terrelle Pryor at the two positions, giving our take on where he fits best in the NFL.
Pryor the QB
I came away a little more impressed with Pryor as a "thrower" than I initially thought I would. The guy has a strong enough arm to make all the throws at the next level, but what really stood out to me was his touch down the field on the move. He consistently was able to buy time for himself outside the pocket, and with the flick of a wrist was able to drop bucket throws into receivers' outstretched arms. Plus, he's a powerful strider when asked to create for himself as a runner and uses his stiff arm literally as well as any running back in college football. He never looks to be moving fast but consistently is able to outrun angles, break tackles and pick up necessary yards to move the chains.
However, what was particularly alarming to me about Pryor's game at this stage is the overall lack of development he's made both mechanically and as a decision-maker from the pocket. The guy is loose with the football in his drop and in the pocket, consistently holding the ball down by his chest plate, which is one of the main reasons he's had so much trouble taking care of it. And not to be overly critical, but his footwork and overall mechanics from the waist down are atrocious at times. He doesn't typically stride toward his target when asked to reset his feet in the pocket and fails to consistently maintain the balance needed to instantly get the ball out of his hands. He has a tendency to get both too high and narrow in his base when scanning the field, which causes him to be late with throws since he isn't always cocked and ready let go of the ball.
Mentally, he did a better job toward the end of the year deciphering how to eliminate bad decisions from his game. But at the same time, I don't think he has figured out yet how to anticipate throws and definitely doesn't trust his abilities when asked to work the middle of the field. He comes off his reads too quickly once he feels any semblance of pressure and too often drops his eyes/head and looks to take off. At the same time, he gets caught staring down his initial reads too long when he's able to sit back in the pocket and doesn't yet have a great grasp on the overall rhythm and timing in the pass game, especially outside the numbers.
One thing that pops up time and time again on tape is Pryor's limitations in the pass game treading both sides of the field, as he only looks comfortable deciphering information toward the boundary. He consistently starts his initial read boundary side and rarely works back toward the field. However, if he does start his progression field side, it's typically only a one-man route where he can either throw the fade or run take off and run.
Based on what I've seen from him up to this point, he's going to need to improve tremendously from a mental standpoint and with his footwork for me to feel comfortable projecting him as anything more than a development quarterback.
Pryor the wide out
At 6-6, 235 pounds, Pryor is a really gifted athlete for his size with the ball in his hands. His combination of size, strength and explosion allow him to routinely break tackles with a devastating stiff arm and create after contact. He's a strider who possesses sneaky straight-line speed that seems to consistently outpace defenders' angles and also displays enough short-area quickness to create in tight areas as well.
He's also a very natural and coordinated athlete who was a stud basketball player in high school and in my mind certainly possesses the skill set to mature into a capable NFL receiver.
Think back to his freshman bowl game vs. Texas when he effortlessly fought off a safety on a fade pattern in the end zone and then cleanly high pointed the football and snatched the throw like he has been doing it his entire life. Football/athletics just come naturally to him and I would expect him to develop rather quickly at any new position.
Obviously, he would need some work and would take some development. But, if I'm drafting Pryor, I want to gamble on him with his physical/athletic capabilities as a wideout and not with his mental make-up as a quarterback.
Watching Pryor on tape he looks like an athlete who runs in the 4.4 range and at his size there are certainly some intriguing tools to work with. He's a better overall athlete coming out of college than Matt Jones, who had character concerns as well and still went in round one as a projection player.
In all honestly, what's the difference between Pryor and say a coordinated size/speed wide receiver prospect from a small school who's going to need a year or two in order to contribute? Say a guy like Vincent Jackson when he came into the league? Not much in my mind. And I think if you give Pryor a year or two to develop as a wide receiver in the NFL, long term he will find a way to get on the field and make plays for an NFL offense both vertically in jump ball situations and working the three-step game as well. At his size, the guy doesn't even need to be open in order to adjust go make a play on the football, and wideout prospects that can are always in high demand.
Overall, would I draft the guy as a quarterback prospect? No chance.
However, if he's willing to make the move to wide receiver — and that is the million dollar question — I would certainly be willing to take a flyer on the guy in the mid round range. He's a better athlete than just about any other prospect that would go at that point in next year's draft. Plus, he has a ton of upside and despite not being a real high character guy, there have been plenty of successful wideouts in the NFL that aren't angels off the field. It's part of the territory at the position and I definitely think it's Pryor's best chance to be successful in the NFL.
Follow me on twitter: @WesBunting