December 16, 2010 -
National Football Post
Ranking the ACC's Top Prospects
In our continuing look at the top draft-eligible prospects from each conference, the National Football Post checks out the ACC.
Offense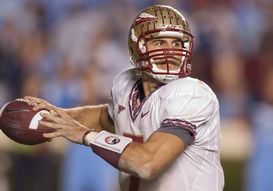 ICONPonder's draft stock has really took a hit this season.
QB Christian Ponder: Florida State
He simply hasn't been the same guy we saw on tape a year ago due to injuries. The guy underwent a second surgery on his throwing elbow last week, putting into doubt his ability to take part in any postseason all-star games. He could end up being a real bargain come draft day, but his draft stock has really fallen since last season.
RB Ryan Williams: Virginia Tech
A violent, slashing type runner who possesses good balance and feel picking his way through the line of scrimmage and will finish runs. Had a tough time staying healthy this year, but seemed to get his mojo back toward the end of the year that made him one of the top backs in the country in 2009.
FB Lucas Cox: Georgia Tech
Possesses a strong frame, takes pleasure in doing the dirty work inside and could end up making a roster via the free agent route as a potential lead guy.
WR Leonard Hankerson: Miami
A tall, long, physically imposing wideout with a strong pair of hands and good body control when asked to go up and make a play. Needs to improve his overall savvy as a route runner, but is balanced out of his breaks and has the ability to get off press and into his routes quickly.
WR Torrey Smith: Maryland
Speed kills and this guy has it. He isn't the most natural of receivers at this stage, but there is a definite change of gears to his game when asked to separate and he has the ability to consistently create big plays in the pass game at the next level.
TE George Bryan: NC State
Lacks great straight-line speed, but uses his big frame well to shield defenders from the football, possesses solid short-area quickness and knows how to find soft spots underneath. Plus, he can be a physical blocker in the run game and has the skill set to mature into a solid "on the line Y' on an NFL offense.
OL Anthony Castonzo: Boston College
A four-year starter who possesses good range off the edge, maintains his balance when asked to mirror and can sit into his stance. Lacks ideal power in the run game and when asked to anchor, but looks like a potential NFL-caliber left tackle.
OL Orlando Franklin: Miami
I'm not nearly as high on Franklin as most, but I still think he's a strong enough kid and has good enough athleticism to get a look as a potential starting right tackle at the next level.
OL Rodney Hudson: Florida State
Lacks ideal size, but has a long set of arms, good fluidity and range in the run game and looks natural when asked to mirror. Isn't as technically sound as many make him out to be, but looks like an ideal fit for a zone-blocking scheme.
OL Chris Hairston: Clemson
Displays good enough power and pop in the run game to make a roster as a right-sided guy.
OL Blake DeChristopher: Virginia Tech
Needs to learn to sit into his stance more off the edge in pass protection, but he's a physical blocker in the run game who loves to finish and get movement off the ball.
Defense
DL Da'Quan Bowers: Clemson
Cut some weight off his frame from last season and has really taken his game to another level in 2010. Has the makings of maturing into one of the top pass rushers to come out of this year's class.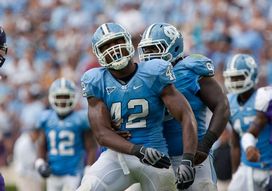 ICONDespite not playing in 2010, Quinn has the talent to be a blue-chip caliber prospect.
DL Robert Quinn: North Carolina
Despite missing the 2010 season due to accepting improper benefits, Quinn's play in 2009 truly speaks for itself. He was in my view the nation's best pure pass rusher and if he can live and learn from his mistakes the sky is the limit for the kid.
DL Jarvis Jenkins: Clemson
A tall, physically put together kid who possesses a good first step, can play with power and offers a lot of scheme versatility to a defense at the next level.
DL Allen Bailey: Miami
I don't think he's nearly the football player his athletic ability would make you believe. But he is a strong kid with a good first step and still has a lot of upside to his game that will likely get him drafted much higher than his play would indicate.
LB Quan Sturdivant: North Carolina
A gifted athlete who lacks the instincts to play inside at the next level, but he has the physical skill set to play in space and get after the ball in pursuit, and should be able to mature into a starting-caliber outside backer.
LB Nate Irving: NC State
A guy you can't help but cheer for. He finally looks healthy after missing the 2009 season due to injuries suffered in a car crash. And if his medical checks out clean the guy has the skill set to play early in his NFL career.
LB Alex Wujciak: Maryland
There are some other ACC linebackers who will likely get selected before Wujciak. However, he plays the game the right way, possesses great size and if he can find his way into the right scheme as a 3-4 jack linebacker, there is no reason why this guy can't do the dirty work inside for a defense taking on blocks and clogging up the inside run game.
DB Chase Minnifield: Virginia
One of the most underrated defensive backs in the country. Possesses good range, is fluid and balanced in and out of his breaks and displays great ball skills. One of the top defensive backs in the entire country in my opinion.
DB DeAndre McDaniel: Clemson
A thickly built ballhawk who can flip and run with much more fluidity than many assume. Plus, he displays great coordination when asked to go make a play on the pass and knows how to come down with the pick.
DB Kenny Tate: Maryland
A rare physical athlete with an imposing frame and great speed for his size. Reminds many of former USC FS Taylor Mays, but does a better job, in my view, of finding the football.
DB Brandon Harris: Miami
Is comfortable playing in both man and zone coverages, is fluid when asked to get out of his break and knows how to track the football. Will be one of the nation's top defensive backs if he were to declare early.
Follow me on twitter: @WesBunting