February 02, 2012 -
National Football Post
Ranking the All-Star Classic's Top 10 prospects
After three days of practice in Little Rock, Arkansas, the NFP ranks the Players All-Star Classic's top prospects for the upcoming NFL draft and breaks down which NFL teams are good fits for each.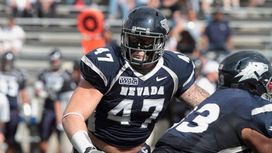 ICONRoy is a fit in a 34 front.
1. OLB Brett Roy: Nevada (6-3, 272)
It's rarely pretty with him. However, he's a strong kid who possesses good power into contact, knows how to use his hands to fend off blocks and has a motor that runs non-stop. Plus, he's a sneaky athlete who could end up playing just about any linebacker spot in a 34 front.

NFL Fits…
Patriots
Jets
Ravens

2. FS Kelcie McCray: Arkansas State (6-2, 196)
A tall, good-looking athlete who displays natural foot quickness, the ability to turn and run, and tracks the football well. There is a little tightness to his game. However, he can run and has the ability to make a roster early on and potentially contribute.

NFL Fits…
Jets
Raiders
Patriots

3. RB Michael Smith: Utah State (5-8, 207)
A short, compact athlete who displays an explosive element to his game when pressing the line of scrimmage. He runs low, has a good feel between the tackles with the short area quickness to side step defenders laterally and accelerates into the open field. Looks like a draftable NFL back to me.

NFL Fits…
Broncos
Bengals
Buccaneers

4. CB Jeremy Lane: Northwestern St. (6-0, 183)
He's raw with his footwork and gets a bit narrow and upright when trying to change directions. However, he was one of the few guys down here with a burst to his game. He's got quick feet, natural fluidity when asked to turn and run, and good overall size. Looks like a guy who can mature into sub package NFL corner.

NFL Fits...
Jaguars
Patriots
Cowboys

5. TE Taylor Thompson: SMU (6-6, 266)
I thought Thompson was at best a fringe draftable defensive end prospect. However, he's opened some eyes this week playing at tight end. He displayed good body control as a route runner, is a sneaky athlete down the field and has a physical element to his game when asked to go get the football And when looking over the weaker TE class in the 2012 draft, he has a lot more value catching the football than rushing the passer in my view.

NFL Fits…
Giants
Steelers
Bears
Follow me on twitter: @WesBunting
For the rest of the list click to page two...