December 23, 2010 -
National Football Post
Ranking the Big 12's Top Prospects
In our continuing look at the top draft-eligible prospects from each conference, the National Football Post checks out the Big 12.
Offense
QB Blaine Gabbert: Missouri
A big, strong kid who has the ability to make all the throws and anticipate routes in the pass game. Still has some maturing to do and needs to improve his completion percentage on third down, but looks like one of the better potential senior quarterback prospects in the country for next season.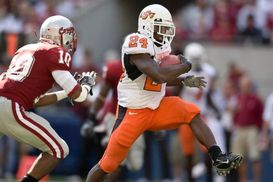 ICONHunter is a versatile threat outside of the backfield.
RB Kendall Hunter: Oklahoma State
Possesses a compact frame, good vision inside and showcases the suddenness and lateral agility to make a man miss and accelerate into daylight. Lacks great size, but runs behind his pads, can catch the football out of the backfield and projects as a nice change-of-pace back in the NFL.
FB Bryant Ward: Oklahoma State
A thick lead blocker who has the athleticism to lead the way on perimeter runs as well as play with some power inside.
WR Jeff Fuller: Texas A&M
Displays good coordination and physicality in jump ball situations, as he's routinely able to come down with the catch. Is one of the more underrated receiver prospects in the country and has a chance to start at the next level.
WR Justin Blackmon: Oklahoma State
A strong, well-put-together kid who plucks the ball off his frame and is an absolute bear to bring down after the catch. Lacks elite straight-line speed, but accelerates very well down the field vertically and exhibits the body control to consistently go up and make a play on the football.
TE Michael Egnew: Missouri
Looks more like a bulked-up wideout, but displays good coordination working from the slot, can get down the seam and knows how to routinely separate initially out of his breaks.
OL Nate Solder: Colorado
Has improved as the year went on. Is still raw in some areas of his game, but is a good athlete who can bend and generate leverage for himself in the run game. Reminds me some of Patriots RT Sebastian Vollmer.
OL Danny Watkins: Baylor
Was as good as any left tackle I saw on tape during the year at the college level. However, is a bit physically limited and will need to kick inside to guard in the NFL, but he has the ability to come in and give an NFL team good starting reps from day one.
OL Tim Barnes: Missouri
I have said it all year that Barnes is one of the most underrated prospects in the country. He's a tall, fluid interior lineman with good feet and balance in space who can also bend and play with leverage in the run game.
OL Levy Adcock: Oklahoma State
A junior offensive tackle who will be one of the top senior linemen entering the 2011 season, as he really came into his own as a junior.
OL Kelechi Osemele: Iowa State
An interesting offensive line prospect. Plays left tackle for the Cyclones and displays some natural body control in the pass game and power vs. the run. Looks better suited to play inside and still gets a bit overextended at times, but has enough upside to really intrigue going into next season.
Defense
DL Aldon Smith: Missouri
A long, explosive defensive end prospect who has the first step to routinely reach the corner, knows how to use his length to stay clean and rarely stays blocked for long.
DL Jared Crick: Nebraska
Isn't the blue-chip caliber prospect many are making him out to be. But the guy has a great motor, can find the football and uses his length well to fight off blocks in both the run and pass game. Needs to do a better job keeping his pad level down, but has some scheme versatility and exhibits the type of mental makeup coaches love in a D-lineman.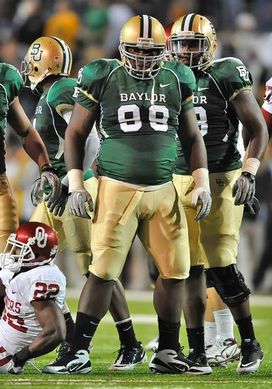 ICONTaylor can be quite the presence inside when motivated.
DL Phil Taylor: Baylor
A real boom or bust prospect. Is a massive man who displays a good first step and overall athleticism for his size, but he's still raw and has had a tough time battling with his weight throughout the course of his career. However, if you can get him motivated, the guy could be a real player in just about any scheme.
DL Colby Whitlock: Texas Tech
Doesn't always get the attention he deserves and played out of position this year at Tech. But he's showed the ability to add some weight and play with a little more anchor inside, while still possessing the first step to get up the field, find the football and create havoc in opposing teams' backfields. Will be a nice mid/late round value.
LB Von Miller: Texas A&M
He's explosive off the edge, fluid when asked to change directions and knows how to get after the quarterback. One of the best pure pass rushers in this year's draft.
LB Lavonte David: Nebraska
A real playmaker on the Cornhuskers defense. Runs well sideline-to-sideline, can tackle both in space and in a phone booth and seems to play the game with bad intentions.
LB Travis Lewis: Oklahoma
Didn't quite have the year many envisioned, but he runs well, is fluid in coverage and still seems like a perfect fit as a 4-3 weakside backer in the NFL.
DB Jimmy Smith: Colorado
A tall, long-armed corner who can sit into his stance, fluidly open up his hips and turn to run. If he can get his hands on you the battle is over and in my view is the best press corner in the senior class.
DB Prince Amukamara: Nebraska
Lacks great makeup speed, but the guy can be physical off the line, finds the football well and loves to compete. Will be able to be used all over an NFL defense and won't be limited by scheme.
DB Aaron Williams: Texas
Another tall, gifted athlete who can tackle in the run game, turn with NFL-caliber receivers vertically and has the fluidity to cleanly open up his hips when changing directions. Still needs to add some more polish to his game as he will get upright too quickly, but the skill set is there.
DB Alfonzo Dennard: Nebraska
Possesses a thick, compact frame, is physical off the line, doesn't get overextended with his footwork and is comfortable playing in both press and off man coverage. A talented junior who will have a tough decision to make on whether to come out this year or return as one of the best defensive back prospects in the country for 2011.
Follow me on twitter: @WesBunting