December 27, 2010 -
National Football Post
Ranking the Big East's Top Prospects
In our final look at the top draft-eligible prospects from each conference, the National Football Post checks out the Big East.
Offense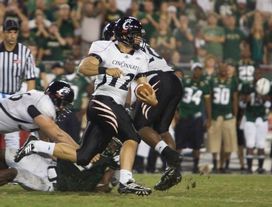 ICONCollaros is an undersized run/pass threat.
QB Zach Collaros: Cincinnati
He's undersized and there were certainly some major learning curves for him this season. But he's a good athlete who can be accurate from the pocket and on the move, and with a strong senior year he could give himself a chance to get into an NFL camp and compete for a roster spot.
RB Jordan Todman: Connecticut
Lacks ideal size, but runs hard and behind his pads. Possesses impressive feel and shiftiness between the tackles and can accelerate quickly into daylight. Is one of the more natural runners in the entire nation and will certainly add some talent to an NFL backfield as a rotational guy.
FB Anthony Sherman: Connecticut
A strong, physical kid who has the ability to certainly make a roster as a lead blocker and also give you some added value as a heck of a special teams guy.
WR Jon Baldwin: Pittsburgh
Didn't have the year many thought he would and at times looked a bit too heavy and slow to get back up to full speed. However, he's a big kid with a long stride and when asked to get down the field, he knows how to make plays on the football at the highest point. Looks more like a possession-type receiver to me though.
WR Jock Sanders: West Virginia
He lacks size, but the guy accelerates quickly in and out of his breaks, exhibits good short-area quickness and is dangerous after the catch. Could carve out a niche for himself on special teams and as a slot guy.
TE Cameron Graham: Louisville
Is at his best when standing up off the line, getting into routes quickly and consistently is able to pluck the football off his frame. Isn't a great blocker and doesn't look comfortable sitting into his stance, but has some upside as a pass catcher.
OL Jason Pinkston: Pittsburgh
A thickly built left tackle who can coil up into his stance, fire off the football and really generate a pop into contact. Doesn't look athletic enough to play on the outside in the NFL, but projects as one of the better guard prospects in my view.
OL Zach Hurd: Connecticut
A massive interior blocker who will give himself a chance because of his size. However, he plays upright, isn't a real natural bender and is going to have a tough time gaining leverage in the run game at the next level.
OL Mark Wetterer: Louisville
Possesses good short-area quickness, bend and length in pass protection and consistently is able to mirror in space or through contact. Would like to see him get stronger in the lower half, but has a chance to get drafted late and fight for a roster spot as a rookie.
OL Mike Ryan: Connecticut
A strong, thickly built offensive tackle who might be better suited to kick inside to guard, but will be one of the better junior offensive line prospects for the 2012 draft.
OL Alex Hoffman: Cincinnati
Possesses good length and overall versatility and displays good athleticism in both the run and pass game. Has some upside, but needs to get more comfortable at one spot after playing both guard and right tackle during his time as a Bearcat. Therefore, developing at a position this summer will be key, but the skill set is there.
Defense
DL Jabaal Sheard: Pittsburgh
Displays the ability to get after the quarterback in a variety of ways, plays with a mean streak and has a motor that runs nonstop. One of the safer defensive end prospects in this year's draft.
DL Chris Neild: West Virginia
A thickly built interior lineman who has a strong anchor, can eat up space and plays the game with bad intentions. Is a bit limited athletically, but could fight for a roster spot on an NFL defense as a nose.
DL Julian Miller: West Virginia
A productive defensive lineman who has been one of the better pass rushers in the entire conference over the past two seasons, all while playing out of position as a five technique. Has some upside and there are some intriguing physical attributes to like about his game as he enters his senior year.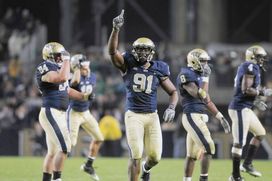 ICONRomeus has had a disastrous senior season.
DL Greg Romeus: Pittsburgh
Possesses a tall, long-armed frame and has the ability to consistently shed blocks and work his way toward the quarterback. However, missed a lot of the season due to a back injury and a torn ACL, has a questionable motor and needs to learn to play with a more consistent pad level. A real boom or bust prospect.
LB J.T. Thomas: West Virginia
He runs wells in pursuit, can tackle the football and has a passion for the game. Plays a bit out of control at times and will struggle to consistently read his run/pass keys, but should be able to make a roster and at worst be a heck of a special teams guy.
LB Lawrence Wilson: Connecticut
An undersized, rangy linebacker who looks limited in the kind of scheme he can play in, but seems like a good fit as a 4-3 weakside guy.
LB Doug Hogue: Syracuse
A former running back who has made the transition to linebacker over the past two seasons. Possesses good range, has some pop as a tackler and good overall upside at the position as well. Should be able to make a roster as a rookie and will get better with time.
DB Johnny Patrick: Louisville
Displays improved footwork and bend when asked to click and close on football in front of him and displays some strength as a tackler. However, still gets a bit upright out of his transition and you can take shots on him down the field.
DB Brandon Hogan: West Virginia
Never played up to his potential this season after getting suspended early in the year due to a DUI. However, he's an explosive, compact corner with good speed, fluid when asked to redirect and can track the football vertically. Lacks great ball awareness down the field, but has the ability to play a number of roles in an NFL secondary.
DB Robert Sands: West Virginia
A tall, high-cut safety who displays natural power as a striker and above-average ball skills, but can be slow to redirect and get out of his breaks. More of a strong safety only who will need to play inside the box at the next level.
DB Joe Lefeged: Rutgers
He lacks great range or straight-line speed in the deep half. However, he possesses good instincts, ball skills and is a he ck of a special teams player, which gives him a good chance of making an NFL roster.
Follow me on twitter: @WesBunting