December 15, 2010 -
National Football Post
Ranking the Big Ten's Top Prospects
In our continuing look at the top draft-eligible prospects from each conference, the National Football Post checks out the Big Ten.
Offense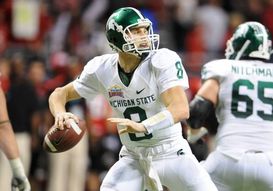 ICONDespite being only a junior, Cousins showcases a lot of savvy as a passer.
QB Kirk Cousins: Michigan State
Lacks an elite physical skill set, but spins a clean football, displays nice touch down the field and possesses a good feel for the pass game. Will never be a potential blue-chip prospect, but at worst looks like a solid reserve type in the NFL.
RB Mikel Leshoure: Illinois
A strong, powerfully built back who runs hard between the tackles and has the frame to wear down opposing front sevens. Could end up being the second back off the board come April.
FB Brett Morse: Iowa
A nasty lead blocker who breaks down well on contact, has some pop in the hole and does a nice job getting out in front on runs off tackle. Isn't going to go high, but could win a spot on a roster as a traditional lead guy.
WR Tandon Doss: Indiana
Possesses a strong-looking frame and good overall initial burst for a guy his size. Possesses the ability to consistently separate on all levels of the field and is surprisingly shifty with the ball in his hands. Not in the same class as the other top-tier junior wideouts, but has the talent to potentially start on the outside down the line.
WR Marvin McNutt: Iowa
Displays the size and body control to consistently go up and make play on the football. Doesn't run overly well, but is balanced when asked get out of his breaks and could have a really big season next year and volt up draft boards as Iowa's main receiving target.
TE Lance Kendricks: Wisconsin
His narrow frame might limit him a bit off the line in the run game. However, he's an excellent blocker as a move guy, runs well and can create down the seam. He might not be a traditional tight end in the NFL, but he can definitely carve out a niche as a potential H-back type option.
OL Gabe Carimi: Wisconsin
A downright dominant run blocker who can sit into his stance, fire off the ball low and really generate a snap through his hips. Possesses a strong upper body as well and looks like an ideal fit as a potential right tackle at the next level.
OL Stephen Schilling: Michigan
Displays the ability to block with leverage as an in-line guy in the run game and is also very capable on the move. Looks like one of the better offensive guard prospects in this year's draft.
OL Justin Boren: Ohio State
He's a bit limited athletically, but he knows how to fire off the ball low and get into his man off the snap. Plus, he displays a strong lower body in pass pro, can sit into his stance and anchor and has the ability to earn starting time at the next level in more of a power scheme.
OL Stefen Wisniewski: Penn State
Simply put: He's the most technically sound offensive lineman I have seen this year and should be able to quickly carve out a starting role for himself at either guard or center at the next level.
OL Michael Brewster: Ohio State
One of the better interior linemen in the country who has the size and length to control blocks at the point and he looks ready to take his game to the NFL.
Defense
DL J.J. Watt: Wisconsin
Plays with surprising bend and leverage for a guy his size. Knows how to set the edge in the run game and uses his strong hands and power well to disengage vs. the pass. Looks like an ideal 3-4 DE at the next level who should be able to quickly give you quality play early in his NFL career.
DL Ryan Kerrigan: Purdue
He doesn't play the run game as well as many give him credit for and is a bit limited as an athlete. However, the guy does know how to rush the passer and never stays blocked for long off the edge.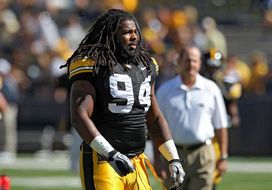 ICONClayborn is a three down lineman at the next level.
DL Adrian Clayborn: Iowa
Didn't quite have the type of year many envisioned, but he's still a strong, physical kid who can set the edge and give you quality reps as a pass rusher. A three-down defender who looks ideally suited to play on the left side.
DL Cameron Heyward: Ohio State
Isn't a real natural pass rusher, but has a strong lower half and a powerful set of hands. Might be better suited to play as a five-technique only at the next level, but possesses the versatility to fit into either a 3-4 or 4-3 scheme.
LB Martez Wilson: Illinois
A long, gifted athlete who displayed the ability toward the end of the year to consistently create pressure off the edge and get after the passer. Seems too linear to play inside, but looks like he could play as Sam in a 4-3 or a rush backer in a 3-4.
LB Brian Rolle: Ohio State
He's undersized and won't fit every scheme, but the guy is simply a football player. He's tough, fluid, runs very well and can tackle the football. Looks like a typical mid/late round pick for a cover two defense who will ultimately end up starting in the NFL as a weak side guy.
LB Greg Jones: Michigan State
Displays a good feel in between the tackles finding the football and wrapping up on his man. Is a bit limited as an athlete and doesn't showcase a ton of range vs. the pass game, but looks like a solid, yet unspectacular contributor at the next level.
DB Chimdi Chekwa: Ohio State
A physical corner off the line who is at his best in pressman where he can get his hands on you and re-route receivers off the line. Possesses good makeup speed as well, but is raw with his footwork and gets too upright in his drop causing him to struggle to click and close.
DB Tyler Sash: Iowa
A pure ballhawk who does a great job reading his pass keys, getting early jumps on the football and making a play on the throw. Lacks great speed and isn't the most consistent of tacklers, but will find a place in the league.
DB Shaun Prater: Iowa
Possesses good size, runs well, can track the football and will tackle in the run game. Has really taken his game to another level as a junior this season.
DB Chris L. Rucker: Michigan State
An overrated senior corner who possesses good size. But isn't real consistent getting his hands on receivers off the line, is slow to turn and run and has some character concerns attached to his name. Looks more like a cover two-type corner because of his size and ability to tackle or a potential safety prospect.
Follow me on twitter: @WesBunting