January 11, 2012 -
National Football Post
Ranking the Draft's Top 10 Quarterback Prospects
A look at the NFP's quarterback prospects 10-6…
10. Russell Wilson: Wisconsin (5-11, 210)
Wilson is a plus athlete who can spin the football and gives you a nice run/pass threat. However he's undersized, is going to struggle to consistently make plays from the pocket and is still learning how to work his way through defenses. He is worth a pick late, but I don't see the guy as a potential starter in the NFL. Reserve only.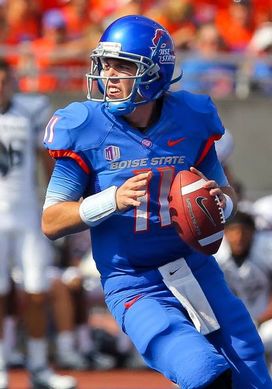 ICONMoore looks like an NFL reserve only.
9. Kellen Moore: Boise State (5-11, 191)
I see him more as a later round type pick/reserve only whose playing career will end up being closer to say a Koy Detmer type quarterback than a Drew Brees. However, should be a solid reserve who can play at a high level in spurts when you need him to start.
8. Kirk Cousins: Michigan State (6-3, 205)
A solid athlete who isn't overly impressive physically, but he has enough to make it in the NFL. Still needs to take that next step in his ability to decipher defenses and cut down on the mental errors. However, he's a good kid, a hard worker and has some similar qualities to some of the senior quarterbacks who came off the board high last year (Ponder/Dalton). Nevertheless, his struggles with pressure could hold him back from ever becoming an NFL starter.
7. B.J Coleman: Tennessee-Chattanooga (6-4, 220)
He needs to improve his footwork from the gun and from center before he's ready for the NFL game. However, Coleman has a good skill set, can make all the throws and is an intriguing developmental kid with a "plus" upside.
6. Brock Osweiler: Arizona State (6-8, 240)
Osweiler would have been much better served to stay for his senior year and develop his overall feel for the game. Because of as now he struggles to decipher defenses and honestly didn't display a great feel for his own offense either. The guy has some talent and can sling the football. However, much like Ryan Mallett last season, he's going to need to play in an offense where he can throw the football down the field and isn't going to be forced to make many quick throws underneath, where he struggles with timing, footwork and ball placement. If everything falls into place for Osweiler, meaning he develops as a quarterback mentally, has time to work at his trade and falls into a perfect fit for him physically (Steelers, Patriots, Raiders) he does have the talent to eventually fight for a starting job in the NFL. However, he rates much closer to a developmental later round pick and reminds me some of Cardinals QB John Skelton.
For quarterbacks 1-5 click to page two...
Follow me on twitter: @WesBunting