March 08, 2012 -
National Football Post
Ranking the draft's top 3-4 nose tackles
Breaking down the top 3-4 nose tackles in the 2012 NFL draft…

1. Alameda Ta'amu: Washington (6-3, 337)
This is the kind of guy who has the ability to anchor the middle of an NFL defense in either a 3-4 or 4-3 front. Needs to do a better job finding the football, and playing with a more consistent pad level. But, overall Ta'amu looks like a starter who you eventually will be able to win with in the NFL. I think he can play a similar role to Sione Pouha (Jets) and Paul Soliai (Dolphins) anchoring a 34 front.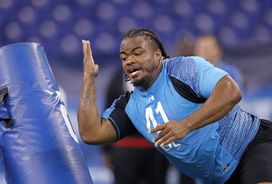 ICONPoe has been flying up draft boards.
2. Dontari Poe: Memphis (6-5, 350)
Has a rare physical skill set due to his combination of flexibility, power and get off burst. However, he's still learning the nuances of the position. If he's willing to put in the time, Poe can mature into one of the leagues better interior presences. Nevertheless, because he's raw his floor isn't overly high either. He's more naturally talented than Ta'amu, but questions about his motor concern me, especially at a spot where he's going to have to be content to do the dirty work.

3. Josh Chapman: Alabama (6-1, 310)
Has the making of a starting caliber nose at the next level in either a 3-4 and 4-3 front. Can consistently anchor on contact, possesses solid length and is tough to move off the football. Also, is a better pass rusher than given credit for. Will likely fall because of medical concerns, but could be a real bargain because of it.

4. Hebron Fangupo: BYU (6-1, 330)
A naturally strong kid with a great attitude and work rate. Needs to improve his pad level, but has the kind of natural power, girth and work ethic to make it with some time.

5. Damon Harrison: William Penn (6-2, 340)
The kind of physically put together kid who can develop as a nose in either a 34 o4 43 front. In a weaker nose tackle class, I would rather roll the dice on this higher upside kid than most of the average senior later round guys at bigger schools.

6. Nicolas Jean-Baptiste: Baylor (6-2, 335)
His girth and natural power are intriguing, but still has a long ways to go. Needs to play lower consistently and use his hands better if he hopes to make a roster. But his size and natural strength will give him a shot.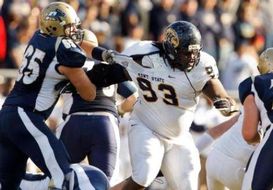 Kitchen is worth rolling the dice on late.
7. Ishmaa'ily Kitchen: Kent State (6-3, 334)
A thick, strong kid with some natural power and can be tough to move. Needs to improve pad level and overall technique when extending arms and fending off blocks. A late round/size free agent who has some tools that will give him a chance to develop on a practice squad.

8. Asa Chapman: Liberty (6-4, 368)
Is an imposing kid, but there isn't a real explosive element to his game either off the ball or through contact. Struggles with pad level and balance, is more of just a size free agent in my mind.
Check out the NFP Draft page here...