March 05, 2012 -
National Football Post
Ranking the draft's top 3-4 pass rushers
Breaking down the top 10 potential rush linebackers in the 2012 NFL draft…

1. Melvin Ingram: South Carolina (6-2, 276)
He is an impressive pass rusher who can get after the QB in a number of ways. His suddenness, power and natural feel for the game makes me think he's one of the draft best senior pass rushers and can line-up at a number of spots at the next level.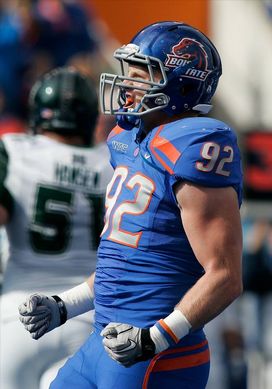 ICONMcClellin is a favorite of the NFP.
2. Courtney Upshaw: Alabama (6-2, 265)
I like him as a 34 outside backer who can play on the strong side, take on linemen at the point and also rush the passer. He's at his best attacking downhill, using his strong hands to disengage and always is around the football. Looks like a year one starter to me at the next level with scheme versatility, but will never be a dynamic pass rushing option.

3. Nick Perry: Southern California (6-3, 250)
Exhibits the first step to be a threat off the edge, however struggles to drop his pad level when flattening out. Plus, he doesn't have much of a counter to his game at this point. Nevertheless, has some obvious talent and is a guy you would expect to start as a rush backer in a 34 scheme and be a productive threat off the edge.

4. Shea McClellin: Boise State (6-3, 258)
McClellin is a productive pass rusher with a big motor; good skill set and can get after the QB in a number of ways. Looks like a starter at the next level who could end up playing just about any linebacker spot in a 34 front.

5. Bruce Irvin: West Virginia (6-3, 245)
A gifted athlete who has the initial burst to routinely reach the edge. However, lacks ideal size and doesn't have a real sophisticated pass rushing repertoire. Is going to make the move to a 34 OLB at the next level and might need a little time. Reminds me some of the Chris Clemons.
For the rest of the list click to page two...