December 13, 2010 -
National Football Post
Ranking the Pac-10's top prospects
With college football postseason awards now out, the National Football Post is getting into the action and naming its top eligible NFL prospects from each conference, starting today with the Pac-10.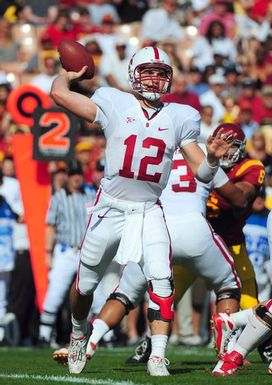 ICONLuck is one of the best quarterback prospects to come along in years.
Offense
QB Andrew Luck: Stanford
Simply put, he's the best quarterback prospect to come along in years. His ability to decipher information quickly, be accurate and on time with the football on all levels of the field and consistently get his team efficiently in and out of personnel groupings is as good as any QB prospect I have evaluated. He's wise beyond his years and looks ready for the next level.
RB Shane Vereen: California
Possesses good enough size to run the ball effectively in between the tackles, but is also dynamic enough to strike for the big play once he gets into the second level. One of the better junior backs in the country who has the ability to create plays in both the run and pass game in the NFL.
FB Owen Marecic: Stanford
A throwback-type lead blocker who showcases good pop at the point of attack with the hand placement and leverage to consistently finish blocks. Looks like a starting lead blocker very early in his NFL career.
WR Juron Criner: Arizona
The one junior wideout who has really been under the radar all season. Lacks a great initial burst, but has that strider speed to threaten defenders vertically, uses his big frame and body control to go up and get the football and possesses good balance as a route runner. Is a definite draftable option at this stage, but could make a big move up boards in 2011 if he stays as a senior.
WR Jeff Maehl: Oregon
One of the most underrated wide receiver prospects in the county. He runs better than given credit for, showcases some shiftiness off the line and has the ability to separate and hang onto the pass while working the middle of the field.
TE Jordan Cameron: Southern Cal
Another one of these former basketball players who has the athletic ability to go up and get the football, and he has only begun to scratch the surface of his potential.
OL Derek Hall: Stanford
An undersized right tackle who fires off the ball low, run blocks with good leverage and has the skill set to eventually mature into a starter with some time.
OL Tyron Smith: Southern Cal
Reminds me of a young D'Brickashaw Ferguson. He's a long, athletic lineman who needs to continue to add more natural girth/power to his game, but he has the range, balance and fluidity to develop into a very capable NFL left tackle.
OL Alex Linnenkohl: Oregon State
He isn't the biggest of linemen, but showcases good body control and range when asked to stick to defenders on slide down blocks and holds up well in pass protection. He isn't going to get selected high, but he's the type of prospect who can make a roster as a rookie and fight for playing time down the line.
OL Andrew Phillips: Stanford
Another one of those overlooked Stanford offensive linemen who isn't overly athletic or physical, but he shows enough in both areas plus has the girth, intelligence and technique to make it in the league.
OL David DeCastro: Stanford
Only a redshirt sophomore, but he has the making of developing into one of the better offensive guard prospects in either the 2012 or 2013 drafts.
Defense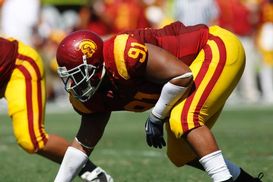 ICONCasey has the ability to routinely make his way into the backfield.
DL Jurrell Casey: Southern Cal
Would like to see him lose a bit of the flesh in his mid-section, but he's an explosive pass rusher with a long set of arms and displays good balance when asked to shed blocks inside.
DL Lawrence Guy: Arizona State
He's a tall, long-armed lineman with good power and flexibility in his lower half. Needs to do a better job finding the football, but all the tools are there for him to develop into a productive three- or five-technique at the next level.
DL Cameron Jordan: California
Besides Auburn DT Nick Fairley, Jordan has been the nation's most dominant defensive lineman on a week-to-week basis. Looks like a potential blue-chip defender at the next level.
DL Stephen Paea: Oregon State
A strong, thickly built interior lineman with a good first step, a powerful punch and his best football is still ahead of him.
LB Mason Foster: Washington
A guy who shows up vs. both the run and pass game, displaying a nose for the football and has the makings of a very solid outside backer in the NFL.
LB Akeem Ayers: UCLA
A physically imposing athlete who runs well for his size, showcases good fluidity when asked to redirect and has the skill set to play as either a 3-4 rush guy or as a strong side backer in a 4-3.
LB Kenny Rowe: Oregon
An undersized linebacker who will get overlooked on draft day. However, he has a good first step, can drop his pad level and redirect with ease, and simply knows how to get after the QB. Your typical late-round undersized pass rusher who could mature into a real player with some time to mature physically.
DB Rahim Moore: UCLA
A fluid, ball-hawking safety who showcases the ability to cover a lot of ground in the deep half and consistently make a play on the throw.
DB Nate Williams: Washington
I'm not a huge fan of his game, but he's made improvements as a senior, finds the football in both the run and pass game and is a physical striker. Looks more like a reserve though in my book.
DB Chris Conte: California
A nice-sized kid with decent range and ball skills for the position. Had a strong senior year and now looks to have given himself an opportunity to get drafted and maybe make a roster in 2011.
DB Shareece Wright: Southern Cal
I've been really disappointed with his play this season, as he has looked really poor at times when asked to click and close on the football underneath. But he can be physical off the line, fluid when asked to turn and run and has the ball skills to at least give himself a chance at the next level.
Follow me on twitter: @WesBunting