October 18, 2011 -
National Football Post
Ranking the "second tier" QB prospects
We all know about the talent among the junior quarterback class, with Stanford's Andrew Luck, USC's Matt Barkley and Oklahoma's Landry Jones sitting atop most quarterback rankings.
However, today we look at the "second tier" of quarterback prospects in the senior class. Therefore, excluding Texas A&M's Ryan Tannehill -who I see as one of the nation's top prospects- here is my breakdown of the senior quarterback class.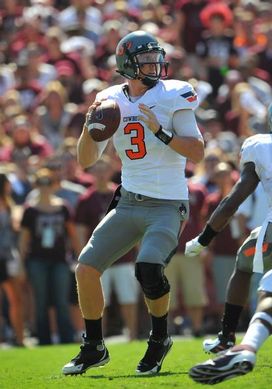 ICONAge is the big negative concerning Weeden as a prospect.
1. Brandon Weeden: Oklahoma State (6-4 218)
His age will likely keep him from going as early in the draft as his talents deserve. But there isn't a throw this guy can't make and he has the skill set and mental make-up to mature into a potential starter with some time.
2. Nick Foles: Arizona (6-5, 240)
A big, strong-armed passer who has the tools physically. However, needs to continue to develop mentally as a decision maker if he hopes to have a chance of being even a decent starting option in the NFL.
3. B.J. Coleman: U.T. Chattanooga (6-4, 220)
He needs to improve his footwork from the gun and from center before he's ready for the next level. However, Coleman has a good skill set, can make all the throws and is an intriguing developmental kid with a "plus" upside.
4. Ryan Lindley: San Diego State (6-4, 230)
Lindley is certainly worth a draft pick and has the skill set to go somewhere in the early/mid round range, depending on how well he performs the rest of the year/post-season. However, if he doesn't improve his overall footwork/coordination from the pocket, it's going to be tough for him to make plays in the NFL when he doesn't have a clean pocket.
5. G.J. Kinne: Tulsa (6-1, 234)
Has a little Jeff Garcia/Bruce Gradkowski to his game. Will fall on draft day because of his size, but is your typical gritty QB prospect who is the son of a coach and in my view will find a way to make a roster and potentially fight for playing time down the line.
6. Kellen Moore: Boise State (5-11, 191)
I see him more as a later round type pick/reserve only whose playing career will end up being closer to say a Koy Detmer type quarterback than a Drew Brees.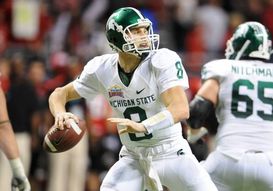 ICONCousins is a safe prospect, but I just don't see him as a stater in the NFL.
7. Kirk Cousins: Michigan State (6-3, 205)
A solid athlete who isn't overly impressive physically, but he has enough to make it in the NFL. Needs to take that next step in his understanding of the offense this year and cut down on the mental errors. However, he's a good kid, a hard worker and has some real similar qualities to some of the senior quarterbacks who came off the board early last year (Ponder/Dalton). Nevertheless, his struggles with pressure could hold him back from ever becoming an NFL starter.
8. Case Keenum: Houston (6-2, 210)
Is a little more physically gifted than Graham Harrell coming out, but looks maxed out as a prospect physically. Is more of a reserve only at the next level, but is one you should be able to trust.
9. Russell Wilson: Wisconsin (5-11, 210)
Wilson is a "plus" athlete who can spin the football and gives you a nice run/pass threat. However he's undersized, is going to struggle to consistently make plays from the pocket and is still learning how to work his way through progressions. He's worth a pick late, but I don't see the guy as a potential starter in the NFL. Reserve only.
10. Dan Persa: Northwestern (6-0, 210)
He's a winner, has all the intangibles and is smart/accurate with the football. His size/arm strength hurt his chances, but if Chase Daniel can make an NFL roster, I would be willing to take a shot on Persa. He's the kind of football player you just don't want to bet against.