December 20, 2010 -
National Football Post
Ranking the SEC's Top Prospects
In our continuing look at the top draft-eligible prospects from each conference, the National Football Post checks out the SEC.
Offense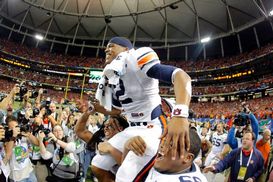 ICONNewton has proven he has the ability to be clutch in even the most difficult of situations.
QB Cam Newton: Auburn
A game changer in every sense of the word this year. Possesses a big frame, can really spin the football and has the athletic ability to consistently buy time for himself and create with his legs. All the tools are there, but he's going to need some time to develop.
RB Mark Ingram: Alabama
Displays a strong lower half, runs hard and loves to finish runs. However, it's his vision in tight areas and lateral quickness that allows him to consistently pick his way through the line of scrimmage before quickly accelerating into the second level.
FB Shaun Chapas: Georgia
A strong lead blocker who takes good angles, displays some pop on contact and can also cleanly catch the football out of the backfield. Should be able to fight for a starting role as a rookie.
WR A.J. Green: Georgia
Quite possibly one of the best wide receiver prospects to come along in years. Displays impressive coordination and body control in jump ball situations, but also showcases impressive fluidity in and out of his breaks in the intermediate pass game for a wideout his size. Is going to be one tough cover for any corner in the NFL.
WR Julio Jones: Alabama
Possesses great size, strength and short-area quickness for the position and knows how to set up routes, change speeds and create initial separation. Is the best wideout in the country when asked to work the three-step game and is a bear to handle as a blocker.
TE Luke Stocker: Tennessee
Isn't the most dynamic of athletes, but has above-average short-area quickness as a route runner, knows how to set up defenders and does a good job going up to get the football. A traditional "on the line Y" at the next level who can give you good reps in both the run and pass game.
OL Derek Sherrod: Mississippi State
The one senior offensive tackle who has really taken his game to another level this season. Is a tall, long-armed kid who possesses good range and great balance in pass protection and has the makings of a starting blind-side blocker in the NFL.
OL DeMarcus Love: Arkansas
Showcases impressive range and athletic ability when asked to reach the corner, but needs to continue to tighten up his footwork in space. Has some really impressive tape playing as a guard in 2008 and in my view I think he's better suited to play inside at the next level.
OL Marcus Gilbert: Florida
Another improved SEC blocker this season. Possesses good power in the run game, can redirect and mirror on the edge and has some body control in space when asked to get out to the second level. Looks like a potential starting-caliber right tackle to me.
OL Mike Pouncey: Florida
He's not as compact/balanced with his footwork as his brother was last season, but he's still a good enough athlete with good enough strength to fight his way into a team's starting lineup as a guard.
OL Ryan Pugh: Auburn
Pugh might be a bit of a shock, but he's just a prospect I really like. Possesses good snap and step ability, plays with leverage when asked to seal and slides his feet well in the pass game. Just seems like one of those overlooked centers who will do it the hard way, but find a way to make a team's roster and potentially fight for playing time down the line.
Defense
DL Drake Nevis: LSU
Plays the game with bad intentions. Possesses, in my view, the best first step of any interior defensive lineman in the country and knows how to create havoc behind the line. An ideal one-gap type lineman at the next level.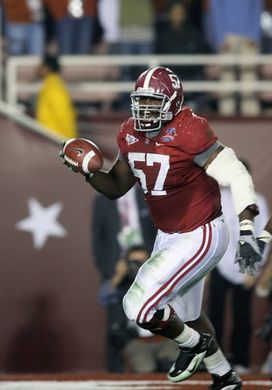 ICONDareus looks like an ideal fit as a 3-4 DE.
DL Marcell Dareus: Alabama
Exhibits a strong lower half, knows how to sit into his stance, extend his arms and anchor. Is an ideal five-technique type defender in a 3-4 front.
DL Nick Fairley: Auburn
An absolutely dominant interior defensive lineman who has the power to consistently overwhelm at the point and fight his way through blocks, as well as the initial burst to threaten gaps and accelerate past blockers inside. One of the few blue-chip prospects in this year's draft.
DL Pernell McPhee: Mississippi State
A big, long-armed kid who didn't have a great statistical year, but he knows how to play the run game and really showed development from last season rushing the passer. Created a lot of QB pressures this year and even stood up at times when asked to get after the passer. Could get some hard looks as a 3-4 rush backer on a defense that likes bigger OLB prospects.
LB Justin Houston: Georgia
One of the best pure pass rushers in the nation. Demonstrates the first step to consistently threaten the edge and flattens out extremely tightly around the corner. Looks like a potential impact caliber 3-4 rush guy to me.
LB Dont'a Hightower: Alabama
A guy who has changed his game a bit from a season ago, as he does a good job taking on blockers inside and is an explosive/powerful pass rusher as well. Will be able to line up all over a versatile NFL defense and should be able to carve out a niche for himself quickly.
LB Kelvin Sheppard: LSU
The kind of middle linebacker everyone seems to really rally around. At times will struggle to quickly find the football, but overall puts himself in the middle of the action, runs well and is a violent striker on contact. Overall, is just a very solid middle linebacker prospect in every area of the game.
DB Patrick Peterson: LSU
One of the most physically gifted cornerback prospects to come along in years. Is a bit raw with his footwork and overall instincts at times, but he's a game changer every time he get his hands on the football and looks like an ideal press corner at the next level.
DB Janoris Jenkins: Florida
The best off/zone corner in the country in my view. Does a great job feeling routes develop around him, wastes little motion when asked to click and close and displays great ball skills in the pass game.
DB Ahmad Black: Florida
For the most part does a nice job putting himself around the football, displays good ball skills and doesn't waste much motion getting in and out of his breaks. Plus, is willing to throw his body around and tackle in the run game.
DB Mark Barron: Alabama
A physical, in the box style safety who can attack the line of scrimmage and tackle in the run game. Lacks ideal balance/redirection skills vs. the pass and despite his solid instincts he wi ll struggle to consistently range and make plays on the football even at the college level. Is a bit limited in what he can offer a defense vs. an NFL passing attack.
Follow me on twitter: @WesBunting