January 19, 2012 -
National Football Post
Ranking the Shrine Game's Top 10 prospects
After three days of practice in St. Petersburg Florida, the NFP ranks the East-West Shrine game's top prospects for the upcoming NFL draft and breaks down which NFL teams are good fits for each.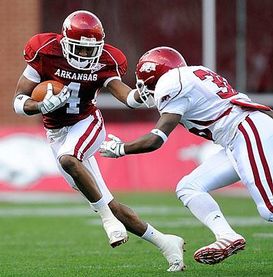 ICONWright is going to be a tough cover in the NFL.
1. Arkansas WR Jarius Wright (5-10, 176)
The undersized wide out didn't have the type of dynamic week of practice I expected. However, a lot of that had to do with the quarterbacks on the west roster. Nevertheless, he was the one guy on the field who opposing corners were terrified of on the outside due to his ability to run vertically down the field. He showcased a real snap out of his breaks working the comeback as well and looked like a receiver in the Titus Young mold. But, he needs to continue to work on his hands when plucking the football.

NFL Fits…
Eagles
Raiders
Browns

2. Coastal Carolina CB Josh Norman (6-0, 203)
If there was an MVP of the week in St. Petersburg, Norman was the guy. He's long, physical and showcased an impressive burst when asked to drive on the football. He was making plays all week and not only has a "plus" skill set, but also exhibits a very natural feel deciphering routes developing in front of him. There are some off the field character concerns, but he's a legit top-100 pick.

NFL Fits…
Jaguars
Buccaneers
Vikings

3. Miami (OH) OG Brandon Brooks (6-5, 353)
Brooks stood out immediately at the weigh-in, carrying his weight about as well as you can for a 353-pound specimen. He dominated practice all week due to his combination of power, balance, coordination and pop on his punch. He's a natural anchor player who can slide through contact and overwhelm in the run game. There isn't a ton of snap off the ball initially into contact, but he still looks like a starter at the next level to me.

NFL Fits…
Ravens
49ers
Falcons

4. Missouri DT Dominique Hamilton (6-5, 320)
Hamilton flashed all week. He can bend, has a good first step and can overwhelm on contact. He will get himself into some trouble when he gets upright inside and I would like to see him continue to fill out his lower half a little more. However, he looks like an ideal five-technique at the next level who should be able to earn a starting job in the league.

NFL Fits…
Steelers
Chiefs
Jets

5. Boise State DE Tyrone Crawford (6-4, 285)
At 285-pounds Crawford showcased natural power all week at the point of attack in the run game while exhibiting the ability to be sudden with his hands and slip blocks. He's also a physical pass rusher who turns speed into power off the edge, understands angles and knows how to rush with leverage. I could see him fighting for a starting job as a 43 base end potentially early on.

NFL Fits…
Browns
Broncos
Titans
For the rest of the list click to page two...
Follow me on twitter: @WesBunting