May 19, 2012 -
National Football Post
Ranking the top five QB prospects for 2013
Our initial look at the top five quarterback prospects for the 2013 NFL draft…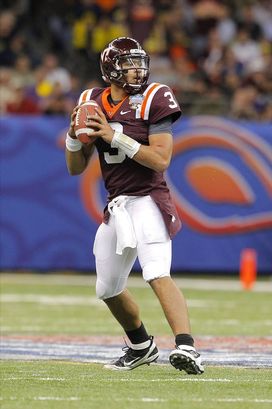 ICONThomas has as much upside as any prospect in the draft.
1. QB Logan Thomas: Virginia Tech (6-6, 254)
There simply aren't many athletes around that possess his size, strength, quickness and ability to spin the football. He showcases the ability to gash defenses with his legs, keep plays alive in the pocket and create down the field because of his impressive vertical touch.
Now, he is still leaning how to play the position. His footwork needs to improve, his ability to find secondary throwing options from the pocket needs improvement as well.

However, the guy has the ability to stress a defenses from a number of ways much like Carolina Panthers QB Cam Newton and if he can continue show improvement as a passer this year, it wouldn't shock me at all if he ends up being the draft's number one overall pick come April 2013.
2. QB Aaron Murray: Georgia (6-1, 212)
When watching Georgia signal caller Aaron Murray, I don't see much of a difference between his game and the one of USC's Matt Barkley. Both lack ideal physical skill sets, but both make up for it with their abilities to decipher information quickly, be accurate with the football and move the chains consistently in the short/intermediate pass game.
However, the one area I would give Murray the advantage is in his ability to move around in the pocket, quickly re-set his feet and create on the move. They both throw well on the move in the play action game. But Murray's ability to create with his legs and his overall foot quickness in the pocket when aligning himself up with secondary targets allows him to not only be more accurate consistently than Barkley, but create more second lives as well. Which in my mind, long term, makes Murray the better overall prospect than Matt Barkley.

3. Matt Barkley: Southern Cal (6-2, 220)
Barkley has been working in a pro style system for three years, deciphers information well, is adapt at handling the blitz and consistently looks to be in control of the USC offense. He's a high floor prospect who should be able to come in and compete at a higher level than most NFL quarterback prospects.

Nevertheless, there are some physical limitations surrounding a prospect like Barkley, as I worry about his less than impressive athleticism and foot quickness in the pocket. Too often he seems to struggle to quickly collect his footing, which directly corresponds with his accuracy problems. Plus, he's limited on the move and possesses only average arm strength.

Overall, I think as of now he's the favorite to be the number one overall pick in the 2013 draft and should mature into a quality NFL starter, in the Matt Ryan type mold. However, I wouldn't be shocked to see one of the more physically talented quarterbacks in the deep 2013 QB class (Logan Thomas, Virginia Tech or Tyler Bray, Tennessee) end up jumping him when it's all said and done.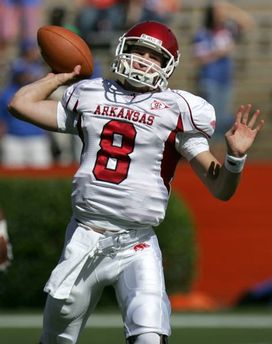 ICONWilson is a productive pocket passer.
4. QB Tyler Wilson: Arkansas (6-3, 220)
There is a lot to like about the game of Arkansas QB Tyler Wilson. He's a good athlete in the pocket who can quickly find throwing lanes and in an instant snap the ball out of his hands from just about any throwing angle an be accurate with the football. Now, this attribute will also get him into trouble at times as he isn't the most polished of quarterbacks from the waist down and doesn't always balance himself into throws, causing his accuracy to be inconsistent at times in the three step game.
Plus, I don't see a big time arm from him and he will try to overthrow the football causing passes to sail on him. Nevertheless, he's got more than enough arm to make all the throws needed in the NFL because of his quick release, timing and anticipation in the pass game.He does do a nice job looking for secondary targets from the pocket and understands how to gut a defense with the big play when they bring pressure.
There is some obvious development that needs to take place with his game, especially with his footwork. But the way he generates velocity from his lower half and can create with his arm in an instant on the move, there is a little Aaron Rodgers to his game in that sense.
Overall, he looks like a prospect who if given some time could mature into a potential solid starting NFL quarterback, but in my mind his inconsistencies with his base and footwork (despite allowing him to create some big plays at times) will dog him just enough to keep him from becoming a top-tier NFL signal caller.

5. QB Tyler Bray: Tennessee (6-6, 213)
When breaking down the 2012 NFL draft and looking at quarterbacks with similar physical attributes as Tyler Bray, Broncos second round pick Brock Osweiler has a lot of similarities. However, after evaluating both on tape, I liked Bray much more, even though he was only a sophomore. Bray showcased a better feel for the offense, displayed the ability at times to find secondary targets and when he stayed in balance with his footwork, he was much more accurate on all levels of the field.
Therefore, if Osweiler was worth a second round type selection on draft day, I don't think there is any stretch in thinking that Bray, with a strong season as a junior should end up going somewhere in round one.