December 16, 2011 -
Barry Dorey
Ranking the top five senior corners
Breaking down who the top five senior cornerback prospects are in the draft…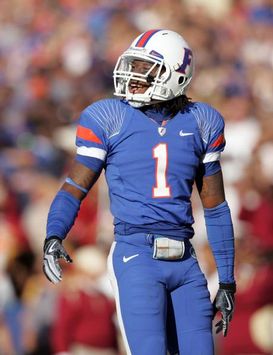 ICONIt will be interesting to see how tall Jenkins really is.
1. CB Janoris Jenkins: North Alabama (5-10, 182)
If he can put it together off the field, he's got the ability to develop into a very good cover man in the NFL. His size is still a concern, which could limit where he plays at in the NFL. However, he's still going to be a really tough defender to separate from and has proved h can play big vs. the best competition in college football.
2. CB Alfonzo Dennard: Nebraska (5-10, 205)
He's strong/feisty, can press off the line and turn and run. Needs to clean up some technical flaws both in press and off the line, which hinders his balance. But can be a guy who could start both on the outside and in the slot at the next level. Lacks ideal top end speed however.
3. CB Coryell Judie: Texas A&M (5-11, 190)
He's a naturally gifted athlete with good range and great ball skills. Displays enough fluidity and balance to develop as a man-to-man corner, but looks ideally suited for a cover two type role where he can attack the football and create turnovers. Should fight for a starting job early in his career.
4. CB Jamell Fleming: Oklahoma (5-11 191)
He's a balanced, coordinated kid who keeps his feet under him when changing directions and can turn and run. Doesn't give up much separation out of his breaks, knows how to make plays on the football and if he can improve as a tackler looks like a guy who warrants a starting job in the NFL early on.
5. CB Casey Hayward: Vanderbilt (5-11, 188)
A smart, productive corner who can consistently make plays on the football. He routinely gets early jumps on the football and come down with the catch as a zone corner. Looks like one of the safer prospects in the draft as a cover two type guy.
Follow me on twitter: @WesBunting
Check out the NFP Draft Page here...
[empty]