November 01, 2011 -
National Football Post
Ranking the top five senior defensive backs
A look at the NFP's top five senior defensive back prospects...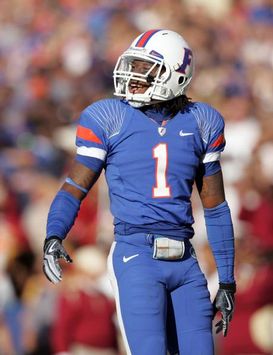 ICONJenkins is the top senior defensive back.
1. CB Janoris Jenkins: North Alabama (5-10, 182)
If he can put it all together off the field, he's got the ability to develop into a very good cover man in the NFL. And despite his size Jenkins is going to be a really tough guy to separate from in just about any scheme he plays in.
2. CB Alfonzo Dennard: Nebraska (5-10, 205)
He's strong/feisty, can press off the line and turn and run. Needs to clean up some technical flaws both in press and off the line, which hinders his balance. But can be a guy who could start both on the outside and in the slot at the next level.
3. CB Coryell Judie: Texas A&M (5-11, 190)
He's a naturally gifted athlete with good range and great ball skills. Displays enough fluidity and balance to develop as a man-to-man corner, but looks ideally suited for a cover two type role at this stage that allows him to attack the football and create turnovers.
4. CB Chase Minnifield: Virginia (6-0,185)
A talented corner who can bend, re-direct, maintain balance out of his breaks and make plays on the football. He improved as the year went on and looks like one of the more NFL ready corners in this year's draft. Should be able to start in just about any scheme.
5. SS Tony Dye: UCLA (6-0, 216)
Has had a tough senior season because of injury struggles and isn't an elite athlete, but plays faster than he times. Will tackle consistently when healthy and is coordinated in coverage. Looks like a potential special teams stud who should fight his way into a starting line-up as a strong safety early in his NFL career.
Be sure to check out the NFP's new 2012 NFL DRAFT PAGE...</p>
Follow me on twitter: @WesBunting