April 06, 2011 -
National Football Post
Ranking the top five small school prospects
With more and more small-school prospects making an impact in the NFL each year, here is a look at the NFP's top small schoolers for the 2011 NFL draft.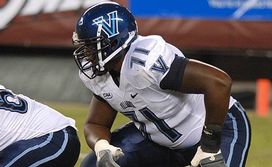 ICONIjalana is the draft's top small-school prospect.
1. OL Benjamin Ijalana: Villanova (6-4, 320) GRADE: 6.9
Ijalana is a thick-based kid with good feet, natural range off the edge and a long set of arms. He displays impressive bend, can gain leverage on contact and generates a good snap for himself off the ball in the run game. Athletically, he has the ability in my view to mature into a good starting left tackle in the NFL. But, if that doesn't work out he also has the base to develop into a very good guard as well.
2. Kenrick Ellis: Hampton (6-5, 346) GRADE: 6.6 C
All the talent and physical traits are there for Ellis to be as good as he wants in the NFL. He possesses great natural strength and is a gifted athlete with a good burst off the ball for his size. Now, he does come with some character concerns, which is the biggest reason why he would fall on draft day. But, he's capable of playing all over a 34 front and is one of the draft's few legit nose tackle prospects.
3. OG Will Rackley: Lehigh (6-4, 310) GRADE: 6.5
A former small-school left tackle who possesses the frame better suited to play inside at guard. He displays natural movement skills, a thick base and sticks to blocks well through contact. Rackley is a bit thin in the legs, but is coordinated on the move and projects as a potential starter in the NFL, but likely will need some time to adjust.
4. Buster: Skrine: UT Chattanooga (5-10, 185) GRADE: 6.2 B
Skrine has been one of the biggest post-season risers this draft season, but honestly the guy also has some pretty impressive tape as well. He's a balanced corner with good fluidity when asked to change directions and can really turn and run. He's a bit undersized and might be better suited to play in the slot. Nevertheless, he's really tough to separate from anytime he's matched up in man coverage.
5. CB Justin Rogers: Richmond (5-10, 182) GRADE: 6.2 B
Rogers is a gifted off/zone corner who is comfortable in his drop, displays impressive click and close ability and knows how to make plays on the football. He did a nice job vs. the jump in level of competition as well at the East/West Shrine game and looks like a nickel guy to me in the NFL.