April 15, 2011 -
National Football Post
RB Taiwan Jones is on the rise after pro day
Eastern Washington running back Taiwan Jones had the kind of pro day everyone kind of expected from him on Thursday, displaying the type of elite straight-line speed that was evident on tape. Jones ran his 40 in the high 4.2/low 4.3 range while also posting a 39.5-inch vertical and 11-foot board.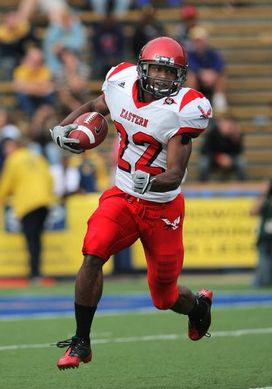 ICONJones possesses the speed to make plays at the next level.
However, maybe even more impressive was his overall height/weight numbers. Jones is now carrying 197 pounds on his 6-foot frame, a far cry from the 178 pounds he was listed at during the season.
Because at 6-0, 178, I simply couldn't gives Jones anything more than a later round grade, worrying about his potential inability to hold up physically at the next level. But, after proving he can add some weight while maintaining his overall explosion and athleticism, now I think he can be looked at more as a legitimate change of pace type option who can handle 5-plus carries a game, catch some passes out of the backfield and get some work on special teams as well. He's still a lean kid with a narrow frame, but getting him up near the 200-pound mark is a much more attractive number for NFL officials that will definitely help his stock come draft day.
Now, when watching Jones on tape first and foremost you see a dynamic athlete. There is an impressive initial explosion to his game and a great first step. He gets up to speed instantly, displays the ability to consistently outpace defenders toward daylight and exhibits a real second gear once he breaks into the open field.
He's still more of an athlete than seasoned running back in my mind, as Jones runs upright and isn't overly sharp or sudden when asked to change directions. He's more of a weaver than violent/lateral runner when asked to break down and because of that and his pad level he'll have a tough time being effective between the tackles. Nevertheless, he can still catch the football out of the backfield, is dynamic in space and can be effective in a Reggie Bush-type role at the next level.
NFL teams are always looking for home run hitters and Jones might be the best option in this year's draft. Again, his skill set isn't tailored to be a traditional between the tackles type runner. However, if you give him the opportunity to run toward daylight and create in space i.e.. the draw and screen game, Jones can definitely carve out a dynamic niche for himself on Sundays.</a>