June 08, 2014 -
Greg Gabriel
Ready to bust loose: Part III
In the final installment of our "Busting Loose" series we take a look at some second and third round selections who have a chance to be very productive players as rookies. All of these prospects just so happen to be in the right place at the right time to play as rookies and show what they can do.
Marqise Lee, WR, Jacksonville Jaguars: A year ago, I doubt you would have been able to locate a draft analyst who didn't feel that Lee was a legitimate high first round pick. He put up huge numbers during his 2012 season at USC (118-1,721-14), but Lee's 2013 production fell off due to quarterback issues at Southern California. He also had too many drops for a player with great hands.
Lee played in an NFL-style offense and so the jump from college to pro won't be as difficult for him as it will be for receivers who played in a spread offense. With Justin Blackmon out due to a suspension, the situation is ripe for Lee to come in and become the top receiving threat on the Jacksonville offense. He has the natural traits. Now, he just has to play like he did in 2012.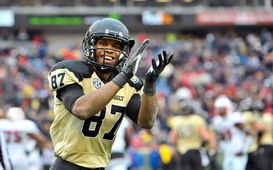 Matthews hauled in 262 passes during his 51 career games at Vanderbilt.
Jordan Matthews, WR, Philadelphia Eagles: The Eagles cut leading receiver DeSean Jackson shortly before the draft and, as a result, didn't have a legitimate number one receiver on the roster. Yes, Riley Cooper and Jeremy Maclin are quality NFL receivers, but I don't see either as the type who can become a standout No. 1.
Landing in Philadelphia is a great situation for Matthews. Over the last two seasons at Vanderbilt, the big pass-catcher nabbed 206 receptions for 2,800 yards and 15 touchdowns. That production was in the SEC, with Matthews being the main offensive threat on Vandy's team.
While I don't expect Matthews to become the Eagles' top receiver as a rookie, I do expect him to put up significant numbers on his way to becoming their No. 1 in another year. I feel Matthews may turn out to be one of the better receivers in this draft.
Jace Amaro, TE, New York Jets: Many in the league felt that the Jets would draft a wide receiver in the first round this year. They wound up selecting Louisville safety Calvin Pryor, who we profiled earlier in this series.
While Amaro is listed as a tight end, he really is a big wide receiver. True, he doesn't have wide receiver speed, but he is a very good route runner who can get in and out of cuts to gain separation. Amaro has excellent hands and is very good after the catch.
In offensive coordinator Marty Mornhinweg's offense, Amaro is going to play a vital role. Playing flexed out and used in motion, he will create mismatches and put up some big numbers as a rookie.
Jeremiah Attaochu, LB, San Diego Chargers: The Chargers were looking to add an edge pass rusher in the draft and did just that with the selection of Attaochu. Jeremiah was a big part of Georgia Tech's defense over the last two years playing both up and down. He had a total of 22 sacks in 2012 and 2013.
Attaochu has ideal size, speed and athleticism to play outside linebacker in a 3-4 scheme. He stands 6032 – 250 and has 4.59 speed. With these measurements, he can play on his feet on base downs and play with his hand in the dirt as a pass rusher in passing situations. Attaochu has the body control, hand use and power to be an elite NFL pass rusher. Watch him become one of the top rookie pass rushers in 2014.
Louis Nix III, DT, Houston Texans: Why Nix dropped to the third round of the draft I will never know. Going into the draft it was thought that Nix would at worst be a high second round choice.
Nix is the prototypical NFL nose tackle. At 6023 -330 he has ideal size. While he will never be a top pass rusher, on run downs he will consistently occupy two blockers and clog up the running lanes.
These types of guys go unnoticed by the media, but they are an important part of a defense. Nix is in an ideal situation in Houston and will be greatly appreciated by defensive coordinator Romeo Crennel.
Follow Greg on Twitter: @greggabe