June 06, 2014 -
Greg Gabriel
Ready to bust loose
In the buildup to the 2014 NFL Draft, many NFL people and draft analysts were saying that this was the deepest and perhaps best draft in years from a talent perspective. I agree with the deepest portion of that sentiment, but we won't know for a while if it will be one of the best. The 2011 first round was really strong, with 12 players voted into the Pro Bowl. It will be awfully hard to duplicate that feat. With that said, here are some rookies who should make an immediate impact.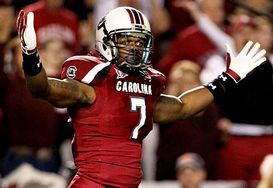 New defensive coordinator Romeo Crennel should get the most out of Clowney this season.
Jadeveon Clowney, OLB, Houston Texans: If Clowney does not make an impact right from the start, it will be a huge disappointment. Everyone is well aware of his talent level, as the South Carolina product is one of the most gifted defensive players we have seen enter the draft in years. Still, Clowney had a very disappointing 2013 season for the Gamecocks with only 3 sacks, and was often not playing very hard.
I have known Houston defensive coordinator Romeo Crennel since 1985 and I know what an outstanding coach he is, as well as how well he motivates. Knowing this, I'd be shocked if Clowney doesn't get or come close to double digit sacks this season. He can be a difference maker and I think he will do the job.
Khalil Mack, LB, Oakland Raiders: Mack may have played in the Mid-American Conference, but he is one talented prospect who would have been a dominant player in any conference. This guy is a complete linebacker in that he can defend the run, play in coverage and rush the passer. Mack is a natural pass rusher who is very explosive with great flexibility. On passing downs he will give the Raiders an edge rusher like they haven't had in a while.
With Mack's size, length and athleticism, it will permit Oakland to use him in a variety of ways to create mismatches and allow him to play to his strengths. Having seen Mack play a number of times in college, I'm really looking forward to watch him play this year.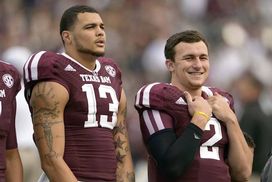 Evans (left) should pair up nicely with fellow 6'5" receiver Vincent Jackson.
Mike Evans, WR, Tampa Bay Buccaneers: I know it can take a receiver some time to adjust to life in the NFL. What makes it even harder for Evans is that he only played two years of football at Texas A&M. Still, Evans has some rare traits with his size, speed and ability to adjust to the ball.
I am predicting that offensive coordinator Jeff Tedford is going to surprise people with his offense. He will find ways to utilize Evans by playing to his strengths. Granted, the Bucs have a journeyman quarterback in Josh McCown, but McCown will also surprise people by picking up where he left off last year in Chicago.
McCown knows how nice it can be playing with a talented big receiver, as last year he had Brandon Marshall and Alshon Jeffery at his disposal. In Tampa, McCown has a similar sized duo in Evans and veteran Vincent Jackson. Look for Evans to put up better than average numbers for a rookie receiver.
Odell Beckham, WR, New York Giants: The Giants lost Hakeem Nicks in free agency so now they need someone to play opposite Victor Cruz. First round draft choice Odell Beckham is just the man. While everyone feels that Clemson's Sammy Watkins was the best receiver in this draft, Beckham may have the more productive rookie campaign.
Watkins is playing with a still unproven E.J. Manuel at quarterback in Buffalo. Beckham has Eli Manning. Yes, Manning is coming off an uncharacteristically poor year, but look for him to rebound. With a receiver who possesses the athletic traits of Beckham, Manning should bounce back easily.
According to reports, the Giants have been using a lot of three wide receiver formations in OTAs with Beckham and fellow LSU teammate Rueben Randle playing out wide and Cruz in the slot. With Cruz drawing a lot of double coverage, I'm looking for Beckham to come up big.
Aaron Donald, DT, St. Louis Rams: Donald couldn't have asked for a better situation. The Rams already had one of the most talented groups of young defensive lineman in the league. By adding Donald to the group, they got even better.
Clubs would prefer to have at least seven quality defensive linemen to play in a rotation. Right now, the Rams have at least that number. Inside, they already have Michael Brockers and Kendall Langford. They also added Alex Carrington during free agency. By adding Donald to the group, St. Louis got a high-motor guy with great inside pass rush potential.
With a pass rush group that features Robert Quinn, Chris Long, Brockers and Donald, opponents have to choose which player to double team. It won't be the rookie, which will leave Donald in many one-on-one situations. I can see Donald having a very productive rookie year.
Ryan Shazier, LB, Pittsburgh Steelers: I can't remember the last time the Steelers had an inside linebacker as athletic as Ryan Shazier. At 237 pounds, the Ohio State product runs a sub 4.5 and has great change of direction. On top of that, Shazier may be the most instinctive rookie linebacker in the league.
When I did tape work in January on Shazier, the only thing that worried me was his size because he was listed at about 225 pounds. On tape he was a physical and aggressive player who made plays because of his great instincts and anticipation. I look for more of the same this year as Shazier lines up next to Lawrence Timmons in the Steelers' base defense.
Follow Greg on Twitter: @greggabe