October 21, 2010 -
National Football Post
Redshirt sophomores on the horizon
In order to be draft eligible, a player needs to be at least three years removed from high school. Therefore, as we have seen in recent years, there have been more and more third-year sophomores throwing their hats into the ring when it comes close to draft time. Guys like Larry Fitzgerald, Knowshon Moreno and Earl Thomas have all capitalized on their high draft stock as sophomores and cashed it into being first-round picks. Therefore, the National Football Post takes a look at some of the nation's top RS sophomores from this year and breaks down who could potentially end up making a splash in this year's 2011 draft.
Quarterback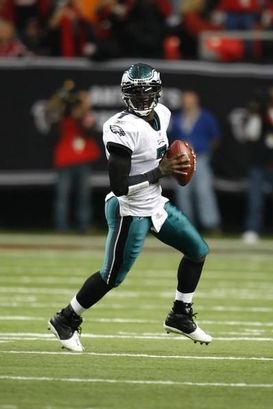 ICONIts been mixed reviews on sophomore quarterbacks who have come out early.
Andrew Luck: Stanford (6-4, 235)
In my opinion he's the best quarterback prospect in the nation. Luck is a smart, accurate kid who possesses good confidence in the pocket, is able to quickly decipher information and gets the ball out on time. Plus, he's a good enough athlete to buy time for himself, has a strong enough arm to make all the throws and has experience in an NFL-style offense. Now, there is some concern about taking a redshirt sophomore quarterback in the first round as history shows there hasn't been a ton of former RS sophomores who have had a ton of success (Mike Vick, Todd Marinovich and Tommy Maddox are three that come to mind). However, what Luck has going for him is that he's mature beyond his years and he's a levelheaded kid who loves the game and wants to get better. His age might be a bit of a concern to some, but he will end up starting two straight seasons, will come close to 700 throws by the end of the year and seems to possess that poise and "it" factor to make it as an upper echelon NFL starting quarterback.
Running Backs
LaMichael James: Oregon (5-9, 185)
He's an undersized back, but boy is he dynamic in the open field. Possesses the body control, feel and suddenness to pick his way through traffic and then absolutely explodes into daylight. He's more of a luxury pick, but this guy has the ability to really be an X-factor on an NFL offense.
Ryan Williams: Virginia Tech (5-10, 206)
A violent, sudden cutback runner who possesses good coordination out of his breaks and the ability to pick his way through the line and get into the second level. However, he's had a lot of trouble with his hamstring this season and hasn't had the type of year many anticipated. Best bet is he comes back for 2011.
Andre Ellington: Clemson (5-10, 190)
Another undersized jitterbug type player who can make a man miss and reach top-end speed quickly. He's a big-play threat every time he touches the ball, but needs to become a more polished receiver at this stage. Nevertheless, he's a guy worth monitoring as we approach the end of the season.
Wide Receiver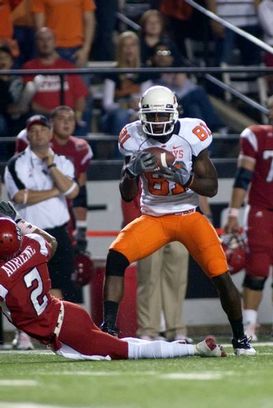 ICONBlackmon has been a man on a mission so far this season.
Justin Blackmon: Oklahoma State (6-1, 207)
He's a thick, well-put-together kid who knows how to separate out of his breaks and go get the football. Just listen to the stat line…33 catches for 524 yards and four touchdowns over his past three games and he's on pace for nearly 2,000 yards receiving in 2010. Now, I know he plays in the pass-happy Big 12, but that production is simply too much to ignore as he's likely never going to get his stock higher than it would be at the end of the season. He's got a great stage this week vs. Nebraska against a pair of very talented, NFL-caliber cornerbacks. And if he shows as well as he has against the Cornhuskers, he could be poised to take his game to the next level as a potential top-5 receiver prospect in 2011.
Linemen
OT Tanner Hawkinson: Kansas (6-6, 293)
A gifted athlete whose best football is still ahead of him. Played well as a freshman and has the type of length and skill set to really intrigue down the line.
DE Aldon Smith: Missouri (6-5, 255)
A freshman All-American in 2009 following an 11.5 sack season. Possesses a long, angular frame with a good first step and knows how to reach the edge. However, he has missed time with a fractured fibula over the past couple weeks, but is said to be ready to go this week vs. Oklahoma. If he's able to shrug off the injury and play well vs. a top talent like the Sooners it could do wonders for his draft stock. Smith is one of the nation's top pass rushers, there no doubt about that, but being able to put his best foot forward and having a productive season from here on out will be the key in his decision to come out early or stay.
Linebackers
Dont'a Hightower: Alabama (6-4, 260)
Hightower is on this list because of a medical redshirt following the 2009 season. However, he looks healed up from his ACL tear and is doing a nice job not only attacking downhill and stuffing the run inside for the Tide, but the man can also be a monster off the edge, displaying a powerful pop on contact with the ability to slip and get after the passer. He's not quite as instinctive as former first-round pick Rolando McClain, but he plays with more power/pop, has a similar build and could fill out a number of spots in either a 34 or 43 front for an NFL defense.
Terrell Manning: NC State (6-3, 224)
All the guy does is fly around the football field and make plays on ball carriers. He's a gifted sideline-to-sideline athlete who possesses good natural power to his game and displays some real violence as a tackler. He still is learning to read his run/pass keys and will take some false steps trying to find the football. But he's been a consistent force in pursuit all season long and looks like an ideal 4-3 weak side guy in the NFL.
Defensive back
CB Kenny Okoro: Wake Forest (6-0, 195)
Looks to be the next in line of talented cornerbacks to come from Wake Forest. Showed well for himself as a freshman, starting eight games and finishing the season with three interceptions. Possesses good size, speed and ball skills down the field and despite the fact I don't think he's a guy who will declare for this year's draft, he's another nice defensive back to watch for down the line.
NFL draft/college football questions? Get them answered at Wes.Bunting@nationalfootballpost.com
Follow me on Twitter: @WesBunting