November 20, 2011 -
Barry Dorey
Report: Cutler suffers broken thumb on throwing hand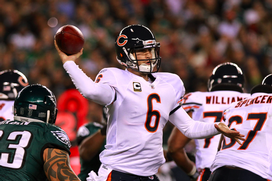 Cutler has a broken thumb on his throwing hand, according to a Chicago Tribune report.
According to Vaughn McClure of the Chicago Tribune, Bears' QB Jay Cutler suffered a broken thumb on his throwing hand in today's 31-20 win over the Chargers at Soldier Field.
Per McClure, it is unclear when the injury took place or if Cutler could be sidelined for an extended period of time.
Cutler finished the game and threw for 286 yards and 2 TDs.
UPDATE: According to McClure, Cutler will be sidelined for an expected 6-8 weeks. Caleb Hanie now steps in as the Bears No.1 with a trip to Oakland up next on the schedule.
Follow the NFP on Twitter: @FootballPost