October 01, 2012 -
National Football Post
Risers & Fallers after week five
Who's moving where? Risers and fallers after week five of the college football season.
Nearly all of the focus after this weekend's college football games is centered on West Virginia QB Geno Smith (Whom we wrote up in last week's Risers and Fallers); a number of lesser known players are moving up on draft boards. Additionally, two well-known SEC players have slid a bit since the season began. Here is a quick break down of five prospects whose draft stock is on the move after five weeks. The measureables listed are either verified, which means taken by an NFL scout, or estimated.
RISING PLAYERS
Jake Knott Outside Linebacker Iowa State Senior
6020 (Verified) 244 (Verified) 4.70 (Estimated) Potential 3rd / 4th Round Pick
Teammate and fellow linebacker A.J. Klein has received more national attention, but NFL scouts have told us that Knott is viewed as a better football player. A smart and instinctive linebacker, Knott reads and reacts quickly to the play and has the playing speed to easily chase plays down in pursuit. Knott has the size and playing strength to be a force at the point of attack taking on and defeating blockers and combined with the athleticism he shows in pass coverage, Knott has all the physical skills to be a productive starter in the NFL. The only thing that will keep Knott from being drafted as highly as his play on the field warrants is his medical/injury history. If he passes NFL physicals at the Combine, expect Knott to possibly be as high as a third round pick.
Sheldon Richardson Defensive Tackle Missouri Senior
6027 (Verified) 290 (Verified) 4.95 (Estimated) Potential 1st Round Pick
After only seven games as a starting defensive tackle at Missouri, Richardson has already grabbed the attention of NFL scouts with his great play and has people talking about him as a potential first round pick. Displaying rare initial quickness off the ball for a near 300 pound defensive tackle, he has constantly been able to get backfield penetration to blow plays up behind the line. Against South Carolina he proved he has the combination of violent hand use, explosiveness off the ball and elite athleticism to be a top tier "under tackle" for an NFL team that plays a 43 defense. After going the junior college route to get to Missouri, Richardson has become the premier player that led to him being considered one of the top defensive line recruits in the nation coming out of high school.
Keith Wenning Quarterback Ball State Junior
6030 (Estimated) 220 (Estimated) 4.75 (Estimated) Potential 2nd / 3rd Round Pick
While many wonder how the Big Ten Conference can be so lacking in high end quarterbacks, Ball State once again has a quarterback that has the talent to start in the NFL. Unfortunately, former Cardinals' quarterback Nate Davis failed at the next level, but Wenning has impressed NFL scouts with his passing skill. He has a legit NFL arm to make all the necessary throws with zip and accuracy. A third year starter, Wenning's poise in the pocket and decision making have impressed us and make us confident in his ability to be a productive NFL starter, although staying at Ball State for his senior season would definitely be the smart thing to do.
FALLING PLAYERS
Tyler Bray Quarterback Tennessee Junior
6060 (Estimated) 215 (Estimated) 4.95 (Estimated) Potential 3rd Round Pick
With rare arm strength and deceptive athleticism for a tall quarterback Bray has the talent to be a high draft pick. However, he has not made enough improvement from last season to ease concerns I have about his ability to become a consistent starter in the NFL. His tendency to keep legs straight while in pocket and when striding into throws hinders his ability to move and slide well within the pocket to avoid pressure and to consistently throw accurately. More concerning are Bray's tendencies to throw passes too often while falling away when pressured and to rely on his arm strength to try and squeeze passes into spots he should not even consider attempting. Bray needs to return to Tennessee for the 2013 season in order to improve his fundamentals if he wants to try and fight his way into the first or second round.
Robert Lester Safety Alabama Senior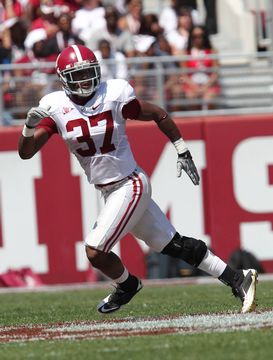 US PRESSWIREAlabama safety Robert Lester in coverage.
6014 (Verified) 215 (Verified) 4.60 (Verified) Potential 3rd / 4th Round Pick
Playing alongside Mark Barron in 2011 led to him being viewed as a premier prospect on Alabama's great defense. However, the reality is that Lester is not a premier athletic talent and does not consistently play with the aggressiveness or competitiveness necessary to be a good starter. While he has the size, thick build and hard hitting ability to be an impact run defender, he does not fight through blocks as well as he is capable and allows teammates to make tackles too often. Despite being a good enough athlete to be productive against the run and in coverage, Lester's upright playing style hinders his play in deep coverage. He needs to play with better intensity and desire if he wants to become a starter at the NFL level.
Email Russ at Russelllande@yahoo.com and Follow Russ on Twitter @RUSSLANDE