October 15, 2012 -
National Football Post
Risers & Fallers after Week Seven
After a huge weekend of college football where some of the stars, like Manti Te'o and Sheldon Richardson, had excellent games, players are definitely moving up and down draft boards around the NFL. Below is a look at four players whose stock has been moving over the past few weeks based on my film evaluation and what I am hearing from NFL scouts. The measureables listed are either verified, which means taken by an NFL scout, or estimated.
Rising Players
Ezekiel Ansah Outside Linebacker BYU Senior
6060 (Estimated) 270 (Estimated) 4.75 (Estimated) Potential 4th Round Pick
Growing up in Accra, Ghana it is likely the last thing Ansah expected would be to be a college football star in the United States that would be drafted by an NFL team. However, the reality is that Ansah, who did not begin playing football until 2010, has grabbed the attention of NFL scouts with his rare combination of size, strength, explosiveness and athleticism. Extremely raw technically, Ansah has made drastic strides playing with surprisingly good hand use and leverage this season. While he has not shown the elite explosiveness off the ball of premier pass rushers, his playing strength, hand use and great effort enabled him to both pressure the quarterback and to anchor and shed blocks to make tackles on runs at him. Despite all his improvements, Ansah is still not likely to be a high draft pick, but based on his athleticism, intangibles and potential he could end up being a fourth round pick.
Cornellious Carradine Defensive End Florida State Senior
6044 (Estimated) 255 (Estimated) 4.70 (Estimated) Potential 2nd / 3rd Round Pick
While not as highly regarded as fellow defensive linemen and teammate Bjoern Werner, Carradine has improved greatly from a season ago putting him in position to be a second day draft pick. Despite just an average first step, once moving Carradine displays excellent foot quickness and acceleration, which help him get to the turn point first. He uses his strong, quick hands to slap pass blockers hands down to stay free, can turn the corner and has a good burst to the quarterback. Although he is not a big 280 pound defender, his ability to take on run blockers with good base and hand use enables him to anchor, maintain position, shed and make tackles on runs at him. A top notch athlete, Carradine is going to continue to climb draft boards if he finishes the 2012 season as well as he has played so far.
Jamie Collins Outside Linebacker Southern Mississippi Senior
6033 (Verified) 236 (Verified) 4.70 (Estimated) Potential 2nd / 3rd Round Pick
Many good players that play on bad teams allow the team's lack of success to rub-off as their effort and intensity wanes while the losses pile up. Collins is different as he has maintained his focus and been an excellent team leader despite the losing (No wins and six losses as of today). Collins ability to read and react to the play fast and his elite playing speed enable him to easily chase plays down in backside pursuit. Combining his explosive closing burst with his size he has consistently shown the ability to make hard, physical tackles. While he may not be receiving the hype of a top prospect now, a number of scouts have told us that they expect him to go flying up draft boards in the spring after he shows his skill and athleticism at the all-star games and Combine.
Falling Players
Tyler Wilson Quarterback Arkansas Senior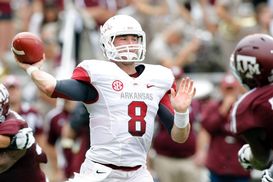 US PRESSWIRETyler Wilson makes throw against Texas A&M.

6016 (Verified ) 210 (Verified) 4.94 (Verified) Potential 3rd / 4th Round Pick
For a quarterback who entered the 2012 season viewed as a player who could challenge Matt Barkley to be the first quarterback taken in the 203 NFL Draft, his draft stock has been on an elevator straight down. No one questions Wilson's arm strength and ability to make all the NFL throws with zip and accuracy, but the big issue has been his consistency. Despite the five touchdowns Wilson threw against Kentucky, he has not played with the same confidence and decisiveness that he did a season ago and must improve over the remainder of the season in order to be drafted within the first three rounds. Scouts we have spoken to have real concerns about Wilson's ability to be a quality starter in the NFL based on his up and down play in 2012.
Email Russ at Russelllande@yahoo.com and Follow Russ on Twitter @RUSSLANDE.