October 08, 2012 -
National Football Post
Risers & Fallers after week six
Nearly halfway through the 2012 college season there is no question that NFL prospect rankings have changed drastically, so I try to take a look at five players who stock is up or down so far based on my film evaluation and what I am hearing from NFL scouts. The measureables listed are either verified, which means taken by an NFL scout, or estimated.
Rising Players
Corey Fuller Wide Receiver Virginia Tech Senior
6020 (Verified) 187 (Verified) 4.46 (Verified) Potential 2nd Round Pick
Fuller is a player that I wrote about after week one of the season because of how good he looked in Virginia Tech's season opening win and since then all he has done is improve. A former track star at Kansas who is in his first season as a starter for the Hokies, Fuller has improved drastically this season. Unlike many former track athletes who take up football, Fuller is not a "straight line athlete." His good foot quickness, agility and flexibility show up in Fuller's ability to get in and out of his cuts quickly and to change directions fast to make tacklers miss when running after the catch. Having come into the season as an unknown commodity, Fuller has grabbed the attention of scouts and I believe he could end up being a second round pick if he continues to play at this level.
Mike Gillislee Running Back Florida Senior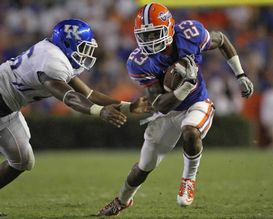 Florida's Mike Gillislee avoids a Kentucky tackler.
5110 (Verified) 200 (Verified) 4.50 (Estimated) Potential 2nd / 3rd Round Pick
Coming into the 2012 Gillislee was not viewed as a top prospect by the NFL as he received free agent grades from the combine services (National Football Scouting and Blesto), but after a career best game against LSU his draft stock is definitely on the rise. Not a big, 200+ pound back, Gillislee is solidly built and has proven this season that he can be an effective inside runner. Naturally instinctive, Gillislee finds creases/holes quickly, can make the sharp cut to get to it and has an explosive burst to get through it. He runs hard with the ball and has the playing strength and balance to consistently run through arm/grab tackles to gain yards after contact. If Gillislee maintains this level of play, stays healthy and does well at the Combine he could end up as a second or third round pick.
Kevin Reddick Linebacker North Carolina Senior
6030 (Estimated) 220 (Estimated) 4.75 (Estimated) Potential 2nd / 3rd Round Pick
After considering entering the 2012 NFL Draft, Reddick is proving that he made a good decision to return for his senior season. A season ago Reddick did not consistently attack the play once he identified it and allowed blockers to shield him out of the play too easily. He clearly worked hard in the off-season as he seems much more decisive reading and reacting to the play, is using his hands better to stay free from blocks and has shown the range to make plays against the run and in coverage. Additionally, Reddick looks more comfortable in pass coverage. Smooth moving in space, he can adjust and close to make hits/tackles right after the catch. For a player who entered the season expected to be a fourth or fifth round pick, now he could end up as a second / third rounder.
Falling Players
William Gholston Defensive End Michigan State Junior
6060 (Estimated) 215 (Estimated) 4.95 (Estimated) Potential late 1st / 2nd Round Pick
The cousin of recent NFL bust Vernon Gholson, William is viewed as a better player by us, but still is not having a great 2012 season. Hyped by many in the media as a likely top ten pick before the season, Gholston has not been the impact player he was expected to be. He lacks the first step explosiveness and speed to threaten the corner as a speed rusher, which greatly hurts his value as he does not fit as a 43 defensive end. A number of scouts have told us they feel he is best suited to play defensive end in a 34 defense, but to be effective doing so he will need to play with leverage more consistently and use his hands more aggressively aggressviely blockers. Gholston still has time to work his way up draft boards, but right now he likely would be better suited to stay in school for another season.
Graham Pocic Center Illinois Senior
6062 (Verified) 309 (Verified) 5.45 (Estimated) Potential 7th Rd Pick / Free Agent
In a season without many highly regarded centers, Pocic was viewed as a potential "sleeper" when he received mid round grades from the scouting combines. However, his play in 2012 warrants nothing more than a seventh round grade and more likely would lead to him going undrafted. At 6'6 and 309 pounds, Pocic has the measureables, but he struggles to bend knees to block with base and can be pushed around because he lacks playing strength. He does not have the foot quickness, agility or athleticism to block effectively when he has to move his feet and ends up on the ground too often. I will be surprised if Pocic is drafted in the first five rounds of the 2013 NFL Draft.
Email Russ at Russelllande@yahoo.com and Follow Russ on Twitter @RUSSLANDE.