November 05, 2012 -
National Football Post
Risers & Fallers after week ten
Although my home still does not have power and therefore no heat or hot water, I am back in the saddle again breaking down future NFL players. One player who does not appear on this list despite many in the media talking about him rising up draft boards is North Carolina State quarterback Mike Glennon. That is because on film Glennon has not impressed me enough to justify being selected in the first round and this was further reinforced by his inconsistent performance against Virginia on Saturday. Below is a look at five players whose stock has been moving over the past few weeks based on my film evaluation and what I am hearing from NFL scouts.
Rising Players:
Oday Aboushi Offensive Tackle Virginia Senior
6050 (Estimated) 315 (Estimated) 5.25 (Estimated) Potential 1st / 2nd Round Pick
Rarely do I have the chance to write about a legit NFL prospect from Brooklyn, New York, so being able to include Aboushi on this list brings me great pleasure. Beginning his third season as a starter for Virginia in 2012, Oday was viewed as a smart and competitive blocker with a chance to be a fourth or fifth round pick. However, Oday's play has improved dramatically. Displaying better feet and athleticism than previously, he has made it look easy pulling and lead blocking effectively on outside runs this season. His ability to pass block with great base combines with his feet so that he can slide and shuffle easily to protect the edge vs good pass rushers. With Aboushi's feet, athleticism, ability to block with base and strength he has everything it takes to become a quality starting left tackle in the NFL.
Jonathan Cooper Guard North Carolina Senior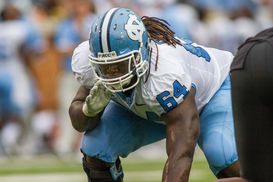 US PRESSWIRENorth Carolina guard J. Cooper set to start the play.

6030 (Estimated) 300 (Estimated) 5.10 (Estimated) Potential 1st Round Pick
Viewed as a very good prospect entering the 2012 season, Cooper has played even better this year which has scouts telling me that he will be a first round pick. Unlike many 300 pound offensive linemen, Cooper is light on his feet and surprisingly nimble. This athleticism contributes to Cooper's ability to quickly get to the second level and to block effectively in space. Whether in-line or out in space, Cooper is able to stay over feet and maintain blocks with surprising ease. Uncommon for such an athletic lineman, Cooper has the strength to anchor against power rushers and to get movement on in-line run blocks. If Cooper plays this well at the Senior Bowl and has a strong showing at the Combine he should be the first interior offensive linemen drafted.
Dennis Johnson Running Back Arkansas Senior
5070 (Estimated) 213 (Estimated) 4.55 (Estimated) Potential 3rd / 4th Round Pick
Fellow Razorback running back Knile Davis received all the national attention entering 2012 as he returned from an ankle injury that caused him to miss the entire 2011 season, but Johnson has been the story at running back as he has outgained Davis by over 200 rushing yards. While short at 5'7, Johnson is definitely not small as he is thickly built and has the playing strength and balance to run through hits/tackles to consistently gain yards after contact. Instinctive and with natural vision, Johnson finds the hole/crease, can make the sharp cut and has burst to get through it. Not only has Johnson made big plays on offense, but he has set records as a kickoff returner which definitely increases his value to NFL teams. NFL scouts have told us that Johnson reminds them some of Maurice Jones-Drew and some of Darren Sproles.
Alec Ogletree Linebacker Georgia Junior
6030 (Estimated) 232 (Estimated) 4.65 (Estimated) Potential 1st Round Pick
While teammate Jarvis Jones is the best prospect at Georgia, Ogletree is not far behind and has scouts excited by his potential based on his play since returning from suspension. Incredibly quick to diagnose the play, Ogletree gets started towards the play fast and has rare playing speed chasing down plays in pursuit. Strong and thickly built, Ogletree is able to work through contact easily and consistently is able to sink hips and drive up into ball carrier to make explosive, violent tackles. If Ogletree chooses to come out early for the 2013 Draft he will need to address the reasons behind his suspension to begin the season and if NFL teams are satisfied with his answers and explanation then he will likely be a first round pick as his on-field play warrants it.
Falling Player:
Johnny Adams Cornerback Michigan State Senior
5100 (Estimated) 176 (Estimated) 4.55 (Estimated) Potential 6th / 7th Round Pick
Routinely discussed as a potential first round pick when the season began, Adams flaws have been exposed in 2012 and he is more likely to be a late round pick than a high one. With quick feet and good ball skills, Adams has some of the tools that NFL teams look for, but unfortunately he has not proven he has the elite talent to warrant being a high pick. His thin frame limits his playing strength and hinders his ability to maintain close contact with receivers who like to play physical and use their hands/bodies well to create separation. Additionally, "quicker than fast" cornerbacks often struggle unless they have the size and strength to match-up with bigger receivers and this is a big reason that Adams will not be a high draft pick.