February 06, 2011 -
National Football Post
Roundtable: Picking Super Bowl props
We've been building up to this all week, breaking down some of the most interesting Super Bowl prop bets. So, without further ado, here is the final installment of our series. Some of the NFP's brightest minds break down six of our favorite props for The Big Game. All of these props and lines are from Sportsbook.com.
Be sure to let us know your picks in the comments section!
GAME PROPS
Bet: Largest lead of the game
Over 13.5 (-130)
Under 13.5 (even)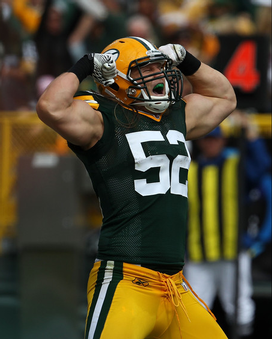 Can Clay Matthews and the Packers' defense keep the Super Bowl close?
Joe Fortenbaugh: We've seen the "two great defenses" matchup three times this postseason and each occurrence has featured at least one lead of 14 of more points. Baltimore jumped out 21-7 on Pittsburgh in the AFC Divisional Round, Pittsburgh went up 24-0 on the New York Jets during the AFC Championship game, and Green Bay led 14-0 and 21-7 over the Chicago Bears in the NFC Championship game. These two teams are going to put up the points, so I'll take the even money bet and say that it happens again. Pick: Over.
Scott Miller: Picking this prop depends on a few things. First, will this be a high-scoring game? If you think so, there's obviously far greater a chance of this particular prop going over. And most importantly, will this game be a blowout? With two good defenses, I don't see Sunday's contest getting out of hand either way. Dom Capers and Dick LeBeau are too good at scheming opposing offenses for that to happen. Pick: Under.
Matt Bowen: With two weeks to prepare for Super Bowl XLV, Dick LeBeau and Dom Capers should have their best game plans of the season. Look for some early pressure looks and two units that don't give up the big play. Both offenses will have to work for points today, and I see a ball game that is tight going late into the fourth quarter in Dallas. Great theater on the Super Bowl stage. Pick: Under.
Bet: Total interceptions thrown by both teams
Over 2.5 (+180)
Under 2.5 (-240)
Fortenbaugh: Make no mistake about it, Super Bowl XLV features two of the game's best ball-hawking secondaries. However, keep in mind that Aaron Rodgers has only thrown four interceptions in his last 11 games while Ben Roethlisberger has tossed just two picks in his last six outings. That's a combined six INTs over these two quarterback's last 68 NFL quarters. The odds suck, but I'm going under. Pick: Under.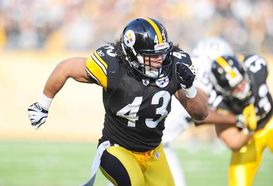 ICONTroy Polamalu highlights a face-off between two of the best secondaries in football.
Miller: The Steelers and Packers employ two of the best secondaries in football. Troy Polamalu, Charles Woodson, Tramon Williams, Ryan Clark, the list goes on and on. Green Bay alone is averaging two interceptions per game in the playoffs. Will good quarterback play outweigh these attacking secondaries? Ben Roethlisberger went the final four regular season games and first playoff game without throwing a pick, and then he tossed two in the AFC Championship Game. Likewise, Rodgers has been relatively mistake-free all season. No clear edge here, so you have to take the better odds. Pick: Over.
Bowen: Fortenbaugh is taking the Under, and even though he is big in Vegas, I can't agree. These secondaries will show multiple looks and use their pre-snap disguises to bait both Aaron Rodgers and Ben Roethlisberger into making some mistakes with the football. Woodson, Polamalu, Collins, Taylor, Williams, etc. Too many playmakers for me. Pick: Over.
Bet: Packers total rushing yards.
Over 78.5 (-115)
Under 78.5 (-115)
Fortenbaugh: In 18 games this season, the Steelers have allowed opposing teams to rush for 78 or more yards only two times (New England, New York Jets regular season game). The only way these prop goes over is if Rodgers rushes for at least 35 yards on the ground. I don't see that happening. Pick: Under.
Miller: I picked Green Bay to win the Super Bowl at the beginning of the year, and I'm also picking it to win this game. With that in mind, I have to pick the over. Yes, the Packers are a passing team. Yes, their backfield options are James Stark, Brandon Jackson, and John Kuhn. And yes, the Steelers are giving up only 61.6 yards per game this season (including playoffs). But 79 rushing yards is hardly anything in the NFL, especially when you're milking a lead at the end of the game. Pick: Over.
Bowen: While Miller throws in a cheap plug about picking the Packers to win the title back in August, I'm not buying the reasons why Green Bay will run the ball against the NFL's No. 1 defense. No one runs the ball on Pittsburgh's front seven, and I don't see that starting today. This is an easy choice for me. Pick: Under.
NOVELTY PROPS
Bet: Time on the game clock when the winning team attempts to dump Gatorade on head coach.
Over 45 seconds left in fourth quarter (-125)
Under 45 seconds left in the fourth quarter (-115)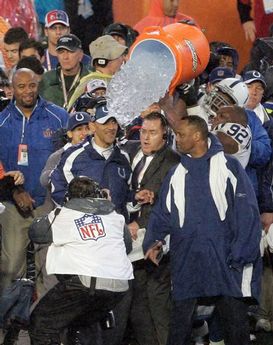 ICONWhen will the winning coach be given a celebratory Gatorade bath?
Fortenbaugh: This thing is going to come down to the wire, meaning the opportunity to dunk the winning coach won't come until the final few seconds of the game. I wouldn't be surprised if the Gatorade bath took place right as the final gun sounds. Pick: Under.
Miller: Rodgers will take three consecutive kneels to end the game, giving his defensive teammates and reserves plenty of time to shower head coach Mike McCarthy before 45 seconds hits the clock. Pick: Over.
Bowen: Considering that I think this game will be tight in the fourth quarter, we won't see Gatordade showers handed out with ample time left on the clock. Tomlin gets the traditional sideline dousing with under 45 seconds to go as the Steelers bring home the Lombardi Trophy for the seventh time. Pick: Under.
Bet: How long will Christina Aguilera hold the note "BRAVE" at the end of the "Star Spangled Banner"?
Over six seconds (-120)
Under six seconds (-120)
Fortenbaugh: It's the Super Bowl, which means the motto, "go big or go home" applies to just about everything. I'll take the over under the assumption that the newly single Aguilera will want to do a little showboating on the world's biggest stage. Pick: Over.
Miller: This one always requires a little YouTube research. W e know Aguilera has the pipes, but six seconds is a long time. In this clip from a 2005 NHL game, she took a tempered approach, holding the final note for around five seconds. But she brought the goods in this clip from the 2004 NBA All Star game. That was over 12 seconds on the final note. I'm guessing she does the same with 100 million people watching. Pick: Over.
Bowen: YouTube research for Miller? Not needed for the Super Bowl. Single or not, Aguilera holds that final note for longer than six seconds on the sports biggest stage. Who bets this kind of stuff? Pick: Over
Bet: Will a Steelers player do the Aaron Rodgers Championship Belt celebration during the game?
Yes (even)
No (-140)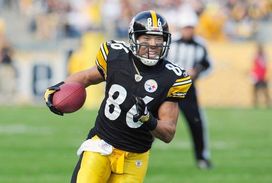 ICONWill Hines Ward get a chance to do Aaron Rodgers' championship belt celebration?
Fortenbaugh: If it happens, Pittsburgh wide receiver Hines Ward will be the guy to pull it off. Ward has a history of mocking opposing players/teams (Terrell Owens with Philly is a fond memory), so don't be surprised if he delivers. The problem facing Ward is that he needs to make a big play to pull this off. I'm not sure I see that happening. Pick: No.
Miller: Rodgers' "Put on the belt!" celebration is really one of the better touchdown "dances" in recent memory. Under normal circumstances, I wouldn't hesitate to pick yes, simply because the Steelers seem like the kind of team who would revel in throwing that in Rodgers' face. My problem is that I don't think Pittsburgh will score more than two touchdowns — a final score of Packers 23, Steelers 20 sounds about right. Thus, players such as Hines Ward will have few opportunities to show-up Rodgers. Pick: No.
Bowen: I like Fortenbaugh's idea of going with Hines Ward to throw on the "championship belt" after a big third down conversion or a Ben Roethlisberger touchdown pass, but my money is on Steelers' CB Ike Taylor — and I think it comes early. Pick: Yes.
Follow us on Twitter: @JoeFortenbaugh, @MattBowen41, @stmillr