September 28, 2011 -
National Football Post
Run N Shoot Podcast 4.0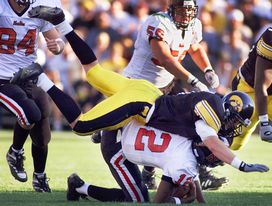 ICONThe Badgers offense did not fear Bowen off the edge in '99.
The NFP's Matt Bowen and Wes Bunting discuss the spread offensive attacks in the NFL, go back to the Jets-Raiders matchup and debate the Lions Calvin Johnson as the best wide receiver in the NFL.
Plus, are the Bills for real after a 3-0 start and where is Wisconsin QB Russell Wilson as an NFL prospect?
Plenty of football to break down, along with Bowen's 1999 trip to Madison where Ron Dayne and the Badgers poured it on the Hawkeyes in a record setting night.
Follow Bowen on Twitter: @MattBowen41
Follow Bunting on Twitter: @WesBunting