November 24, 2011 -
Barry Dorey
Run to daylight
A Pre-Holiday Introduction
Don't let the size of today's Philanthropist fool you. There's really nothing more to say about this phase of the fantasy season -- assuming your trade deadline passed before the time of this posting (Week 12 is typically the end date). Yes, from this point forward, it's all about making stealth waiver claims, maximizing points in your lineup and psyching out your fellow owners, in terms of who they're starting on crucial Sundays. Kind of sad, huh? We spend hours upon hours studying other teams' rosters, exchanging emails or IMs with owners, getting flummoxed by the pace of negotiations, all in the hope of concocting a blockbuster deal before the playoffs ... and boom, we're left with one final stage to the football season: Fingers crossed on winning a championship.
Talking Points
1. Philip Rivers is averaging 281 yards/1.8 TDs/2 INTs during the Chargers' five-game skid. The days of Rivers hanging with the pre-lockout Big Five (Aaron Rodgers, Tom Brady, Drew Brees, Michael Vick, Peyton Manning) may have passed; but he still has plenty of redeeming value in fantasy leagues -- especially if you're starting the D/ST that's facing the Chargers on a particular Sunday. With the trade deadlines trickling in Rivers would be a starting upgrade over QBs Ryan Fitzpatrick, Josh Freeman, Carson Palmer and of course, Tim Tebow.
2. Of all the NFL teams currently holding losing records ... the Seahawks (4-6) have the BEST chance of running the table. The previous statement has little to do with fantasy, other than saying Marshawn Lynch (745 total yards, 6 TDs in 2011), Sidney Rice (484 yards, 2 TDs) and QB Tarvaris Jackson should be primed to post strong numbers over the next six weeks -- including three straight home tilts for Weeks 12 (Washington), 13 (Philadelphia) and 14 (St. Louis). It bears repeating: The Rams-Seahawks clash on Dec. 12 (Monday Night Football) could be a 35-point explosion for Seattle, with the club going all-in on one last playoff push ... and St. Louis just playing out the string.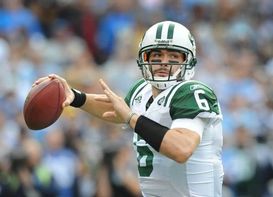 ICONSanchez is starting to feel the heat in New York.
3. Mark Sanchez and Mark Brunell are splitting QB reps during practice this week. Outside of head coach Rex Ryan exercising a needless power play over Sanchez, or Jedi Mind Trick, the 5-5 Jets have NOTHING to gain by creating the illusion that Brunell (at 41 years old) is a threat to lead the franchise during the stretch run. Remember the top-end speed (for a QB) that Brunell flashed in the 1996 AFC playoffs? Gone. Remember his powerful, accurate left arm from 1996-2001 with Jacksonville? That's been phased out, as well. Sure, Sanchez (2,333 yards passing, 14 TDs in 2011) is far from a fully developed passer; but New York has no chance of winning five of its final six games with Brunell under center ... so why deprive Sanchez of vital repetitions?
Morality Play
Here are a few quick personal rules -- ethically speaking -- when conducting pre-deadline trade negotiations. Obviously, no one should feel obligated to follow these to the letter (or at all).
1. For non-keeper leagues, NEVER consummate a Week 12-or-later trade with a team that's already out of playoff contention.
2. For non-keeper leagues, NEVER trade an injured player who's rumored to be done for the season -- without the other owner having full knowledge of it.
3. NEVER block or veto another owner's fair and reasonable trade -- IF only to prevent them from improving in the standings.
Week 12: QB Locks For 275 Yards and/or 3 TDs
1. Aaron Rodgers @ Detroit
2. Matthew Stafford vs. Green Bay
3. Tony Romo vs. Miami
4. Drew Brees vs. N.Y. Giants
5. Eli Manning @ New Orleans
6. Cam Newton @ Indianapolis
7. Christian Ponder @ Atlanta
8. Tom Brady @ Philadelphia
9. Michael Vick vs. New England
RB Locks For 120 Total Yards and/or 2 TDs
1. LeSean McCoy vs. New England
2. Marshawn Lynch vs. Washington
3. Arian Foster @ Jacksonville
4. Maurice Jones-Drew vs. Houston
5. Ray Rice vs. San Francisco
6. Jonathan Stewart @ Indianapolis
7. Cedric Benson vs. Cleveland
8. Chris Johnson vs. Tampa Bay
9. Michael Turner vs. Minnesota
10. Michael Bush vs. Chicago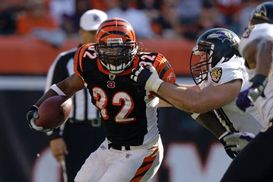 ICONBenson could be in line for a big game on Sunday.
It's A Largely Known Fact ...
That in his four-year Bengals career, RB Cedric Benson (663 total yards, 4 TDs in 2011) has enjoyed the most success against the Browns -- when grouped in with AFC North foes. Against the Steelers, spanning six games, Benson has averaged 64 total yards and 0.33 TDs. Against the Ravens, spanning six games, Benson has averaged 76 total yards and 0.33 TDs; and when facing Cleveland -- this week's opponent -- Benson boasts per-game averages of 116 total yards and 0.4 touchdowns.
Running With The Moon
Here is my always-fluid top-40 listing of tailbacks in standard-scoring leagues -- from this point forward:
1. LeSean McCoy, Eagles (we're splitting hairs between Shady and the No. 2 stud on this list)
2. Arian Foster, Texans
3. Ray Rice, Ravens
4. Adrian Peterson, Vikings (ankle injury brings him down a notch or two)
5. Matt Forte, Bears
6. Frank Gore, 49ers
7. Michael Turner, Falcons
8. DeMarco Murray, Cowboys (a primary reason why Dallas should win the NFC East)
9. Steven Jackson, Rams
10. Maurice Jones-Drew, Jaguars (bringing his A-game every week to a D-level offense)
11. Michael Bush, Raiders
12. Chris Johnson, Titans (let's accept last week's clunker and move on)
13. Marshawn Lynch, Seahawks
14. Rashard Mendenhall, Steelers (just swung a Wednesday trade for him in my homeboys league)
15. Ryan Mathews, Chargers
16. Cedric Benson, Bengals
17. Darren McFadden, Raiders
18. Ahmad Bradshaw, Giants (fingers crossed on a Week 13/14 return -- not feeling it, though)
19. Willis McGahee, Broncos
20. Beanie Wells, Cardinals
21. Ben Tate, Texans (would be a top-15 asset as a starter ... pretty much anywhere)
22. LeGarrette Blount, Buccaneers
23. Jonathan Stewart, Panthers
24. Chris Ogbonnaya, Browns
24a. Montario Hardesty/Peyton Hillis, Browns (they're still worth rostering ... I think)
25. Reggie Bush, Dolphins
26. Kevin Smith, Lions (will K-Smith rack up 201 yards again? Meh, doubtful)
26a. Jahvid Best, Lions (just like Bradshaw -- an injury risk with great December potential)
27. Mike Tolbert, Chargers
28. BenJarvus Green-Ellis, Patriots
C.J. Spiller, Bills (opportunity knocks ... after Fred Jackson's season-ending injury)
30. Mark Ingram, Saints
31. Jackie Battle, Chiefs
32. Darren Sproles, Saints (recent regression fuels drop in rankings)
33. Joseph Addai, Colts
33a. Donald Brown, Colts (I didn't have the cobbles to list him as a RB "lock" against Carolina)
34. Shonn Greene, Jets
35. James Starks, Packers
36. Pierre Thomas, Saints
37. Felix Jones, Cowboys
38. Brandon Jacobs, Giants
39. Kendall Hunter, 49ers
40. Roy Helu, Redskins
YouTube Memory Lane
Here's my pre-holiday way of spreading more YouTube cheer, courtesy of a few epic NFL clips from the 1970s and 80s:
1. 1978 -- The NFL Today's Brent Musburger directs traffic while handling halftime-highlights duty for the 1 p.m. games. A few things stand out from this early-November clip: The charmingly archaic scoreboard wall, Jayne Kennedy's awkward tease for the Tom Landry-Don Shula piece and Packers punter David Beverly's whiffed punt against the Eagles. How is that blown kick not in every NFL Films 'Follies' show?
2. 1979 -- CBS provides blanket postgame coverage of the Cowboys' 28-0 road rout of the Rams in the 1978 NFC title game (played on Jan. 7, 1979). From Jimmy "The Greek" Snyder installing Pittsburgh as an early favorite in Super Bowl XIII to Pat Summerall and Frank Glieber getting tremendous access into the Dallas locker room ... this clip is one for the books! (Check out legendary Sports Illustrated writer Paul Zimmerman, aka Dr. Z waiting for the Cowboys players and coaches to settle into the locker room.) My favorite part: Just seconds after Summerall laments how Rams fans must be devastated from the blowout home defeat ... a cheerful blonde smiles and heartily waves for the CBS cameras, as if she was leaving a Beach Boys concert. Good stuff!
3. 1983 -- Monday Night Football: Here's an excellent opening from Howard Cosell for Cowboys-Vikings -- the final game of the strike-shortened 1982 season (played on Jan. 3, 1983). Cosell details the Metrodome roof collapse from four days prior ... and the subsequent lightning-speed repairs to the stadium just before kickoff. (Which begs the question: Why did it take so long to fix the roof from last year's collapse?) Aside from the Metrodome troubles, there are two major storylines to follow: In the pregame, Ahmad Rashad confirms his injury-hastened retirement from the NFL (and new job at NBC). During the game, Tony Dorsett rushes for a 99-yard touchdown ... prompting the memorable Don Meredith quote: 99 yards ... and a half!
4. 1983 -- Here's the second half of a seemingly innocuous game between the Giants and Falcons. (New York wins in OT.) This clip is endearing for a few reasons:
1) This is the only time I can recall iconic announcers Jack Buck and John Madden working in tandem. ( Summerall must have been handling U.S. Open tennis duties for CBS on that day.)
2) Madden states his preference for Scott Brunner over Phil Simms/Jeff Rutledge in the Giants' three-man QB competition.
3) Check out the awkward football design for old Fulton County Stadium in Atlanta (my adopted hometown). Today, the old pitch is the wine-and-cheese-crowd-endorsed parking lot for Turner Field (and baseball's Atlanta Braves).
4) This game served as Bill Parcells' first victory as an NFL head coach ... and only one of three wins for the '83 season. Can you imagine if Parcells had been fired after going 3-11-1? Who knows if he ever gets another shot at leading an NFL team? And for that matter, what happens to linebackers coach Bill Belichick's career trajectory -- if Parcells gets booted after one year?
5. 1985 -- Detroit Lions quarterback Eric Hipple gets clobbered by Buccaneers defender Scott Bradley ... in what proved to be Hipple's first and last naked bootleg/weak-side rollout while being pinned deep in his own zone. As for Bradley's bone-crushing, helmet-separating hit ... it was perfectly clean!
WR Locks For 110 Yards and/or 1 TD
1. Calvin Johnson vs. Green Bay
2. Anquan Boldin vs. San Francisco
3. Marques Colston vs. N.Y. Giants
4. Victor Cruz @ New Orleans
5. Brandon Marshall @ Dallas
6. Larry Fitzgerald @ St. Louis
7. Steve Smith @ Indianapolis
8. Dez Bryant vs. Miami
9. Jordy Nelson @ Detroit
11. Damian Williams vs. Tampa Bay (sleeper pick)
Kicker Locks For 3-Plus Field Goals
1. Matt Bryant vs. Minnesota
2. Mason Crosby @ Detroit
3. David Akers @ Baltimore
4. Dan Bailey vs. Miami
5. John Kasay vs. N.Y. Giants
6. Josh Brown vs. Arizona
Target Practice
Here are the 27 wideouts who have accrued at least 30 receiving targets since Week 7 (at least 6 per game):
1. Brandon Lloyd, Rams -- 61 targets
2. Larry Fitzgerald, Cardinals -- 49 targets
3. Dwayne Bowe, Chiefs -- 47 targets
4. Anquan Boldin, Ravens -- 45 targets
5. Calvin Johnson, Lions -- 45 targets
6. Vincent Jackson, Chargers -- 44
7. Antonio Brown, Steelers -- 41
8. Victor Cruz, Giants -- 41
9. Greg Little, Browns -- 40
10. Roddy White, Falcons -- 40
11. Steve Breaston, Chiefs -- 38
12. Brandon Marshall, Dolphins -- 38
13. Torrey Smith, Ravens -- 38
14. Dez Bryant, Cowboys -- 36
15. Steve Smith, Panthers -- 36
16. Mike Williams, Buccaneers -- 35
17. Jabar Gaffney, Redskins -- 34
18. S idney Rice, Seahawks -- 34
19. Damian Williams, Titans -- 34
20. Pierre Garcon, Colts -- 33
21. Andre Caldwell, Bengals -- 31
22. Early Doucet, Cardinals -- 31
23. Andre Roberts, Cardinals -- 31
24. Plaxico Burress, Jets -- 30
25. Laurent Robinson, Cowboys -- 30
26. Mike Wallace, Steelers -- 30
27. Reggie Wayne, Colts -- 30
The Relentless Pursuit Of Perfection
Here's my idea of a perfect fantasy lineup for Week 12:
QB Drew Brees
RB Arian Foster
RB LeSean McCoy
WR Marques Colston
WR Larry Fitzgerald
RB/WR Cedric Benson
TE Rob Gronkowski
PK Dan Bailey (Cowboys)
D/ST Seattle Seahawks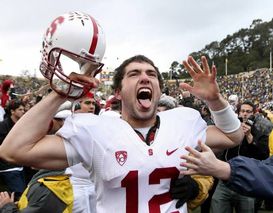 ICONAndrew Luck as the first overall pick? Sounds about right.
One Big Lookahead
We're roughly 156 days away from the 2012 NFL Draft, but that doesn't mean we can't take a quick peek at who may go where -- even though things will change greatly AFTER the November/December games ... all-star classics in January ... scouting combine in February ... crush of media hype in March ... and hilarious games of Franchise Draft Chicken in April. To wit, here's the first of many mock drafts, courtesy of FOXSports.com's Peter Schrager:
1. Indianapolis: QB Andrew Luck, Stanford
2. St. Louis: WR Justin Blackmon, Oklahoma State
3. Miami: QB Matt Barkley, USC
4. Carolina: DE Quinton Coples, North Carolina
5. Minnesota: OT Matt Kalil, USC
6. Washington: QB Landry Jones, Oklahoma
7. Seattle: CB Morris Claiborne, LSU
8. Philadelphia: DT Jerel Worthy, Michigan State
9. Jacksonville: WR Alshon Jeffery, South Carolina
10. Cleveland: RB Trent Richardson, Alabama
11. Arizona: OT Jonathan Martin</strong>, Stanford
12. Tampa Bay: CB Dre Kirkpatrick, Alabama
13. San Diego: DT Brandon Thompson, Clemson
14. Kansas City: QB Robert Griffin III, Baylor
15. Denver: DT Devon Still, Penn State
16. Tennessee: LB Dont