September 26, 2012 -
National Football Post
Russ Lande's Top Safety Prospects
As tight ends have become a more integral part of NFL passing attacks, safeties who can cover tight ends in man coverage have gained tremendous value. One dimensional "box safeties" are a defensive limitation and consistently get taken advantage of by creative offensive coordinators who can get them matched up with tight ends and slot receivers in man coverage. As NFL scouts scour the country, they are constantly looking for safeties who excel in man coverage and cornerbacks who lack great speed, but are tough enough to be considered for a move to safety. Below I take a look at the five best safety prospects for the 2013 NFL Draft at this point in the college season based on my film evaluation and what I have learned from NFL scouts. You may wonder why you do not see Georgia safety Bacarri Rambo on this list, but he has not played this season due to a suspension for off-field issues so until he is back on the field I can't include him on this list.
1. Kenny Vaccaro Senior Texas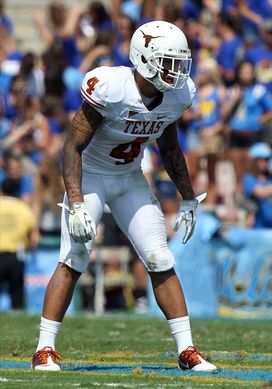 ICONTexas' safety Kenny Vaccaro reads the play.
6004(Estimated) 210 (Estimated) 4.50 (Estimated) Possible 2nd Rd. A thick, well-built safety, Vaccaro plays with an aggressive, attacking mentality and combined with solid coverage skills he has the all-around skill set that NFL teams are looking for. He is a true "downhill" player who "fills the alley" in run support and make hard, violent tackles. While being good in run support is important, Vaccaro's coverage instincts/awareness and playing speed give him the range to get outside to be effective in "over the top" coverage. Having been effective covering tight ends and backs on short, simple routes, he must prove he can cover slot receivers and elite tight ends to be a first round pick and eventually an elite NFL safety.
2. Shawn Williams Senior Georgia 6000 (Verified) 218 (Verified) 4.55 (Estimated) Possible 2nd Rd. Pick After making his initial mark at Georgia as an outstanding special teams player, Williams has shined since becoming a starter in 2011. Further proving his work ethic and intangibles, Williams won the "True Grit" award this year in spring practice for his work this spring to improve in 2012. An aggressive defender who shows no fear, he has consistently shown the ability to bend knees and sink hips so that he can drive up into ball carriers to make hard, violent tackles. In only his second season as a starter, Williams has shown marked improvement in deep coverage this year displaying the quick reactions and speed to make plays outside along the sideline. Helping him to become a good starter in the NFL will be his ability to be an outstanding special teams player while he develops on defense, which gives him more time to hone his craft.
3. Eric Reid Junior LSU 6020 (Estimated) 212 (Estimated) 4.50 (Estimated) Possible 2nd Rd. Pick A highly recognized college safety, scouts have told us they feel he has the talent to be an elite player and a first round pick. However, to become that player he needs to be more consistent breaking down to tackle and in pass coverage. There is little doubt that he has the speed and athleticism to be equally productive in man and deep coverage, but must tighten up footwork and make more plays on ball. He has outstanding range to chase down plays in pursuit and to get outside to help the cornerback with "over the top" coverage. While Reid has the physical talent to consider coming out early for the 2013 NFL Draft, he could greatly improve his draft status and long term NFL potential by returning to LSU next season to become a more consistent all around prospect.
4. T.J. McDonald Jr. Senior USC 6024 (Verified) 209 (Verified) 4.50 (Estimated) Possible 2nd Rd. Pick The son of former star USC and NFL safety, Tim McDonald, T.J. has the physical tools to be an impact player in the NFL. A tall, strong safety with excellent foot quickness and tremendous all around athleticism, McDonald flashes the ability to make game changing plays against the run and in coverage. He has the speed and athleticism to cover any tight end in man coverage and the range to shine in deep coverage. When he attacks the play he can be an impact run defender who makes sound, violent tackles. However, the big issue holding back McDonald from being a first round pick is his lack of a consistent effort. He does not attack the play consistently and often seems content to allow his teammates to make the tackle and can be tied up and ridden out of the play too easily by blockers.
5. Michael "Duke" Williams Senior Nevada 5107 (Verified) 195 (Verified) 4.45 (Verified) Possible 3rd Rd. Pick Possibly the most versatile safety in this year's draft class, Williams has NFL scouts buzzing. While he lacks the ideal size at basically 5'11 and 195 pounds, he plays bigger than his size and has consistently shown a willingness to make physical, wrap-up tackles. Making Williams so intriguing is his experience lining up in the slot covering receivers. He will not be a coverage miss-match vs. NFL slot receivers and tight ends. His foot quickness, agility and balance give him a quick, compact pedal and enable him to transition and close to make a play on the ball. Williams may not be receiving much national attention now, but his combination of toughness as a tackler and excellent coverage ability has scouts talking about him being a better NFL safety than many of the more well-known ones.
Email Russ at Russelllande@yahoo.com and Follow him on Twitter @RUSSLANDE