February 06, 2012 -
National Football Post
San Diego State's Ronnie Hillman adds depth to RB crop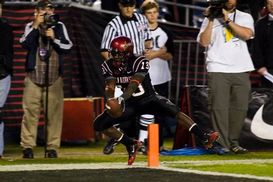 ICONHillman has been very productive.
RB Ronnie Hillman: San Diego State (5-10 190)
Doesn't possess a ton of girth through his frame. Looks a bit lean in the lower half and lacks ideal natural power. Displays a decent first step when asked to press the line of scrimmage. But doesn't run with much forward lean. Pops upright and lacks ideal lower body strength when trying to pick his way through traffic and create on contact. Doesn't look overly comfortable running the football between the tackles. Displays the suddenness to pick his way through traffic and will lower his pad level a bit when trying to quickly change directions inside and finish. However, too often is forced to gear down and will slow his feet. Looks more sudden as a one cut guy once he gets toward the edge. Can put his foot in the ground and side step a defender at full speed. However doesn't have a great base under him when changing directions and can be tripped up easily at times. Too often looks to bounce the run prematurely outside the tackle box and doesn't exhibit a great feel inside.

Absorbs contact well for a smaller back and can keep himself from taking too many big shots inside. But. I don't see him routinely lowering his pad level into contact and finishing runs churning forward. Showcases a willingness to block in the pass game. Takes good angles, drops pad level and will stick his head into contact. But isn't' overly physical on the play. Will catch the football out of the backfield and even down the field, but isn't the most consistent of pluckers.

I don't see a real dynamic quality to his game when asked to explode out of his breaks and accelerate toward daylight. He looks more smooth than explosive and doesn't have the type of initial burst or straight-line speed to outrun angles toward the perimeter or in the open field. Plays like a 4.55 guy.

Impression: Looks like a reserve only to me. Has some natural running qualities, but runs a bit upright and doesn't have a real explosive quality to his game.

Grade: 5.7 J B
Follow me on twitter: @WesBunting
Check out the NFP Draft page here...