October 23, 2010 -
National Football Post
Saturday college primer
Some opinions, takes and things NFL scouts will be looking for in Week 8 of the college football season.
LSU vs. Auburn
3:30 p.m. ET CBS
What to watch for…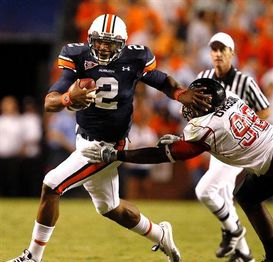 Newton can be a load to bring down in the open field.
Is Cameron Newton ready for the NFL?
One of the biggest questions I have received in recent weeks from people across the college football landscape is…"Is Auburn quarterback Cameron Newton now one of the top quarterback prospects in the entire draft?" And my answer is very simply…No. I love Newton as a college player as he's big, athletic, possesses a great arm and can make all the throws. However, one of the biggest mistakes I made last draft when evaluating the quarterback position and trying to identify "potential starters" was only to look at the physical skill set of a player and not give as much thought to his overall mental capabilities as well. Jarrett Brown, for example. So when looking at Newton there is no doubt in my mind that physically the guy is ready to come in and do it all. However, from a mental standpoint the guy isn't even close to ready. He's only started about half a year of college football and plays in a gimmicky offense where he isn't forced to consistently decipher information or make routine reads after the snap. And it's just way too early to put this guy on a pedestal as a top-tier NFL prospect. Again, I like the guy and think he ends up being the difference in the game this week, but he needs to come back to Auburn for his senior year and continue to mature as a passer before taking the next step.
How do the Auburn Tigers handle Drake Nevis inside?
Auburn has one of the most underrated offensive lines in the SEC and the one guy who doesn't get nearly as much credit as he deserves is center Ryan Pugh. Pugh is an athletic move player at 6-1, 298 pounds, and he does a nice job getting out to defenders in the run game, is comfortable in space and possesses the lateral ability to mirror in the pass game. He needs to continue to get stronger as he can be overwhelmed on contact. However, he possesses the flexibility to keep his base down inside and has just enough athleticism to give Nevis more problems than most inside.
Excited to see him
Finally, I can't wait to take a good look at Auburn DT Nick Fairley. He's long, flexible and explosive off the line and seems to have the type of frame to also get some interest as a potential five-technique in the NFL. However, he's at his best shooting gaps, slipping blocks and knifing his way into the backfield, as he knows how to stop plays before they start. Also, with all the early season dominance inside, I want to see how he deals with the success and handles the consistent double teams the LSU offense is likely going to throw his way.
Wisconsin vs. Iowa
3:30 p.m. ET ABC
What to watch for…
Wisconsin OT Gabe Carimi vs. Iowa DE Adrian Clayborn
I've been really impressed with the play of Carimi over the past two games, but especially his performance last week vs. Ohio State DE Cameron Heyward in the run game, consistently getting off the line quickly, displaying a real snap on contact and driving the big linemen off the football. Therefore, his matchup this week vs. Clayborn is intriguing. He can be just as stout, but does a better job using his strong hands, long arms and suddenness to shed blocks and is going to be an even tougher task in my view. Carimi is a good athlete for his size, but not elite by any means. So watching to see how he handles a guy like Clayborn both in the run and pass game will be key. Clayborn isn't a pass rusher who is going to try to win off the edge with his first step, but again he loves to be physical and use his hands and lateral agility to slip and get up the field. And where Carimi has struggled this season in the pass game is typically against speed to the corner and the counter back inside. So just strap yourself in for this battle between two of the nation's very best. It should be a good one.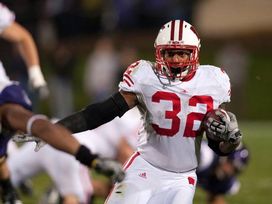 ICONDon't like Clay's chances at the next level.
Is John Clay a legit NFL starting running back?
I don't want to be too critical of the big fellow because for college football he has the ability to be very effective for Wisconsin inside. He's big, physical, runs strong and has a good enough feel and overall coordination to pick his way through the line and create after contact. But as a potential NFL runner, I just don't see it. First off, he doesn't press the hole quickly and as Bill Parcells would say — if you have a back who lacks a great first step toward the line, you force your offensive line to block the defender in front of them twice. And that is exactly what I see in Clay. Plus, the guy plays at one speed, doesn't take very good care of his body and just projects as a very "blah" running back in my mind in the NFL. Now, he has been battling an ankle injury, which has taken away a bit from his giddy-up off the snap and in the open field, but as a whole, he's simply not a back I would even draft if I was an NFL GM.
The difference maker is a Punter?
Don't laugh. Because we both know how this game is going to go. Power run plays and a lot of defense. Therefore, when searching for an X-factor you have to look at the Hawkeyes special teams and their punter Ryan Donahue. Donahue is a four-year starter who is as consistent as they come. He's averaging over 44 yards per punt this season, possesses a strong leg and has a nice touch when asked to pin opponents back deep. He's one of the few draftable punters in the nation this season, and in a game that will be predicated so much by field position, don't overlook the punter this afternoon.
Oklahoma vs. Missouri
8:00 p.m. ET ABC
What to watch for…
The return of "the difference"
All indications are pointing to the return of Missouri pass rushing specialist Aldon Smith this weekend, who finished last year with 11.5 sacks. He's coming back from a fractured fibula, but if he is healthy and ready to go he could be a real difference maker off the edge. He's an explosive, long-armed guy with the kind of first step to consistently threaten the edge and has the type of closing speed to really disrupt the Oklahoma pass game. However, it will be interesting to see just how healthy he is. But if Smith is 100 percent ready to go — which I doubt — he's going to be a bear to block off the edge all evening. If not, Missouri could once again really struggle to slow down the Sooners offense.
Is Quinton Carter the real deal?
I came away rather unimpressed with Oklahoma safety Quinton Carter this summer on coaches tape. He's a physical guy who isn't afraid to throw his body around and create collisions on contact. However, I thought he was stiff, struggled to get back up to speed quickly and wasn't overly rangy in the deep half. But after talking to a scout in the region, they thought he was the best safety they had seen the entire year and graded him out rather highly. Therefore, with the wide range of differentiating opin ions on him, he's a guy who I will be paying particular attention to tonight to try to see if there has been a change in his play from 2009.
Is this Missouri team for real?
The Missouri Tigers are currently 6-0, ranked 19th in the nation in passing yards, 24th in points for and most impressively 2nd in points against. However, can they quickly adapt to the talent and overall speed of this Oklahoma team, especially along the defensive line? The Missouri offensive line has always had a tough time blocking the Sooners up front. And with defensive linemen like Jeremy Beal, Adrian Taylor and Frank Alexander, it could be another tough evening inside. I do really like Missouri center Tim Barnes and think he's got a future in the NFL and should be able to handle Taylor inside, but it's the speed off the edge and the pressure packages Oklahoma is capable of bringing that would have me worried if I'm a Tigers fan.
NFL draft/college football questions? Get them answered at Wes.Bunting@nationalfootballpost.com
Follow me on Twitter: @WesBunting