September 11, 2010 -
National Football Post
Saturday College Primer
Some opinions, takes and things NFL scouts will be looking for in week two of the college football season.
Miami vs. Ohio State
3:40 p.m. EST ESPN
What to watch for…
Ohio State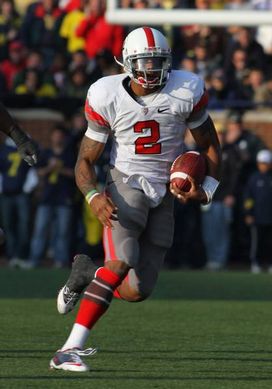 ICONPryor could really struggle with Miami's team defense.
• I am still not buying the hype that QB Terrelle Pryor has evolved enough as a pocket passer to legitimately be anything more than a developmental quarterback prospect at this stage. Sure, he looked better last week vs. Marshall. But, he also looked much improved early last season vs. the likes of Navy and Toledo. Therefore, until he proves he can consistently decipher information in the pass game vs. top-tier competition — like Miami — I refuse to put the guy on a pedestal.
• Miami has a lot of team speed on offense, but if there is one guy who can certainly keep pace on the Ohio State defense it's ILB Brian Rolle. Rolle is an explosive sideline-to-sideline athlete who is as a tough as they come inside. Now, he is a bit undersized at 5-10, 220 pounds, but the guy always plays with a chip on his shoulder and today will be a nice test to see if he can consistently make plays on the perimeter.
Miami
• WR Leonard Hankerson isn't the most explosive of vertical burners, but he's a big, powerful athlete with the kind of hands/strength to go up and get the football. He's going up against a pair of athletic corners in the Ohio State secondary in Chimdi Chekwa and Devon Torrence, but both are sloppy with their technique and will have a tough time limiting his initial separation, as he loves to us his big frame to box corners from the football, especially when trying to get down the field.
Man vs. Man
Finally, be sure to pay attention to standout defensive linemen Cameron Heyward (Ohio State) and Allen Bailey (Miami). Both players are big, long-armed defensive end type prospects who have the versatility to kick inside on passing downs and will also get some looks as potential five-techniques, as well, at the next level. Now, Bailey is the more explosive athlete off the edge, whereas Heyward seems a little more physical and balanced on contact when asked to slip blocks.
However, they both possess a unique and physically gifted skill set and look like potential starting caliber linemen in the NFL. However, in a game like this where you can compare two similar prospects on a series to series basis, it can go a long way in terms of evaluating just who really is the more dynamic/NFL-ready defensive lineman.
Penn State vs. Alabama
7:00 p.m. EST, ESPN
What to watch for…
Penn State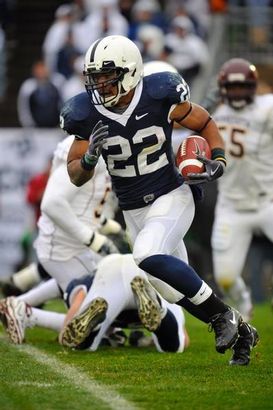 ICONRoyster is going to have a tough time running away from anyone tonight.
• Is Penn State running back Evan Royster even a draftbale NFL prospect? He was said to have put on some additional weight this offseason and looked really sluggish pressing the hole last week vs. Youngstown State and didn't exhibit any acceleration once he did side step a defender at the line. This isn't a good sign for Royster, who isn't a real impressive athlete to begin with. He has struck me on tape the past two seasons as a guy who possesses a good feel inside and ran hard, but simply didn't have the type of explosion in any area of his game to be a highly rated prospect in 2011. And after watching him last week, I don't think I would even consider using a draft pick on the guy at this stage. Therefore, I am really interested to see how he fares this week vs. the athletic and physical Alabama defense — the kind of athletes he would see on a weekly basis in the NFL.
• The Crimson Tide don't have nose tackle Terrence Cody anchoring the interior of their defense anymore, but they still have two big bodies inside in Josh Chapman and Kerry Murphy who can plug up run lanes and eat up blocks. Therefore, the effort by offensive guard Stefen Wisniewski quickly firing out of his stance, getting his feet around blocks and sealing inside will be key in the run game. Wisniewski isn't the biggest or most physically gifted of athletes, but he's a smart, technically sound kid who plays with good leverage, knows how to stick to blocks and works hard through contact. Therefore, watching how he does vs. a very big and very good 'Bama 3-4 front will be a good indicator of if he can hold up and create movement as a guard at the next level or if he once again will need to make the move back to center.
Alabama
• QB Greg McElroy showed some improved confidence last week taking shots down the field to WR Julio Jones. Jones possesses a rare blend of size, power, acceleration and body control, and after taking a look at the slow Penn State secondary on tape this week, you have to think he will be a focal point in the pass offense this week.
• With DE Marcell Dareus out of this one, the Crimson Tide will be looking for someone to step up, and that guy could be senior defensive end Luther Davis. Davis has never had much fanfare attached to his game, as he played as a reserve last season and isn't nearly as dynamic a pass rusher as some of his counterparts up front. However, what he can do is win for you on first and second down because of his strong anchor and ability to use his hands to slip blocks. He's never going to be a guy who consistently gets noticed on game days, but if you watch him closely he can certainly do his job vs. the run, eat up/slip blocks and could find a very similar role for himself at the next level as a two-down/reserve type end.
Stanford vs. UCLA
10:30 p.m. EST ESPN
Watch to watch for…
Stanford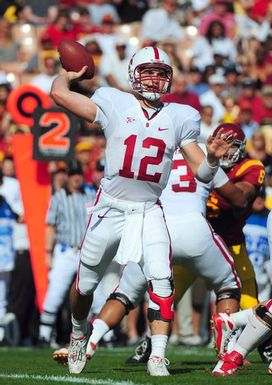 ICONLuck looks poised to take that next step this season.
• I am truly of the belief that Stanford quarterback Andrew Luck is the top quarterback prospect in the nation at this stage and if I'm the GM who holds the top overall pick and Luck is available, I'm taking this guy over Jake Locker, Christian Ponder and Ryan Mallett. Luck looked really comfortable last week throwing the football on all levels of the field, quickly deciphering information in the pass game and getting the ball out of his hands on time. Again, I know it was only Sacramento State, but I really think he's mentally catching up to his physical attributes, which likely means a huge year is going to be in store for him in the Pac-10.
• The one unsung hero to watch for on the Stanford offense is FB Owen Marecic. Marecic is a tough, technically sound lead blocker who has enough pop to drive defenders off the football inside. But he's at his best sealing targets off his frame and using his hands to stick to defenders through the play. He was one of the bi ggest reasons for all of Stanford's success on the ground last season and I fully expect him to have another great year and put himself in position to be one of the few drafted fullbacks in this year's class.
UCLA
• However, one guy who Marecic could have his hands full with is UCLA's strong side linebacker Akeem Ayers. Ayers is a unique 6-4, 255-pound athlete who can attack downhill, rush the passer, stack and shed vs. the run and make plays in pursuit. He has the type of size and versatility to line up both on the strong side and as a rush 3-4 linebacker in the NFL and could ultimately end up being one of if not the first backer selected in the 2011 NFL draft.
Other prospect nuggets to watch for Saturday…
• How effective can Oklahoma RB DeMarco Murray be if Florida State is able to contain him on the perimeter and force him to run the football in tighter quarters inside?
• Can Virginia's 6-3, 255-pound running back Keith Payne be as effective this week vs. a very talented USC front seven as he was in week one? If he is, he could be in store for a big jump on draft boards.
• Is Ole Miss defensive tackle Jerrell Powe a more effective player playing at 330 pounds than he is at 310? Powe got handled and pushed around a bit last week vs. Jacksonville State and it will be interesting to see where he is at physically this week vs. Tulane.
NFL draft/college football questions? Get them answered at Wes.Bunting@nationalfootballpost.com
Follow me on Twitter: @WesBunting