October 16, 2010 -
National Football Post
Saturday College Primer
Some opinions, takes and things NFL scouts will be looking for in Week 7 of the college football season.
Arkansas vs. Auburn
3:30 p.m. EST CBS
What to watch for…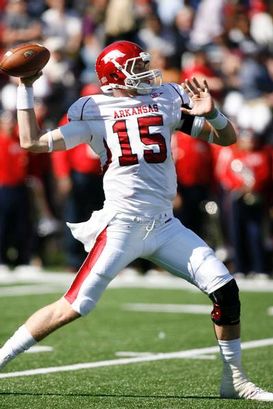 ICONLook for Mallett to show well in this one.
The quarterback battle
This is a matchup of two of the most physically gifted quarterbacks in the entire nation between Arkansas' Ryan Mallett and Auburn's Cameron Newton. Mallett possesses a great arm, has the ability to sling the football vertically and put pressure on defenses to cover the entire field. Newton on the other hand is a raw 6-6, 250-pound kid who also has the ability to make all the throws, but it's his dual run/pass ability that makes him so tough to defend. Mallett is the most seasoned passer and better NFL prospect at this stage, but Newton is a guy who seems to not only be getting better game to game, but even quarter to quarter. He's a natural leader who is the perfect fit in the up-tempo Auburn offense and I think it's his athleticism that ends up being the difference in this one.
Auburn CB Neiko Thorpe vs. Arkansas WR Greg Childs
Thorpe is a talented corner who possesses a long, lean frame, good fluidity when asked to turn and run, and possesses the length to get his hands on the football. However, the two negatives that have stood out to me about his game each time I have seen him this year are…
1. His inability to get up to speed quickly vertically down the field. Has a tendency to play a bit high and will lose a step out of his transition.
2. He has trouble consistently finding the football quickly when asked to get his head around.
Therefore, expect Arkansas to like its chances when he lines up over Childs one-on-one. Childs also lacks great straight-line speed but is one of the better jump ball receivers in the nation. He does a great job quickly locating the football, adjusting to the throw and going up to make a play. Plus, the guy is physical down the field, can break tackles after the catch and might be too much for a guy like Thorpe to handle the entire game alone on an island.
Auburn OT Lee Ziemba vs. Arkansas DE Jake Bequette
The battle between these two linemen will simply be an old-fashioned throwdown. Neither is real explosive off the football and both players like to get their hands on their opponent in order to control blocks. So it will be a matchup of overall technique, leverage and who is willing to outwork the other. Ziemba has been as solid as they come on the outside as a blindside protector in the SEC, but he lacks ideal range off the edge and despite his size doesn't exhibit a great snap off the football in the run game. Bequette on the other hand isn't a guy who will threaten the corner. But he has some pop at the point, extends his arms well to slip blocks and can be sudden on contact. So again, you won't be seeing two top-tier athletes go at it, but both have the physical skill sets to make NFL rosters and give each other trouble in this one.
Texas vs. Nebraska
3:30 p.m. EST ABC
What to watch for…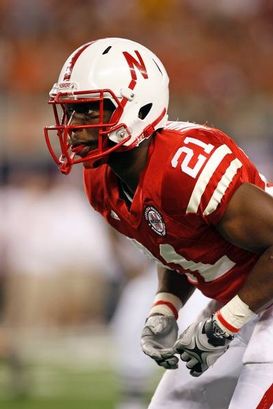 ICONAmukamara makes it tough for any receiver to gain separation from him off the line.
This is a bad matchup for a Texas passing game that has struggled to find any kind of a rhythm all season. The Nebraska secondary is deep and in my view has the top pair of starting corners in the nation — yes, better than Texas — in Prince Amukamara and Alfonzo Dennard. Both players are physical off the line, possess good footwork and fluidity when asked to turn and run, and do a great job locating the football vertically. Plus, they have the confidence to play on an island against just about any receiver, which allows the instinctive Nebraska safeties to roam in the deep half and simply find the football. Therefore, in order for Texas to have any chance they need to run the football with some success. Because if they get into third and long situations, it's going to be a long day for QB Garrett Gilbert.
Speaking of running the football, we saw last week vs. Kansas State that Nebraska defensive coordinator Carl Pelini can be pretty stubborn when it comes to loading up the box. He has a lot of faith in defensive tackles Jared Crick and Baker Steinkuhler, who aren't the girthiest of linemen but are both technically sound, long-armed kids who can quickly shed and find the football. The Texas offensive line does have the size advantage up front and could be able to wear on them as the game goes on. However, both Crick and Steinkuhler have done a great job all year making that one negative play on an early down, forcing opposing offenses out of manageable down and distance situations, which is what I would expect to happen in this one.
Finally, keep a close eye on Texas defensive end Sam Acho. I have been critical of Acho all year and don't think he's a real talented pass rusher. However, his ability to set the edge, use his length to fend off blocks and force Nebraska QB Taylor Martinez back inside will be key. The Longhorns as a whole have one of the best secondaries in the nation, therefore forcing Martinez into passing downs will be key, and that's where Acho needs to be at his best, on first and second down.
Ohio State vs. Wisconsin
7:00 p.m. EST ESPN
What to watch for…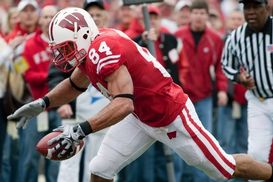 ICONKendricks needs to be the X-factor in the Wisconsin pass game.
I love Wisconsin DE J.J. Watt as a prospect. He's a big, long, physical kid who can really pack a punch at the point of attack, push his side of the pocket and win in both the run and pass game. He looks like one of the top five-technique prospects in the draft whenever he comes out and will likely end up being a solid NFL vet for the next ten years. However, he is a bit limited as an athlete and is the last guy I want chasing Ohio State QB Terrelle Pryor in a foot race. The key for the Wisconsin pass rush is to be sure they stay gap-disciplined on third down, because there is a major discrepancy in overall athletic ability and Pryor could really do some damage in this one if he's able to break contain.
If there is one real mismatch the Badgers need to pick on, it's with tight end Lance Kendricks anytime he's singled up on an Ohio State safety. Kendricks has the ability to get down the seam, accelerate out of his breaks and should be able to create significant separation vs. the likes of FS Jermale Hines, especially with the OSU defense keyed up to stop the Wisconsin run game.
Key matchup to watch
Ohio State OG Justin Boren vs. Wisconsin DT Jordan Kohout You know what you are getting from Ohio State offensive guard Justin Boren. He's a tough, physical lineman who is heavy handed, can anchor on contact and loves to drive people off the football in the run game. And despite his coordination in pass protection, he does lack great lateral ability and the more space he is asked to cover the l ess effective he is. Therefore, his matchup with one of the better freshmen in the country today will be key as Kohout has shown the ability to beat blocks inside, does a nice job for such a young kid finding the football and then working hard in pursuit. I expect the overall size, physicality and savvy of Boren to eventually win out, but it's a intriguing battle between the physical, wily vet and the talented up and comer.
NFL draft/college football questions? Get them answered at Wes.Bunting@nationalfootballpost.com
Follow me on Twitter: @WesBunting
Want to work in the NFL? Click here to register for the NFP's "Chalk Talk" seminar in Chicago on October 22nd.