September 25, 2010 -
National Football Post
Saturday College Primer
Some opinions, takes and things NFL scouts will be looking for in Week 4 of the college football season.
Alabama vs. Arkansas
3:30 p.m. EST, CBS
What to watch for…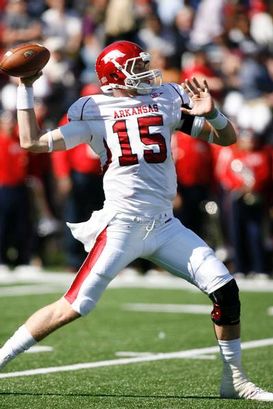 ICONMallett needs to be more accurate with the football in the short passing game.
If Mallett wants respect he has to earn it
Physically, Arkansas quarterback Ryan Mallett can easily make all the throws and has an absolute cannon when asked to step up in the pocket and make plays down the field. And although I thought he did a better job last week keeping his eyes down the field when asked to move around in the pocket and did decipher information better in the pass game compared to a year ago, the Alabama defense will be a completely different monster today. Alabama loves to bring pressure from all angles and they have the speed in their front seven to get after the quarterback in a variety of ways. Therefore, Mallett needs to be accurate with the football in the short passing game. As you watch tape on him the one thing that really jumps out is consistent inaccuracy on passes he should complete underneath because of his lack of balance and footwork in the face of pressure. He's a long, lethargic type athlete who doesn't move well at all when flushed from the pocket and has a tendency to trust his arm too much any time he feels pressure. Now, as a potential NFL quarterback, the guy can be effective working off the play action game in a vertical passing attack. But, this will be a nice test to see if he's the kind of guy who can make quick decisions in the face of pressure, take care of the football and move the chains, or if he is just a strong-armed guy who will struggle to do much more than sling the football down the field at the next level. My bet is on the later.
Size could be a problem
As much as I like the athleticism, toughness and overall willingness to compete one-on-one on an island week in and week out, Arkansas CB Ramon Broadway may have his hands full with 'Bama wideout Julio Jones. Broadway measures in at 5-8, 191 pounds and as much as I like the small corner, his size really scares me as a prospect in the NFL. Anytime he's on the field all you have to do is throw a jump ball at him and you know he will struggle to defend it. Therefore, look for the 'Bama offense to try to take some shots down the field to Jones in this one and force the smaller Broadway to try to contend with his physical nature in jump ball situations.
Key matchup to watch
Arkansas TE D.J. Williams vs. Alabama ILB Don'ta Hightower
There is no doubt in my mind that Williams can get down the field and he's at his best when asked to run away from defenders vertically or on crossing routes underneath. However, watching him last week vs. Georgia and this summer on tape, trying to quickly generate separation for himself out of his breaks just isn't a real strong point of his game. He isn't real savvy as a route runner, begins to advertise his routes early and plays too soft in a phone booth to fight off a defender and gain a step. Therefore, watching him vs. the bigger, more physical Hightower this week will be a nice test for both men. Hightower is an instinctive guy who moves well for his size and has a good initial burst when asked to close on the football. And if Williams can't consistently separate underneath, it will put even more strain on the Arkansas offense.
Stanford vs. Notre Dame
3:30 p.m. EST, NBC
What to watch for…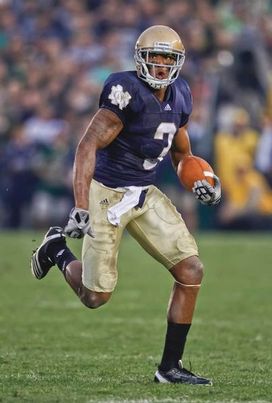 ICONExpect Floyd to be a nightmare for Sherman to cover on the outside.
• If you want to see the definition of a "leggy" cornerback look no further than Stanford's Richard Sherman. He's a 6-2, 210-pound kid who struggles to bend, lacks ideal balance and body control when asked to get out of his breaks, and just really struggles keeping his feet under him in all areas of the game. Therefore, much like last season when he struggled tremendously with the size, fluidity and overall explosion of Notre Dame wideout Michael Floyd in the pass game, I expect a lot of the same this year as well.
• The NFL draft is all about seizing the moment for a quarterback prospect and Stanford's Andrew Luck has the ability to do just that in this one. Luck is my highest rated QB prospect at this stage who combines a nice blend of athleticism and savvy in the pass game. However, he's only a redshirt sophomore and still has plenty of further developing he can do at the college level. He plays for one of the best coaches in the country in Jim Harbaugh who will have this guy ready to play on Sundays whenever the time maybe. Nevertheless, you have to think watching Washington QB Jake Locker this season struggle as much as he has, it could make it rather enticing for Luck to come out early and make a very probable run at the top overall pick. Luck boasts an impressive 10-0 TD/INT ratio so far this season and should have his way with the unathletic Irish defense today, further building on his momentum.
• Finally, it will be nearly impossible to miss him, but keep a close eye on Notre Dame tight end Kyle Rudolph. Rudolph looks like a miniature offensive tackle when lined up with his hand on the ground and has been really dynamic in the pass game so far this season. He's a guy who runs very well for a 6-6, 260-pound specimen, exhibits good short-area quickness in a phone booth and knows how to create a step and box out a defender underneath or turn his route up the field and get down the seam. Plus, he exhibits impressive body control when asked to go up and get the football and looks much more balanced in both the run and pass game as a blocker. I don't think he's a guy who will challenge Vernon Davis' No. 6 overall pick status, but I think he's a guy certainly worthy of going somewhere in the top 15.
Oregon State vs. Boise State
8:00 p.m. EST, ABC
What to watch for…
• The Oregon State Beavers need to find a way to get the ball into the hands of WR James Rodgers on the edge when matched up with Boise State cornerback Brandyn Thompson. Thompson isn't a real balanced corner and struggles to cleanly redirect, drive on the football and too often arrives late when asked to wrap up after a completion. Rodgers is the kind of guy who can create after a catch and has the suddenness and body control to really make Boise State pay if they don't help Thompson on the outside.
• Will Boise State LT Nate Potter continue to knock off the rust playing on the outside after practicing at guard during most of fall camp? He struggled to reach the edge vs. the speed of Virginia Tech in week one, so it will be interesting to see where he is at this week vs. Oregon State.
• Enemy No. 1 for the Boise State offensive line is Beavers defensive tackle Stephen Paea. He's a strong, explosive option inside who can overwhelm on contact, shoot gaps inside and make plays off his frame. He has the ability to consistently create havoc behind the line of scrimmage, but his ability to locate the football quicker will be one of the key improvements in his game I will be looking for tonight.
Other Saturday snippets…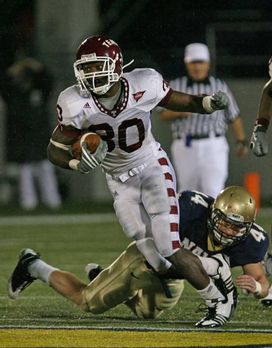 ICONCould Temple be the better team on this day?
• I honestly believe that the most talented players on the field today in the Temple/Penn State matchup are on the Temple sideline. Now, does that mean they are a better team? No. But they certainly have the talent to win at Happy Valley.
• Does Boise State have the ability to win a national title? Yes. They do a great job game planning, getting up for every opponent and they aren't intimidated by anyone. Plus, they have in my opinion the best quarterback in COLLEGE football in Kellen Moore. I don't see much of a professional career for him ahead, unless you are talking CFL, but for the college game, he's the one guy I would trust more so than anyone else.
• Virginia RB Keith Payne has made a lot of noise during the early part of the season and has shown some real power as a short-yardage guy. However, I am having a tough time seeing the guy significantly moving up draft boards because of his lacking a second gear and the fact that he quit the team in 2009.
• Finally, be sure to check out South Carolina/Auburn today if for no other reason but to see the future of the NFL running back draft class. Gamecocks back Marcus Lattimore has been a man among boys so far in 2010 breaking tackles at an amazing rate for a freshman runner, whereas Auburn back Michael Dyer has a thick, compact frame and can really be shifty and powerful picking his way toward daylight.
NFL draft/college football questions? Get them answered at Wes.Bunting@nationalfootballpost.com
Follow me on Twitter: @WesBunting
Click here to win cash today playing fantasy football with the NFP and FanDuel.