October 09, 2010 -
National Football Post
Saturday College Primer
Some opinions, takes and things NFL scouts will be looking for in Week 6 of the college football season.
Michigan State vs. Michigan
3:30 p.m. EST, ESPN
What to watch for…
Key matchup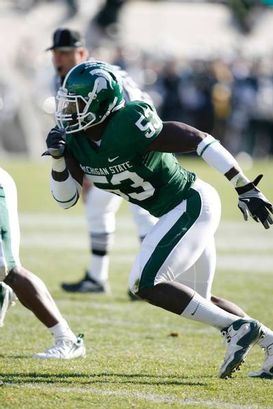 ICONJones will have his hands full in this one.
Michigan QB Denard Robinson vs. Michigan State ILB Greg Jones
Robinson might be the most dynamic offensive threat in the nation. His combination of explosion, straight-line speed and wiggle make his a guy who can take it the distance every time he touches the football and the Michigan offense has done a nice job all year winning the numbers game and giving Robinson opportunities to be successful. However, in order to slow him down running the football in this one, Spartans MLB Greg Jones needs to be on top of his game. Jones has bulked up this season to around 240 pounds and has shown impressive feel and instincts between the line of scrimmage, finding the football vs. the run game, breaking down on contact and is very effective inside the box. But, despite his impressive instincts when asked to read and react, there are some questions now if the added weight has taken a half step away from his game. Now, the guy still plays fast and can certainly make plays off his frame, but his ability to breakdown and wrap-up on Robinson in the open field will be in my opinion, the biggest key of the game.
Very quietly Michigan State quarterback Kirk Cousins is having a really solid year in his own right, completing 67.5 percent of his passes and has throw 9 touchdowns compared to only four interceptions on the season. He shown good poise in the pocket, does a nice job deciphering information and quickly, going through his progressions and is at his best using his touch to drop soft bucket throws into the out stretched hands of his receiver. He's a guy who doesn't get rattled easily and certainly looks like one of the better Big Ten quarterback prospects in the conference right now.
One of Cousins favorites weapons to throw to down the seam is tight end Charlie Gantt. Gantt isn't the fastest or most explosive of options, but he's a big, coordinated kid who knows how to use his big frame to box out a defender and go up and make a play on the football. Plus, he gives Cousins a wide target to throw to and exhibits a good feel working vs. zone coverage, finding a soft spot and working his way open on all levels of the field. He also has shown well as an in-line guy on early downs handling/sealing opposing linemen at the point of attack and looks like a very capable number two type option at the next level.
LSU vs. Florida
7:30 p.m. EST ESPN
What to watch for…
Key matchup
LSU DT Drake Nevis vs. Florida C Mike Pouncey
Nevis has been on a tare this season, knifing into opponents backfields all year, playing with a relentless motor and doing a good job finding the football. However, the biggest concern I have for him at this stage is his overall size. The guy looks small on tape and I have been told by scouts in his area that once NFL officials get a look at the guy up close they will likely be turned off. Therefore, his match-up with the bigger, more physical Mike Pouncey today will be key in determining just how effective he can be at the next level. Pouncey is a big kid who can bend, mirror on contact and get after you in the run game, and should give Nevis all he can handle inside.
I feel like I have written this same post on LSU each of the past three seasons. But do the LSU players really trust Les Miles and the coaching staff after the debauchery last weekend? Sure, they got the win, but something needs to be said for the overall confidence level of a team in their leaders/coaches, and being able to win vs. a big time opponent like Florida takes full trust in your coaching staff from the team. And you have to think that at least some of the LSU players have some doubt in their heads about the overall management of their ball club.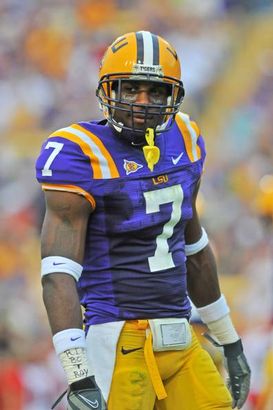 ICONPeterson looks like a potential top-ten pick come 2011.
Finally, be sure to take a look at LSU cornerback Patrick Peterson, who is one of the most impressive looking athletes to come along this decade. At 6-1, 211-pounds the guy can be really physical off the snap, can run with anyone down the field and knows how to high point the football. Now, he is getting better in the mental aspects of the game, but still isn't the most instinctive of corners and will take some false steps jumping routes and can be victimized by the double move at times. Therefore, despite his incredible size/speed combination, I don't think at this stage I would take him over Prince Amukamara, the more technically sound corner from Nebraska.
Florida State vs. Miami
8:00 p.m. EST, ABC
What to watch for…
Key matchup
Florida State OG Rodney Hudson vs. Miami DL Allen Bailey
Despite the fact that Bailey has done a much better job this season playing the run as a defensive end and anchoring with more consistency, I still don't see him as a real effective pass rusher when lined up on the outside. Therefore, the Miami staff loves to kick him inside on passing downs where he can use his first step explosion to knife his way into the backfield and create havoc inside. However, in this one he'll line up inside against one of the more athletic offensive guards in the country in FSU's Rodney Hudson, who possesses good initial quickness off the snap, can bend and does a nice job using his length and footwork to stick and mirror through the play. These two guys have gone at it for years now and despite the fact that both guys are gifted athletes and can play with leverage; they both tend to get overextended at times into/through contact. So expect the more patient linemen to be the most effective one in this battle.
After a brutal outing vs. Oklahoma in week 2, Florida State quarterback Christian Ponder has bounced back decently over that past three weeks, leading the Seminoles to three wins, completing over 63% of his passes and not throwing a pick during that time. However, his ability to handle the Miami pressure up front and throw against a seven-men secondary when they only bring four will be key tonight. You have to think the ultra competitive Ponder can't wait to get out and shown his worth vs. another talented defense and prove that he certainly has what it takes to move the chains vs. a very good and very fast college defense. Now, I am a Ponder fan and think he certainly has the ability to come out and play well, but the one real X-factor to his game is his ability to buy time with his legs and pick up first downs when plays breakdown, something he might need to do quite often in this one, all while trying to keep his eyes down the field in order to hit that big play when given the opportunity.
You have to pick on someone in the Miami secondary and with the lights out play of junior cornerback Brandon Harris, that guy seems to be senior CB DeMarcus Van Dyke. Van Dyke came into the year considered as one of the nations top corners according to a lot of scouting circles. However, after watching him on tape this summer I saw a long, fluid corer who does run well, but he wasn't r eal compact with his footwork, easily lost balance when asked to re-direct and did give up quite a bit of separation out of his breaks. Opposing offenses have noticed this as well and he has been targeted quite frequently over the first half of the season. Don't expect much to change in this one tonight, it will just be interesting to see if Florida State has the talent at wide out to consistently take advantage.
NFL draft/college football questions? Get them answered at Wes.Bunting@nationalfootballpost.com
Follow me on Twitter: @WesBunting