November 27, 2010 -
National Football Post
Saturday primer
LSU vs. Arkansas
What to watch for…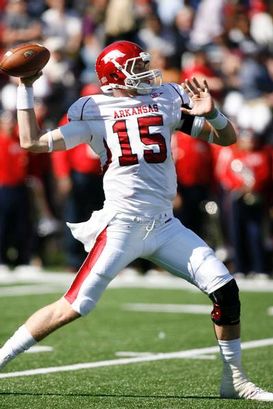 ICONMallett can make all the throws, but too often gets sloppy with his footwork causing his accuracy to get spotty.
Can the Tigers make him move his feet?
It's no secret throughout the SEC that Arkansas QB Ryan Mallett has the ability to make opposing defenses cover the entire field. He possesses great arm strength, can spin the football outside the numbers and consistently is able to threaten defensive backs vertically down the field. And when he has his feet set and is given time in the pocket to step into throws he showcases the ability to fit the football into tight windows and consistently give his receivers a chance to make a play. However, the difference between him and top-tier quarterback prospects is that Mallett struggles with his ball placement — especially in the short and intermediate pass game — forcing receivers to slow down their routes or stop in order to adjust to the throws, as opposed to simply being able to run through it.
Also, at 6-6, Mallett isn't a real impressive athlete in the pocket either, as he gets really lethargic with his footwork and struggles to quickly re-set his feet toward his target. But he still has the arm strength to get the football to anyone even when falling away from his target. But, when he doesn't maintain balance into his throws his ball placement and accuracy really struggle, which has been one of the main culprits for the majority of his interceptions on the year. Therefore, the key for the LSU defense is creating pressure on Mallett and forcing him to move off his spot in the pocket, because if you can make the guy move his feet, in my view from all the games I have seen of him, Mallett simply isn't real effective.
The guy for the job…
It's a lot easier said than done simply getting pressure on Mallett inside. However, the Tigers have one of the most disruptive interior defensive linemen in the country in senior Drake Nevis. Nevis is a bit undersized at 6-2, 285 pounds, but he's got a really thick, strong base, possesses one of the most explosive first steps of any prospect in the nation, has good length and plays with a motor that runs nonstop. Therefore, when you add those attributes all up you get a guy who is just a bear to block inside. He's got the burst to shoot gaps off the line, is sudden and violent shedding blocks with his hands if his initial burst is slowed and works extremely hard to disengage and make his way toward the ball carrier. He's the one guy who needs to not only open up opportunities for his teammates along the D-line, but he needs to be his typical dominant self inside, creating havoc behind the line and stopping plays before they start if the Tigers expect to slow down the high-powered Arkansas offense.
Where will the pressure come from on the other side?
The LSU pass game has been downright brutal at times this season to put it nicely. However, one of the biggest flaws of the Arkansas defense is its ability to routinely create consistent pressure on the quarterback and force him to get rid of the ball before he wants to. Therefore, one of the key matchups of today's game is the play of Arkansas DE Jake Bequette vs. LSU OT Joseph Barksdale. Bequette isn't a real explosive athlete off the snap, but he does a nice job generating a snap on contact, uses his long arms and strong hands well to disengage and has a motor that runs nonstop. So it will be a real contrast in styles vs. a guy like Barksdale who is a gifted athlete on the edge, possesses good balance when asked to redirect and slide his feet and is comfortable in space. However, he isn't a real tough or gritty kid, struggles to generate any kind of pop on his punch into contact and just lacks ideal technique when asked to uncoil his long arms with a compact motion and sting a lineman off the edge. So, it will be key for Barksdale to stay mentally into it throughout this one because Bequette is the kind of guy who can simply wear opposing tackles down with his style of play, as I expect him to get better and more effective as the game goes on.
The other tackle to watch…
Arkansas has a talented offensive lineman prospect in its own right in DeMarcus Love, who has experience playing on both sides of the line of scrimmage at tackle as well as guard. He's a gifted athlete who possesses impressive range off the edge and has the type of flexibility to sit into his stance and really generate a snap for himself into blocks as an in-line guy. However, my biggest concern in his game at this stage is his overall lack of ideal balance when asked to slide laterally and mirror in space. He isn't the most compact of individuals on his kick slide and routinely allows his footwork to get too overextended, causing him to lose his balance on any type of counter.
I love the guy's tape as a sophomore when he lined up inside at guard and think that might be the best spot for him overall at the next level. But as for today, expect the LSU speed rushers to try to work a ton of counter moves off their initial outside rush to try to get Love to redirect in space, something he has shown can be a problem at times because of his lack of ideal compact footwork and balance on the edge.
Impressions from Alabama/Auburn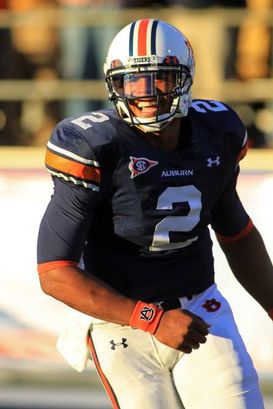 ICONNewton was magic once again Friday.
I came away impressed with the poise and overall demeanor of Auburn QB Cam Newton. He weathered the storm, never seemed to get that frustrated or down on himself/teammates and really seemed to grow into the game. Now, did he make some poor reads/decisions at times throwing the football? Absolutely. Was he in over his head at times vs. the Bama defense? Yes. However, the guy threw for three touchdowns, no interceptions and made enough plays both through the air and on the ground to get the offense in rhythm. He's still learning, but after a performance like that vs. a defense the caliber of Alabama, we really are only starting to scratch the surface of this guy's potential as a quarterback. And as for the "it" factor, he definitely showed he had it Friday, down 24, on the road to Bama with a national title berth on the line…doesn't get much tougher than that.
After watching Auburn and Alabama left tackles Lee Ziemba and James Carpenter, I still didn't see enough to make me think either guy is a starting caliber blind side protector in the NFL. Ziemba is a strong, big kid who does a solid job staying engaged when asked to set the edge. However, there is no snap to his game in the run game and really struggles when asked to slide and mirror laterally in pass pro. Carpenter on the other hand gets caught doubling over at the waist too often, is sloppy and overextended with his footwork in the pass game and like Ziemba can be exposed on any kind of inside counter. I think both guys make rosters in 2011, but they aren't players I think I could win with starting up front for me in the NFL.
Finally, it almost seems too easy at times for Auburn DT Nick Fairley. His ability to fire off the football, cross the face of opposing linemen and knife his way into the backfield is one of the main reasons why this guy has been one of the most dominant linemen in the country all season. Plus, the guy has the anchor and power in his u pper body to fend off blocks and showcases strong hands when asked to quickly disengage. Now, at times when he sees the double team his motor will get a bit cold. However, he does work hard from the backside and in pursuit and has been downright unblockable at times this season. I still have to get a better feel for the kid from a character standpoint, but based on his on the field play alone, if I had to pick the best defensive lineman in the country at this stage, Fairley would be my guy.
Follow me on twitter @WesBunting