December 04, 2010 -
National Football Post
Saturday Primer
SEC Championship
Auburn vs. South Carolina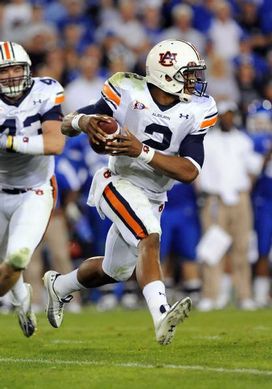 ICONNewton has the ability to beat you with his arm or legs.
• The Auburn offense starts and ends with quarterback Cam Newton and there is absolutely no doubt in my mind he's the single-most important player to his respected team in the country. Newton has the ability to create plays in both the run and pass game, keep the Tigers ahead of the chains and force opposing offenses to try to keep pace with the Auburn point total for four quarters. Plus, he does a nice job taking care of the football, not forcing too many throws and making the big play with his arm when need be. He really can be a one-man wrecking crew at times and Auburn has no problem with that because that's when the Tigers are at their best. Therefore, the key for the South Carolina defense is to be able to tackle at the line of scrimmage. They have a pair of bigger, longer defensive ends who have the ability to set the edge, but they need to get numbers inside the box and around the football, and when they have a chance to break down and tackle the ball carrier they must. Newton has proven, like most quarterbacks, he isn't at his best in obvious pass situations, so winning the battle on first and second down is where the Gamecocks have to win to have a chance.
• Another way to defend this Auburn offense is to simply not give them many opportunities to move the football. Therefore, the best defense for Steve Spurrier and company may be to soak up a lot of that clock with their offense, running the football efficiently and keeping Newton on the bench. The Gamecocks have one of the most physically imposing freshman backs to come along in years in Marcus Lattimore, who does a great job running low, churning his legs through contact and picking his way between the tackles while keeping the offense ahead of the chains. Spurrier has also done a nice job allowing QB Stephen Garcia to throw outside the pocket to WR Alshon Jeffery when they need a big play, giving Garcia a run/pass option. However, in my view, 4 yards and a cloud of dust up and down the field is the best bet to taking the sails out of this Auburn offense. You don't want to get into a shootout with them because South Carolina has the ability to score points, but keeping pace with Auburn for 4 quarters is not easy when you don't have a QB that can match Newton play for play.
• Now, all that sounds good in theory concerning the South Carolina run game and being able to keep Newton on the bench. However, the Tigers not only have one of the most dynamic offensive players in the country, but they also have one of the most dominant defensive linemen as well in DT Nick Fairley. Fairley possesses an imposing combination of power, strength, explosion and suddenness for a guy his size. He not only has the ability to get across the face of opposing blockers with ease, but he uses his strong hands and length well to shed blocks and find the football. Therefore, expect center T.J. Johnson to consistently be looking to double down and help guards Garrett Chisolm and Rokevious Watkins to try to create some creases for Lattimore to run through inside, because as we have seen all season long, the guy is simply unblockable for the most part one-on-one.
Big 12 Championship
Nebraska vs. Oklahoma
What to watch for…
• We know that there aren't too many teams in the country who have the ability to cover on the outside in man-to-man coverage like Nebraska. Starting corners Alfonzo Dennard and Prince Amukamara are both strong, physical kids who love to be aggressive off the line and down the field, and then go make a play on the football. Therefore, despite the fact that they are going up against a talented pair of wideouts in Ryan Broyles and Kenny Stills, I think they can still limit both of their touches in the pass game. So, where will the production for Oklahoma come from? My guess, RB DeMarco Murray. I know I've been brutally critical of Murray at times this season and that he is coming in a little banged up with a sore knee, but he has the ability to do two things very well to open up the Oklahoma offense…
1. Catch the football.
2. Run to daylight in the open field.
And if Oklahoma hopes to consistently be able to create big plays in the pass game, I think they are going to have to start with Murray in order to begin to open everything else up.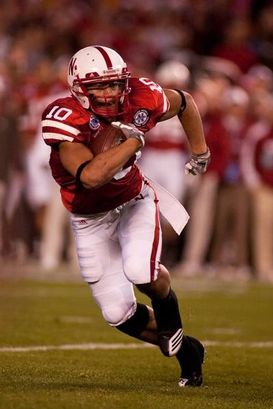 ICONPounding Helu inside is the key in my view.
• Where does the offensive production come from if Nebraska QB Taylor Martinez proves he is ineffective this week running the football? Well, in my view the Cornhuskers need to go a bit old-school and lean on their nasty offensive line and play some power football. RB Roy Helu Jr. is the type of no-nonsense runner that can keep the Nebraska offense ahead of the chains while Rex Burkhead has also proved that he can be rather effective running the football inside as well. These two guys can carry the load, but the key is to create some plays in the pass game with some big strikes down the field, all while making sure not to turn the football over. Nevertheless, no matter who is playing QB for the Cornhuskers and how effective he is, in my view, you ride your powerful senior back and wear down this softer Oklahoma front seven if you want to be successful.
• Where do you take your shots at in the pass game if you are Nebraska? I look no further than Oklahoma safety Quinton Carter. I know Carter is coming off a big two-interception game vs. Oklahoma State this past week and has some confidence and swagger to his game coming into this one, which is even more of a reason why I test him vertically. Carter isn't real fluid in space, looks tight when asked to redirect and doesn't have the type of range to make up for a false step. He is a physical striker who can disengage the ball from man in the deep half. However, coming off that two-interception game last week and not likely having a ton of opportunities to make a play in the pass game in this one, he may be looking to force it a bit trying to jump a route prematurely. And from there you can take advantage, because if you're able to gain a step on the guy on any area of the field, he simply lacks the range to make up for a false step.
ACC Championship
Florida State vs. Virginia Tech
What to watch for…
• One of the nation's better off/zone corners in my view is Virginia Tech's Rashad Carmichael, who has done a great job all season closing on throws in front of him, adjusting to the passes down the field and making plays on the football. He's a bit undersized at 5-10 and only 186 pounds and looks thin and narrow through the lower half. However, he runs really well vertically, has the ability to consistently click and close quickly on the ball and is someone QB Christian Ponder needs to know where he's at at all times, because he has the ability to come up with some timely turnovers in the secondary and create after the catch.
• Speaking of Ponder, he's coming off one of his better performances of the year last week throwing for 221 yards and three touchdowns vs. an uninspired Flo rida defense and showcased some of the abilities that coming into the year led many to believe that he had the makings of being one of the highest-graded quarterbacks in the 2011 NFL draft. However, 2010 has been a year of disappointment for Ponder up until this point. His play has been lackluster, his arm hasn't shown much zip and he looks to have really had a tough time dealing with the numerous injuries he has suffered throughout the season. However, maybe now is the time where he is finally starting to feel healthy again and can really start to build some momentum as we close in on the postseason. The Virginia Tech defense has the ability to get after the QB, but Ponder has seen it plenty of times throughout his career and can't afford to take another step backward at this stage. Continuing to build his momentum going forward is key this late in the year if he hopes to land in the top 64 picks.
• Finally, I can't wait to watch Virginia Tech defensive end Steven Friday and see how much he has matured since last season. Initially when I saw the guy on tape this summer during his spring game I thought he could end up being one of the best pass rushing prospects in the draft. He did a nice job early in the season using his speed rush to turn the corner and create pressure vs. Boise State, but since then he has seen a lot more chips and attention thrown his way. However, despite learning on the go, he has still accounted for 7.5 sacks and 14 tackles for loss on the year and he looks like a guy who is going to really open some eyes during the postseason process. You can never have too many talented pass rushers and whether this guy gets drafted as a DPR (designated pass rusher) or as a outside rush linebacker in a 3-4, he's a guy who I think has the ability to mature into a good pass rusher at the next level and is only starting to scratch the surface of his potential.
Follow me on twitter: @WesBunting