November 13, 2010 -
National Football Post
Saturday primer
Some opinions, takes and things NFL scouts will be looking for in Week 11 of the college football season.
Georgia vs. Auburn
What to watch for…
Newton has had to answer plenty of questions this week.
• It will be interesting to see just how well Auburn QB Cam Newton handles the game this week with all the rumors swirling about some illegal recruiting practices that has put a cloud over his brilliant 2010 season. Newton seems like an engaging kid who has been said to have a good head on his shoulders and is unflappable in the face of pressure. However, this is a whole new type of pressure that will have to go through his head at some point during pre-game. And the mere fact that his focus could be taken away just a little bit is all Georgia really needs. This game just reeks of a potential letdown with all the off the field distractions surrounding this Auburn team and Georgia has the talent and can play loose on the road and get after the No. 2 team in the country.
• Is there an answer for Auburn DT Nick Fairley inside? The last time we saw Fairley vs. SEC competition was against Ole Miss, which was the week after a dominant performance vs. LSU, controlling the line of scrimmage vs. both the run and pass game, eating up blocks inside and fighting his way into the backfield. But, in all honesty, it looked like Fairley was kind of just going through the motions vs. Ole Miss. He wasn't nearly as impactful in either area of the game, seemed to think plays were going to come easy for him and he just didn't have the same fire in his belly as the week before. Therefore, do you rip a guy like that for a lack of effort? In my view, no, not at this time at least. Fairley is seeing his first real success at the FBS level this season and it might just be a maturity and maturation issue that he has to go through, as he learns the kind of level he needs to play at not only in the big SEC games, but in the smaller ones as well. I am sure the coaching staff has gone over the film closely with him the past two weeks and that we still see a motivated/aggressive Fairley inside for Auburn, which isn't a good sign at all for the Georgia O-line.
• We all know about wideout A.J. Green on the Georgia offense and he will get a ton of attention on the outside in this one. But the guy to keep an eye on inside, doing the dirty work over the middle, taking shots in the ribs and hanging onto the football is wideout Kris Durham. He missed last week vs. Idaho State with a bruised lung, but is expected to play today. At 6-5, 212 pounds, he isn't a real explosive athlete and isn't going to generate a ton of separation for himself at any level. But he knows how to use that big body to shield defenders, is fearless when asked to extend and pluck the football and is the one guy Georgia loves to look to on third down for those tough yards between the numbers. He reminds me a bit of former NFL wideout Chris Doering and could carve out a similar role for himself at the next level.
The top five things to watch on Saturday…
5. Utah CB Brandon Burton vs. Notre Dame WR Michael Floyd
Floyd has been on a roll in recent weeks averaging over 100 yards per game over the past three games. However, he doesn't look nearly as fluid or explosive as he did last season and he seems to have put on a bit too much girth and weight this offseason. Burton, on the other hand, is looking to bounce back after an unimpressive performance vs. TCU last week where he gave up some plays behind him and struggled as a tackler. So watching him one-on-one this week vs. Floyd is another great test between to two potential starting-caliber prospects in the NFL.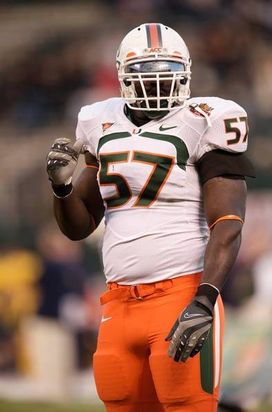 ICONBailey needs to do a better job using his hands to shed blocks if he hopes to take his game to another level.
4. Does Miami have the magic again this year to slow down the Georgia Tech triple-option offense? The Canes have one of the most athletic defenses in the nation as they can be physical when need be, while ranging in pursuit as well as anyone on perimeter runs. Watching to see Miami DL Allen Bailey try to use his hands and fend off blocks consistently in this one — something he has struggled with throughout his career — will also definitely be something to monitor.
3. On my radio spot in Texas Thursday, I was asked if the "physical" Oklahoma Sooners defense have become softer this season? My response: the Sooners were only ever Big 12 physical, which is graded on a major curve. But in past years they have had difference makers to create negative plays when need be in order to get off the field. This year they have solid talent on the defensive side of the ball in defensive linemen Jeremy Beal and Adrian Taylor who both are going to be solid players in the NFL. But the Sooners don't have the kind of top-tier talent they have had in the past, which has caused them this season to be on the field longer and wear down much easier come the second half.
2. Don't think Alabama is automatically going to rebound this week vs. Mississippi State. The Bulldogs have a good thing going for them, with wins on the road vs. Florida and at home vs. Georgia. They play a physical brand of football on the defensive side of the ball, are tough to run against and force defenses into third and long situations. ILB Chris White is one guy I can't wait to look at today. He leads the team in tackles, tackles for loss and sacks and is the type of physical, instinctive football player that has played himself up draft boards this season.
1. Oklahoma State wide receiver Justin Blackmon isn't going to have an easy time finding too many weaker cornerbacks to pick on in the Texas secondary this week. The Longhorns have a pair of talented starters in Curtis Brown and Aaron Williams; both are physically gifted guys who can turn and run and track the football well. However, Williams isn't the most polished of corners at this stage and Brown isn't real physical. Blackmon has matured into one of the better receiver prospects in the nation and has given corners better than the pair he will see today fits. So it will be a real tough matchup for either Texas defensive back whenever they are asked to play in man.

Two juniors with a tough decision on their hands…
Brandon Weeden: Oklahoma State (6-4, 220)
Weeden is in a really interesting situation. He's a former professional baseball player who made the career move to football back in 2007 and is now seeing his first real starting time as a college quarterback as a 27-year-old junior. However, he's got a really good physical skill set, can sling the football and make all the throws with ease, and has really improved throughout the course of the year. Now, is he ready for the NFL game? No. But at 27-years-old there is only a limited amount of upside a guy like that has. Therefore, instead of waiting another year to develop at Oklahoma State, he might be better served to capitalize on his strong year and try to develop in an NFL camp as opposed to waiting another year only to go through the same type of developing a year from now as a 28-year-old prospect. It's a tough call and an interesting debate, but at this stage, I think the quicker he can get into the league the better.
Jordan Todman: Connecticut (5-9, 1 95)
Todman was brilliant Thursday night, gashing a solid Pittsburgh front seven for 222 yards on the ground and displaying the type of physical running style you don't expect from a back of his dimensions. However, it's obvious that he has a good feel in tight areas, is shifty enough to side step defenders and runs with a low pad level, allowing him to absorb contact and protect himself inside.
In what looks like a poor senior running back crop, Todman could end up being one of the better backs if he would indeed decide to declare, capitalizing on a very good season and working his way up to a potential top 100 pick.
Final take…
I still don't see what the big deal is with Virginia Tech DT John Graves. The guy is an undersized interior lineman with slightly above-average athletic ability and supposedly makes his mark as a pass rusher. However, the guy has only one career sack. Plus, he lacks an ideal anchor and struggles to hold up in the run game inside. He's been pushed around with ease at times this season and if he's not a difference maker at the college level, what makes people think he's worth a lofty draft grade and will become an impact caliber guy in the NFL? Not me.