November 06, 2010 -
National Football Post
Saturday primer
Some opinions, takes and things NFL scouts will be looking for in Week 10 of the college football season.
TCU vs. Utah
3:30 p.m. ET
What to watch for…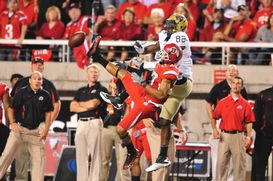 ICONBurton is the one junior cornerback to keep an eye on after the season.
Consider one side of the Utah secondary already on lockdown with cornerback Brandon Burton manning one of the cornerback spots. Burton has been one of the most impressive defensive backs I have seen this season. He's a tall, long kid who showcases good fluidity when asked to turn and run and does a great job tracking the football. Plus, he showcases some physicality in run support as well and will attack the line and tackle the ball carrier. He's going to have to contend with the smaller, shiftier TCU wideout Jeremy Kerley today, but Burton's ability to be physical off the line and not allow receivers to quickly get into their routes in my view will be the difference in this matchup.
When TCU needs a big yard in the run game, look left as they have one of the most physically imposing offensive linemen in the nation in left tackle Marcus Cannon. At 6-5 and nearly 360 pounds, Cannon is an absolute monster at the point of attack, he showcases an explosive first step for his size, can really generate a snap through his hips and uses his long arms and good body control to finish blocks down the field. The guy really is a rare athlete for his size and even though I don't think he's a left tackle prospect in the NFL, he certainly has the ability to hold up in pass pro on the left side at the college level. His size and ability to dominate on contact should be a huge factor in short-yardage situations, allowing the Horned Frogs to move the chains and keep drives alive.
Matchup to watch
Utah C Zane Taylor vs. TCU DT Cory Grant
Grant is the physical presence inside for the TCU defense and has the ability to sit into his stance, eat up blocks and anchor with consistency vs. the run. He's a guy who looks content to simply do his job, doesn't take himself out of many plays, but at the same time is a good enough athlete to fight his way off blocks up the field and make a play on the football. Therefore, squaring off against one of the better centers in the nation this week should be a good measuring stick for both guys. As for Taylor, despite his size — 6-2, 300 pounds — the guy is a really tough, strong kid who plays the game hard, likes to finish blocks and has the type of mentality to really wear out opposing linemen. Both players are likely seeing their best competition up until this point and this matchup will be key in determining who will be able to control the interior of the line of scrimmage up front.
Alabama vs. LSU
3:30 p.m. ET
What to watch for…
Matchup to watch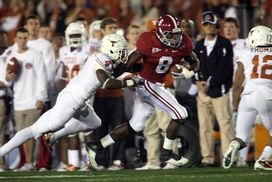 ICONJones can certainly create after the catch.
LSU CB Patrick Peterson vs. Alabama WR Julio Jones
When you have two highly talented prospects like Jones and Peterson facing off, both of which look to be first-round picks come April, you don't expect either to have a dominant game. You expect Peterson to make some plays in the pass game and Jones to be able to create some separation at times vs. Peterson, but if both are as good as we think, it shouldn't be one sided at all. However, the key for Peterson is to let the game come to him. He can't go out trying to force the big play and make a statement early because he has a tendency to jump routes, take himself out of plays and will get caught with his pants down at times on double moves. The guy has the ability to click and close with ease in off coverage and needs to stay patient and not bite on Jones' stutter step at eight yards. As for Jones, Peterson is one of the few cornerbacks that can match up with him from a speed and physicality standpoint. So Jones needs to be the one who locates the football first, maintain concentration and go up snatching the football at its highest point. He has had a tendency to lose focus at times this season when catching the football and hopefully this matchup is big enough to keep his interest the entire game.
Another key matchup to watch
LSU OT Joseph Barksdale vs. Alabama DL Marcell Dareus
Unlike the Peterson/Jones matchup this is a battle of one potential blue-chip prospect whose strengths play right into the weaknesses of an overrated offensive tackle prospect. Barksdale is a nice-looking offensive lineman who does display good range and overall coordination off the edge in his kick slide. However, he isn't a real tough kid, doesn't exhibit any kind of a punch on contact and will struggle to hold his own vs. physical bull-rush type players. Therefore, going one-on-one with Dareus on the outside is about as bad of a matchup Barksdale could see. Dareus is physical and relentless off the ball, as he has the power and punch to overwhelm with the suddenness to slip blocks and get after the QB. Barksdale would be much better served to handle speed off the edge than try to block Dareus and I expect early in the game for the LSU caching staff to make sure they give plenty of help in the form of an offensive guard sliding over in order to contain Dareus on the edge.
Can LSU standout DT Drake Nevis create the havoc inside needed to keep the Alabama offense out of manageable down and distance situations? We know the Tide want to run the football on early downs early in order to get their play-action game involved down the field. However, Nevis is the type of one-gap penetrator who can knife his way into the backfield and create negative plays behind the line. He does a good job using his hands to initially fend off blocks inside and has the instincts to put himself around the football. Now, he does lack ideal size inside to hold up consistently once an opposing lineman gets into his frame and he can get held up at times through contact. But overall, he's the guy that needs to create off the snap on run downs and force the Alabama offense to throw into the teeth of the LSU defense on third and long situations.
Other keys to watch for this weekend…
If you want to take a good look at two of the most underrated senior quarterback prospects in the nation, look no further than the Nevada/Idaho game. Nevada features one of the top dual run/pass threats at the position in Colin Kaepernick, while Idaho has a big, strong-armed pocket passer in its own right in Nathan Enderle. Both guys feature NFL- caliber skill sets and are two quarterbacks definitely worth watching as we get closer to draft season.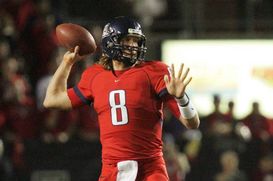 ICONIt will be interesting to see just how healthy Foles is in this one.
Another intriguing QB matchup this week is Stanford signal caller Andrew Luck vs. Arizona's Nick Foles. Foles is returning to action this week from a two-week layoff after suffering a knee injury vs. Washington State. Luck, on the other hand, has been as cerebral as ever all season long, picking defenses apart with his accuracy, making good decisions in the pocket and just consistently keeping drives alive before putting the stake into his opponents early in the second half. Now, if there is one guy who can match Luck throw for throw it's Foles. However, the biggest difference in their game at this stage is Luck's ability to quickly scan the entire field, go through his progressions and find his secondary options, whereas Foles seems limited to scanning only one side of the field. Either way, they are both two of the top quarterback prospects in the nation and at this time if I needed a quarterback to start my franchise Luck would be my number one selection, and if he was gone Foles would be my number two.
Don't sleep on this Baylor Bears team. They have a dynamic playmaker at the QB position, they keep teams honest with their run game and can be explosive down the field when need be. However, their unsung hero on that offense just happens to be LT Danny Watkins, the 6-4, 310 pound former junior college transfer who really seems to be coming into his own as a senior. He's a native of Canada who has limited football experience under his belt — started playing for the first time in 2007 — but he's a good athlete who possesses a strong base and seems to take pleasure in going out and competing play in and play out. He's done a real nice job in pass pro all year, is tough to disengage from in the run game, especially on slide down blocks and his best football still seems ahead of him. However, despite his inexperience, Watkins will be 26 years old come draft day and doesn't quite have as much upside as many think. But either way the guy can play the game and has shown well enough for himself this season to not only get a look as a potential draft pick, but could end up fighting for playing time — likely as a guard — at some point over the next couple seasons in the NFL.
NFL draft/college football questions? Get them answered at Wes.Bunting@nationalfootballpost.com
Follow me on Twitter: @WesBunting