November 20, 2010 -
National Football Post
Saturday primer
Some opinions, takes and things NFL scouts will be looking for in Week 12 of the college football season.
Ohio State vs. Iowa
What to watch for…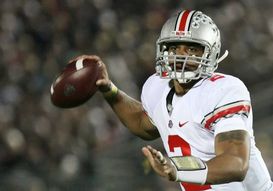 ICONForcing Pryor to throw the football on third and long situations will be key.
Can the Iowa defensive line keep Ohio State quarterback Terrelle Pryor bottled up in the pocket? The Hawkeyes have one of the most talented defensive lines in the country and they do a great job fighting off blocks, finding the football and working hard in pursuit. However, facing an athlete like Pryor this week is a whole different type of monster to deal with. Pryor was really unimpressive with his arm last week vs. Penn State and when the Buckeyes need to move the chains, he's consistently asked to pick up first downs with his legs as opposed to throwing the football into the teeth of the defense. Therefore, the key for Iowa is to be stingy on 1st and 2nd downs, forcing Pryor into 3rd and passing situations, where he doesn't have the luxury of a run/pass option. Wisconsin was able to do it earlier in the year vs. Pryor, forcing key turnovers through the air. So look for the same type of game plan from the Iowa defense in this one, keying in on the run on first and second down and then forcing Pryor to beat them through the air on third, which is where Iowa has the big advantage.
Speaking of the Iowa defensive line, it's names like Christian Ballard, Adrian Clayborn and Karl Klug that everyone is very familiar and assume to be their best playmakers. However, the one unsung lineman on the team this year has been defensive tackle Mike Daniels. Daniels is an undersized 6-1, 275-pound kid who possesses a good first step, plays with a great motor and possesses the type of length/suddenness to fend off blocks and find the football. He has been arguably the most disruptive Iowa lineman all season and is going to be one of the keys for Iowa on the inside today, using his inside rush to get up field, create havoc behind the line and force the Buckeyes into unmanageable down and distance situations.
Key matchup to watch for
Iowa wideouts Derrell Johnson-Koulianos and Marvin McNutt vs.
Ohio State cornerbacks Chimdi Chekwa and Devon Torrence
Ohio State CB Devon Torrence had a nightmare of a game last week vs. a very average Penn State receiving corps, playing way too soft in coverage, struggling to keep his footing/balance when asked to click and close and looking stiff trying to turn and run. Therefore, this week vs. a much more talented Iowa receiving corps, he likely will again have his hands full. McNutt and Johnson-Koulianos are both strong players off the line, can pluck the football away from their frames and create separation on all levels of the field. McNutt is the bigger, better jump ball guy, while DJK loves to work the underneath crossers and create after the catch. Both guys possess good ball skills and awareness down the field as well and can create their fair share of mismatches on the outside in this one.
Nebraska vs. Texas A&M
What to watch for…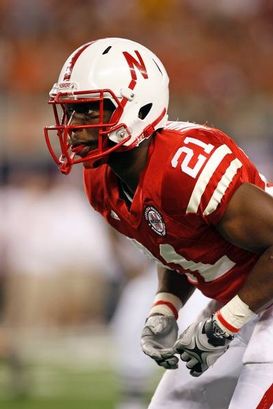 ICONAmukamara will have his hands full once again this week.
There aren't too many breaks in the schedule for Nebraska CB Prince Amukamara when you're playing in the Big 12, and this week is no different matching up with Texas A&M wideout Jeff Fuller. Fuller is a big 6-3, 215-pound kid who has a powerful stride, does a great job locating the football vertically and has the size and coordination to go up and come down with the catch. Amukamara on the other hand is also a strong, physical kid who has the fluidity and initial burst to make it really tough for Fuller to consistently gain separation from him on all levels of the field. However, Amukamara did struggle earlier in the year with Oklahoma State's physical wideout Justin Blackmon. Therefore, it will be interesting to see how he not only plays Fuller off the line, but also if he does a better job adjusting to the football down the field in jump ball situations and making a play on the throw.
Can Texas A&M pass rusher Von Miller be a factor off the edge? Miller is finally starting to look like himself again after fighting his way through a nagging ankle injury early in the year that took away a lot of his effectiveness. However, his first step seems to be nearly back to full go and he is once again making it a nightmare to pass against the A&M defense. Therefore, the key in this one is forcing Nebraska into situations where they have to put the ball in the air. The Cornhuskers have done a great job all year picking up yards by the chunk in the run game, and if Miller wants to be a force off the edge he needs to be given a chance to rush the passer. Look for a heavier front from A&M on early downs and a lot of Cover 3 to get an extra safety into the box, trying to get the Cornhuskers into more 3rd and long situations.
However, stopping the Cornhuskers run game might be easier said than done because of not only the amount of weapons they have, but also the uniqueness of each of those weapons. Nevertheless, I still think the success rate of the Nebraska offense still falls on the broad shoulders of RB Roy Helu Jr., who might not create the most flashiest of highlight runs on the team, but his tough, instinctive running style keeps the offense ahead of the chains and gives them some much-needed power inside. Plus, Helu has proven this year that he's a much better open field athlete than given credit for. In my view he's the guy that really makes this Nebraska run game so tough to stop as he just continues to find ways to move the chains, grind out tough yards and wear down opposing front sevens, opening up more opportunities in the second half for the long run.
Other weekend notes worth watching…
Be sure to take a good look at the San Diego State offense this weekend vs. Utah. Quarterback Ryan Lindley is one of the better underclassmen quarterbacks in the country, possessing a big frame, strong arm and the ability to really spin the football down the field. On the outside he has two potential NFL-caliber wideouts to throw to in DeMarco Sampson and Vincent Brown and it looks like a program that's really on the rise. Wouldn't be shocked at all to see them knock off Utah this weekend.
South Carolina is coming down off a major high from last week after beating Florida and securing its spot in the SEC title game. However, the Gamecocks face a very solid Troy team this weekend, which has its fair share of athletes on both sides of the football, including a dynamic slot guy in Jerrel Jernigan. Jernigan is one of the better potential slot receivers coming out in this year's draft and it will be interesting to see how he fares vs. an athletic SEC defense.
Final take…
A lot of people are down right now on Mississippi State DE Pernell McPhee because when you look at the stats the guy doesn't have any sacks on the season. However, as we all know stats never tell the entire story. First off, listed at 6-3, 285 pounds, McPhee doesn't look anywhere near that heavy — looking more like he's 270-275 — and because of it has shown impressive fluidity, balance and acceleration getting after the football this season when asked to stand up from a two-point stance. He has rushed as an outside linebacker a lot this year, moving all over the line of scrimmage creating mismatches before fending off blocks and using his power and burst to get after the passer. He's been able to generate a lot of pressure from all angles this season, which is where his ten QB hurries come from. And with more and more 3-4 defenses wanting bigger outside linebackers who can set the edge and rush the passer, McPhee could end up being a real hot commodity come draft day. In my view, the guy's stock hasn't taken a hit at all in 2010.
Follow me on twitter: @WesBunting