October 30, 2010 -
National Football Post
Saturday primer
Some opinions, takes and things NFL scouts will be looking for in week nine of the college football season.
Missouri vs. Nebraska
3:30 p.m. ET ABC
What to watch for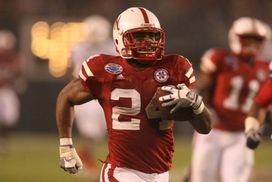 ICONPaul needs to be more consistent catching the football.
• Can Nebraska WR Niles Paul keep the momentum going? After a miserable effort vs. Texas, Paul had his best game of the season last week, catching nine passes for 131 yards and doing a great job keeping pressure off the Nebraska run game. Paul is a really gifted athlete who possesses a strong, compact build, displays good strength as a route runner and has the ability to get up to speed quickly and track the football down the field. However, his biggest downfall at this stage is his overall lack of concentration and focus at crucial times in the game, which often leads to the football ending up on the ground. He's the kind of guy who can consistently separate vs. man coverage, but he needs to continue to build on his solid effort from last week if he hopes to be much more than a mid-round selection.
• Missouri DE Aldon Smith can be a real difference-maker up front, as he made his presence felt early last week vs. Oklahoma with a 58-yard interception return following about a month long layoff due to a fracture in his fibula. At 6-5, 250 pounds, the kid is a real physical specimen. He possesses a strong, lean frame, with great length and impressive initial burst for a guy his size. He's the type of pass rusher who will command consistent additional attention from the Nebraska offensive line throughout the night and if there is one reason why the Cornhusker passing game can't get it going, the blame will probably fall squarely on the broad shoulders of Smith.
• Key matchup
Nebraska DT Jared Crick vs. Missouri C Tim Barnes
Finally, one prospect who has seen a real drop-off in his play/production this season is Nebraska DT Jared Crick. Crick hasn't been nearly as impressive inside this year without big Ndamukong Suh next to him commanding the double team, which has led to many scouts wondering just how good of a player he can be at the next level. And he's going to get a real test in this one vs. in my opinion, one of the best centers in the country in Tim Barnes. Like Crick, Barnes is a tall, long-armed guy with good lateral ability, can stick to blocks through the play and is really effective on the move. Typically Crick wants to gain a step off the snap with his initial burst then use his length to fight his way off blocks. But Barnes has the snap and step ability to reach Crick initially and uses his hands and length well enough to stay engaged through the play. So this is another nice stage for Barnes to show well in back-to-back nationally televised games vs. solid competition, which should only continue to boost his draft stock.
Oregon vs. Southern Cal
8:00 p.m. ET ABC
What to watch for…
• There isn't as much of a size differential between the USC offensive line and the Oregon defensive line as many people think, as the Trojans have more of an athletic, finesse unit who like to pull, get out in space and use their length to get into blocks quickly and stick to their man through the play. And Trojan RB Allen Bradford has to play a major role in this one. When evaluating him from a pure size/speed aspect the guy looks like a high draft pick. However, his downfall is that he isn't the most instinctive of runners between the tackles and will struggles to decipher info and find running lanes. But, if the interior of the USC offensive line can control the undersized front of Oregon, Bradford should have plenty of room to do some real damage in this one and keep the Trojans ahead of the chains and the Oregon offense off the field. Because once he gets those big wheels rolling, he can be an absolute bear to bring down at the second level.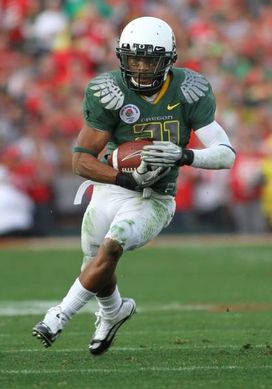 ICONJames could give the USC defense a lot of trouble at the second level.
• On the flip side Oregon RB LaMichael James lacks ideal size, but the guy is built low to the ground, is really shifty in tight areas and has a great feel picking his way through traffic and making his way toward daylight. The USC defensive front has the talent, but I have some major concerns about their linebacking corps if/when James is able to get into the second level. OLB Michael Morgan has been one of the worst run defenders I have ever seen for a prospect who is rated "so highly," as he struggles to take on blocks of any kind, is easily pushed past the play and lacks a decent feel inside. But, the one thing he does have going for him is that he does possess good range when asked to run sideline-to-sideline on perimeter runs — something Oregon loves to do. Nevertheless, expect the Oregon coaching staff to alter their runs when running at Morgan, forcing him to take on blocks and not simply to run to space, aka play to his weakness.
• The last note to mention doesn't involve any individual prospects but has more to do with the entire USC team. With the Trojans not being bowl eligible this season, you have to think Lane Kiffin and the Southern Cal coaching staff has been playing this game up as their "bowl game." So expect USC to come out with guns blazing early and it will be interesting to see if Oregon can match tempo and respond without digging themselves into a hole. Another potential factor could be revenge. The Ducks put a beatdown on USC last season and you can't help but think a lot of the Trojans who where present last year still have a bitter taste in their mouth and would love nothing more than to return the favor and knock the Ducks out of national title contention.
Other prospect matchups to watch…
Miami WR Leonard Hankerson vs. Virginia CB Ras-I Dowling
If you're looking for a big, long athletically gifted defensive back, look no further than Virginia's Ras-I Dowling. The guy is a physical tackler who can track the football vertically and does a nice job going up and making a play on the throw. However, he isn't the most technically sound of defensive backs with his footwork and has a tendency to get upright and leggy when asked to open up his hips and redirect. And typically he has the size, length and power to really disrupt the timing of his receiver and simply out-physical his man down the field, which allows him to get away with his lack of ideal technique. However, this week vs. a bigger, more physical wideout like Hankerson, who possesses the kind of body control and initial quickness to separate out of his breaks, shield and pluck the football, could give Dowling a real tough time, and will ultimately be a big determining factor in deciding if he's a legit man-to-man cover man in the NFL or if he's limited to more of a FS or cover-two type corner guy at the next level.
Stanford QB Andrew Luck vs. Washington QB Jake Locker
This is a big game for Washington quarterback Jake Locker as he will be throwing side by side with Andrew Luck, who in my opinion is the best QB prospect in the nation. Locker is the more physically gifted kid, but it's the mental aspects of the game that you can't measure where L uck ultimately has the clear advantage. Stanford doesn't possess the greatest of athletes on defense, but they run a 34 front, bringing pressure from a lot of areas and can be physical on run downs as well, forcing opposing offenses into third and long situations. Therefore, Locker is going to need to be efficient making quick decisions from the pocket and deliver an accurate football on time — something he has struggled with at times this year. As for Luck, he just needs to play within himself. And when evaluating the two prospects, the biggest thing I want to leave you the readers with is at the end of the game who looked like the poised senior QB and who looked like the redshirt sophomore? Your answer will go a long way in determining exactly who is the better QB prospect.
Oklahoma WR Ryan Broyles vs. Colorado CB Jimmy Smith
Smith is the one cornerback who is really flying under the radar this season playing for a poor Colorado team. However, at 6-2, 205 pounds, the guy can sit into his drop, use his length to really disrupt the timing of the pass game and possesses good balance and ball skills when asked to click and close. He was one of the best corners I saw on tape coming into the year and has done nothing to refute that so far this season. However, he'll be facing off with the type of receiver who would give any 6-2 defensive back trouble in Oklahoma's Ryan Broyles. Broyles is a strong, shifty route runner who has some impressive quickness and change of direction skills to his game and knows how to go get the football. But, he's been banged up as of late dealing with some ankle problems, which could limit his effectiveness just enough for Smith to really be able to control him consistently off the line and limit his touches in this one.
NFL draft/college football questions? Get them answered at Wes.Bunting@nationalfootballpost.com
Follow me on Twitter: @WesBunting