October 17, 2011 -
National Football Post
Scout's corner: A sleeper emerges from the QB class
Observations and analysis from the seventh week of the college football season, including thoughts about some of the nation's top prospects on both sides of the football.
What a piece of clay…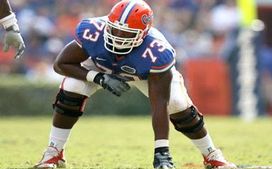 ICONNixon is dripping with upside.
Florida OT Xavier Nixon has struggled at times this year. He's doesn't routinely get off the ball on time, will get caught lunging into contact in pass protection and was the culprit of a false start that forced Florida to punt late in the fourth quarter this past weekend. He's even been benched at times this year and hasn't started the Gators past two games. However, he's dripping with talent, athleticism and upside and if the light ever goes on for him, watch out. He's a flexible kid and for a 6-6, 292-pound lineman he can really snap off the ball, extend his long arms and create a pop on contact. He's an elite athlete on the move as well, displaying excellent recovery ability and quickness and has the skill set to be as good as he wants to at the next level. Now, there's a reason why he hasn't put it together yet, whether it's work ethic, mental make-up or simply he's a reps guys and a late bloomer. Either way, you can't teach his talent, but over the course of the next year it will be interesting to see just how much further he develops.
The heavier the load, the worse it gets…
Speaking of Florida prospects, it was good to see RB Chris Rainey carry a heavier load this week to see just how effective he could be as a 15-plus-carry guy. And overall, I didn't like the results. He finished with only 33-yards on 16 carries and the more carries he got the less effective he became. Rainey isn't a guy who can create yards through contact. He does have some wiggle laterally to make a man miss and accelerate, but he has a tendency to bounce too many runs toward the edge in order to avoid contact and either runs himself out of yards or is unwilling to try to grind his way for even a small gain. Now, Rainey can be dynamic at times in space, but at his size (5-9, 174-pounds) it's tough to see him ever being a real productive force in the NFL and doesn't seem to warrant a pick in my view.
Improved, but not there yet…
I came away impressed with Tulsa QB G.J. Kinne this week vs. UAB. And after going back and watching some tape of him from 2010, there is a definite improvement to his game from a year ago. He's doing a much better job with his pre-snap reads deciphering information, reading the defense and accurately getting the ball out quickly. He didn't seem to possess the same type of gunslinger type mentality that he did a year ago, when he consistently tried to force balls into coverage at the second level with his arm. Now, despite his shorter stature, he's got a thick frame, generates good torque from his lower half and has enough velocity to make all the throws. His accuracy to his initial read is very good and he exhibits good touch down the field as well. Now, he does seem to struggle anticipating routes and staying in rhythm when trying to find secondary options and for some reason at times will just fall off throws for no reason in the pocket. However, he's a natural run/pass threat that is coordinated on the move, can create with his legs and when asked to improvise on the edge, he's about as natural as they come.
He's going to need some work; there is no doubt about that. But seems like one of those gritty, late round quarterback prospects that knows how to move the chins and be decisive/creative with the football. Reminds me of a Bruce Gradkowski/Jeff Garcia type.
Quick hits…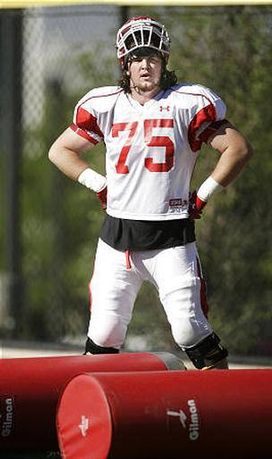 ICONCullen is talented, but needs some work.
• Utah offensive tackle John Cullen still has yet to improve his overall footwork in pass protection –which a lot of that could do with coaching/scheme-. However, he still displays "plus" range off the edge, is patient into contact and does a nice job extending his arms and gaining inside leverage. Now, he can bend, but plays upright too often and in order to help himself anchor he will get caught rolling his weight a bit into contact, which gets him in trouble laterally. But he's a solid NFL talent who warrants a pick in my mind and has some starting upside if he works at his trade.
• Utah's right tackle Tony Bergstrom is the safer prospect of the two, but lacks the same type of athletic ability in the pass game as Cullen. He's got enough initial range to be effective vs. speed toward the edge, but has a tendency to get upright through contact and struggles with his short area quickness when asked to shuffle and slide. However, he's a good run blocker who coils up in his stance well and can snap off the ball, keeping his pad level down on contact and creating a push at the point. Looks like a mid-round type pick who at worst can be a solid reserve at right tackle.
• On the inside of the line, Wisconsin center Peter Konz is a really a unique athlete for a guy his size. At 6-5, 315-pounds he's not the most rangy of athletes, but is quick to set, gets his hands up initially and does well to gain inside leverage and stay engaged. Plus, he's natural on the move with solid athleticism and excellent balance pulling toward the edge, breaking down on contact and taking the right angles to open up run lanes. If he were to declare, looks like the potential top center prospect in the draft.
• Finally, as impressive as Peter Knoz is pulling in space for a big guy, check out Alabama's 6-3 320-pound guard Chance Warmack. He possesses a powerful lower half, heavy hands and does a good job gaining leverage as a pass blocker, sliding his feet through contact and staying engaged vs. power inside one-on-one. However, he's a plus in-line guy with a real snap to his game. While also displaying the athleticism and range to pull from the backside on Power-O play calls and absolutely run through defenders at the point. Now, he's only a junior, but he looks capable of creating a push inside as a run blocker in the NFL as of now and will be a hot commodity among teams looking for power type players whenever he declares.