November 28, 2011 -
Barry Dorey
Scout's corner: Arkansas prospects fail to shine
Observations and analysis from the 13th week of the college football season, including thoughts about some of the nation's top prospects on both sides of the football.
Slowed vs. better competition…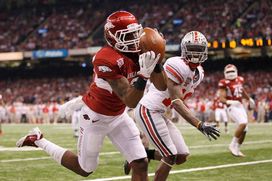 ICONAdams can make plays down the field once he gets free.
I'm not going to throw the poor statistical day of Arkansas WR Joe Adams simply on him. The LSU front seven was able to create a lot of pressure/tough throwing situations for the Arkansas offense which kept them from ever really finding their rhythm. However, I wrote about Adams Friday and his ability to win off the line vs. press. To his credit he did look shifty and confident setting up defenders when asked to run crossers, as he was able to quickly slip the bump, gain a step and separate. However, when asked to get down the field, he routinely was help up at the line initially. Now, he's is a shifty receiver who fought hard through contact and after initially being re-routed displayed the lateral quicks/change of direction skills to fight off the bump, get into his route and make a play down the field. However, throughout the day he was needed him to win initially off the line and he simply didn't as quickly/cleanly as possible. I'm still a big Adams fan. However, he's going to need to continue to polish his game not only as a route runner, but also as a guy who can beat press consistently if he hopes to play up to his skill set. Because he's a guy who once he gets into his route can be an vertical playmaker in the NFL.
Sleeper alert…
I had yet to watch any of SMU this year, but turned them on this weekend and came away really impressed with the play of left tackle Kelvin Beachum Jr. The 6-3, 306-pound lineman has a thick, muscular looking lower half. He carries a lot of girth through his base/legs with solid length for his size and natural anchor strength. Now, he lacks ideal size to play left tackle in the NFL. However, he's a "plus" athlete when asked to pull and get out into the second level on the move, breaks down well into contact and is smooth/coordinated in pass protection. He does get a bit upright off the ball in the run game playing from his two-point stance, but there is a definite snap into contact as he extends his arms well and can create a push and/or seal. He's likely going to have to kick inside to guard in the NFL, but once the interior offensive line class starts to thin out early, I could certainly see Beachum coming off the boards in the mid/later round range.
Improved, but still limited
Penn State CB D'Anton Lynn is a big 6-1, 208-pound defensive back who is a three year starter at the program and has turned himself into a solid college corner. For his size he showcases good patience in his drop, stays low in his back-pedal, recognizes routes well and uses his length to get his hands on the football. He exhibits good coordination out of his breaks as well when asked to click and close and quickly locates the football. The biggest concern I have with Lynn is that there is no real burst or explosive element to his game. He's smooth and coordinated, but vs. an explosive receiver who can separate consistently I see him having a tough time keeping pace. Therefore, I do think there is a place for Lynn at the next level. But more as a zone/cover two type corner than potential pressman because of his inability to turn and run with the speed NFL receivers off the line/ down the field.
For more prospect breakdowns click to page two...